Me'Shell NdegéOcello
Songwriter/Musician
I hope you write this down and quote me. Ya know, gay life, the whole gay lifestyle, is patterned off of a white gay male aesthetic. Now, that ain't my vibe. And I definitely ain't like some crunchy Birkenstock, "put all the men on another planet" (type). I love my brothers. I love my sisters. I am sexually functional with both. That's fucking boring. (laughter) If you fine, you fine. That's it. I call it like I like it. Stop being so close-minded. Worst thing you could be is a close-minded gay person. And worst thing you could be is a judgmental black person. Worst thing you could be is a dogmatic Christian. So it's like, get off my back. --Me'Shell NdegéOcello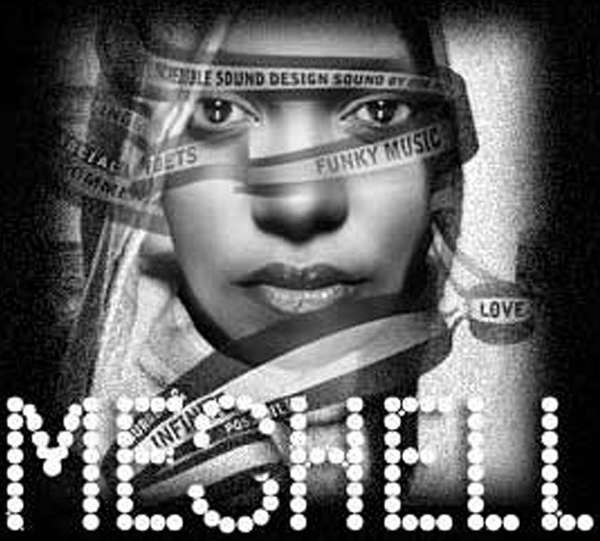 The clean-shaven, guitar-strumming, rock 'n soul princess Me'Shell NdegéOcello burst on the scene in 1993 as a defiant, in-your-face challenge to the R&B glam-chick image. Her self-professed bisexuality and hard-core lyrics about life, love and politics liberated women of all races and sexual persuasions. After a three-year hiatus, Me'Shell has resurrected with a bodacious fourth effort, COOKIE: THE ANTHROPOLOGICAL MIXTAPE.

Me'shell Ndegéocello, standing in the shadows of Motown, 2000

COOKIE — an ambitious hybrid of soul, hip hop, jazz and rock — is a musical excavation that takes fans inside her creative genius with bass-heavy cuts like Hot Night, Priorities 1-6 and the arduous Trust. Me'Shell's raw talent has made her an iconic force in the music industry.

ESSENCE.com takes you inside for a look at the makings of this bad mamma jamma.

Army Brat

Me'Shell NdegéOcello became a world traveler at an early age. Her father, Jacques Johnson, served as a lieutenant in the military and traveled many countries until settling with Me'Shell's mom, Helen, in Berlin, Germany, where their star was born in 1969.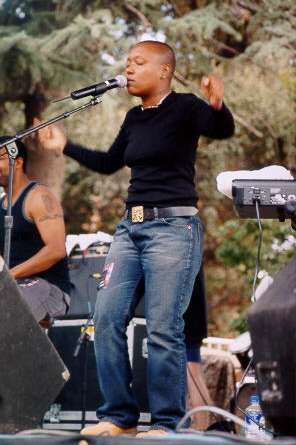 A name by any other

Born Michelle Johnson, this soul sister changed her tune at 17 and adopted the moniker NdegéOcello, which means "free like a bird" in Swahili. In recent years, the soulful rocker has assumed a second last name, Bashir which means "sender of good news" in Arabic.

Like father, like daughter?

It was her father's side gig as a jazz saxophonist in the early '70s that introduced NdegéOcello to the world of music. This early exposure inspired the high-school bound singing sensation to enroll in the jazz program at the Duke Ellington School of the Arts in Washington, D.C.

We be clubbin'

As a teen, Me'Shell fast became a staple on the D.C. nightclub circuit and joined a local group called Women in Love. She also played the go-go scene with well-known local bands like Little Bennie, The Masters and Rare Essence.

A true musician

Talk about versatility! Me'Shell not only moves audiences with her trademark husky voice. She has also mastered the bass, guitar, drums and keyboard.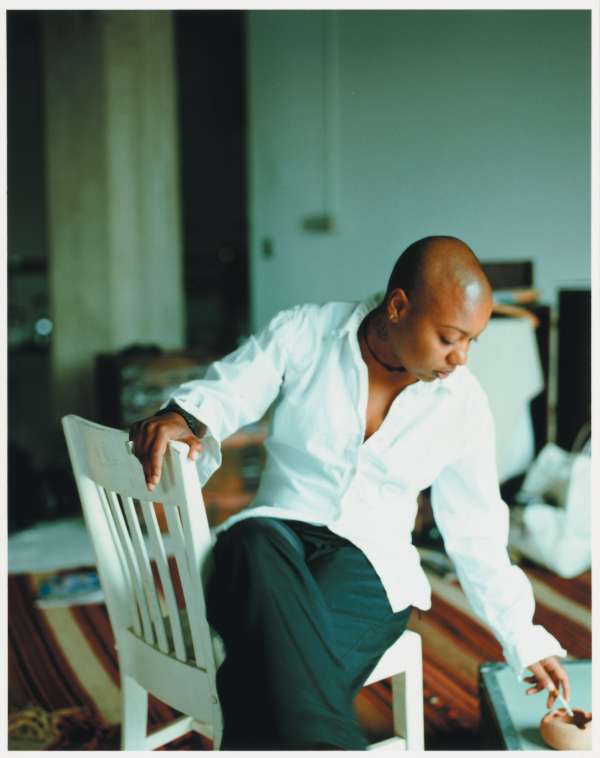 First Round Pick

NdegéOcello is no stranger to firsts. She was the first female to grace the cover of Bass Player magazine and received its coveted Bassist of the Year Award in 1995. In addition, she was the first female artist signed to Madonna's label, Maverick Records. This, after she turned down offers from Prince's Paisley Park label and Warner Bros.

Perfect combinations

Me'Shell has collaborated with many of the biggest names in music including Prince, Madonna, The Rolling Stones, Alanis Morissette, John Mellencamp, Chaka Khan and rapper Talib Kweli.

Sound off

Between turning out chart-topping hits and unbelievable live performances, NdegéOcello still finds time to lend her creative flair to some of Hollywood's hottest film and television soundtracks. She has appeared on 15 soundtracks: The Laramie Project, Disappearing Acts, Love & Basketball, The Hurricane, The Best Man, Down in the Delta, How Stella Got her Groove Back, Living Single, Money Talks, Batman & Robin, Love Jones, White Man's Burden, People: A Musical Celebration of Diversity, Panther and Higher Learning.

You better recognize

NdegéOcello has not only garnered Grammy nominations for PLANTATION LULLABIES, PEACE BEYOND PASSION and BITTER, she's also won three Wammies, the Washington, D.C. music awards (1990) and a Bammy, the San Francisco Music Award (2000). Her junior album, BITTER, was recognized as Album of the Year by Vibe and Newsweek.

Baby boy

She always planned to graduate from college. But her days at Howard University in D.C. were cut short when she became pregnant. In 1988, she gave birth to her son Askia.

Jammin' with Jimi

Before she became famous, NdegéOcello was commissioned by Alan Douglas, the executor of Jimi Hendrix's estate, to bring to life her renditions of selected songs from Hendrix's extensive catalog. But the project was never released.
Excerpt from Girlfriends Article:
Elissa:

 

Is Rebecca a vegan?
Me'Shell:

 

No. No. She's not. I wish. (Laughs)

Elissa:

 

How did you two meet?
Me'Shell:

 

I saw she was doing this reading so I went down to check her out and she intrigued me. I liked the way she looked. So I hung around and

chatted her up. Then we went our separate ways and I didn't see her for a while. Then I saw her again with some friends and we've been together ever since.
Elissa:

 

Do you think you'll have more kids eventually?
Me'Shell:

 

Maybe one day, you know. Yeah, probably. I'm sure Rebecca would make a beautiful child and I'd love to be a part of anything she makes - a baby, a book, anything.

Elissa:

 

That's beautiful.
Me'Shell:

 

Yeah. She changed my life. She woke me up.

Elissa:

 

In what way?
Me'Shell:

 

She made it alright, you know? All the things I think and feel, it's alright. And she's very loving to my child.

Elissa:

 

So you are co-parenting?
Me'Shell:

 

Yeah. And people just have these ways of being, you know. Her consciousness is very expansive. So, I'm on a constant journey to learn different languages, constantly changing. You know whatever she's dealing with at that time. And the writer life she has is just about acknowledging and being, and at the same time trying to discover all this stuff she can write. (Laughs)

    Very few people are okay with change. A lot of people are like, "Okay, you are this way and so you shall be forever." I think the beauty of us is that we are okay with change. The world is vast and you just have this life. You can't be on a journey and stay in this one place. And so I walk the earth with her. I walk to be with her and she walks to be with me and if we're in the desert, she's okay with it, you know. Just be peaceful. We just realize that there's no prize at the end. That's the message. And I don't think I would have known that if I hadn't met her.

Elissa:

 

So being on this journey with Rebecca has allowed you to find this place within yourself, this new freedom you talk about on your new record.

Me'Shell:

 

Oh, my god, yeah. And the canvas is huge and the palette is deep so we just kind of work it out, you know. (Laughs)

Elissa:

 

And keep on working it out.
Me'Shell:

 

And working it out some more.
Source: Article Originally appeared on www.Essence.com and is provided here from www.FreeMyHeart.com, an EXCELLENT source of information on Me'Shell.  Site contains everything you ever wanted to know about Me'Shell NdegéOcello.
Website:  http://www.meshell.com/