Rev. Elder Darlene C. Garner
Clerk of UFMCC Board of Elders
Born and raised in Columbus, Ohio, Darlene Garner celebrates herself as a Lesbian Christian woman of African, Cherokee, and Irish ancestry. She was baptized in the National Baptist Church at the age of 7 and joined the Episcopal Church as a young adult. She came out as a lesbian in 1973, joined MCC of Washington, DC in 1976, and served the local church as Treasurer and Alternate Lay Delegate, the mid-Atlantic District as Assistant District Coordinator, and UFMCC as a member of Executive Committee of the former Department of People of Color and the Elders Task Force on Structures and Systems. Rev. Garner received her clergy credentials in 1988. She has served as Associate Pastor of MCC in Philadelphi, PA; Pastor of MCC in Baltimore, MD; and Senior Pastor of MCC of Northern Virginia from 1991-1998.

In 1993, Garner was elected to Board of Elders. She has served as Liaison Elder to the Australian, European, Northeast, and Northwest Districts; has made many local church visits; and has consulted with District Committees. In April 1988, she convened the first national conference for African American leaders in UFMCC. Since January 1999, Garner has been serving UFMCC as full-time Clerk of the Board of Elders. Her areas of responsibility include oversight of legal and risk management issues, corporate affairs and governance, and development of diversity policies; managing the processes of General Conference, General Council, and the Board of Elders; and serving as a member of UFMCC Board of Pensions (USA), the Corporate and Legal Team of General Council, the UFMCC/MCC-LA Joint Ownership Policies Committee, and the Elders Task Force on Education. She also serves as Convenor of the biennial UFMCC African-American Leandership Conference.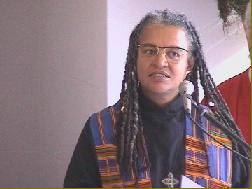 Before entering the professional ministry, Rev. Garner worked as a legal secretary, office manager, and Girl Scout Executive. She also worked as the Executive Director of the Philadelphia Mayor's Commission on Sexual Minorities, functioning as the liaison between the government of the sixth largest city in the United States and its Lesbian, Transgender, Bisexual and Gay community. She also served as a member of the Philadelphia Commission on Human Relations, hearing complaints of discrimination based on sexual orientation, race, gender, and national origin.

Garner's community involvement has included being a founding co-chair of the National Coalition of Black Lesbians and Gays; being part of the historical first meeting between the U.S. White House and gay and lesbian people of color; chairing the first International Conference for Gay and Lesbian People of Color; serving as chaplain for an AIDS hospice; serving on the Board of Directors for a health clinic; and President of the Board of Northern Virginia AIDS Ministry.

When asked about her vision for the future, Garner says, "I see the day when all people will know ourselves and embrace one another in our diversities (theological, spiritual, racial, cultural, economic, gender identification, sexual orientation, age, and physical and mental ability). If we each do our part, one day all people will be free to be the unique and God-gifted people we are created to be".

Rev. Garner has attended Ohio State University, Samaritan College, and Lancaster Theological Seminary. She is the mother of four children and has seven grandchildren.

Contact Information for Rev Elder Garner:
Rev. Elder Darlene Garner
UFMCC 8704 Santa Monica Blvd. 2nd Floor West Hollywood, CA (USA) 90069
Tel: 310-360-8640 Fax: 310-360-8680
Email: revdgarner@ufmcchq.com
Source:  http://www.ufmcc.com/ElderGarnerBio2.htm