E V E N T S ...

Orgs
Affinity Chicago: Special Events for 2002
For more information on the following events, contact Affinity:
Address: 5650 South Woodlawn Avenue
Chicago, IL 60637
Phone: 773-324-0377
Fax: 773-324-0695
Email:
Website: www.affinity95.org

Social Justice Forum
"When Love Goes Wrong:"
Dealing with Partner Violence
Wednesday, February 19th, 7:00 pm - 9:00 pm
Volunteer Orientation
Thursday, February 20th, 7:00 pm
Special Events
BLACK LIGHT OPEN MIC
Calling All Poets, Singers, Performers & Lovers of the Arts!
$5.00 Admission
Saturday, February 22nd, 7 pm - 10 pm.
---

http://www.celebratesisterhood.org
---
African Ancestral Lesbians
United for Societal Change, Inc.
Formerly Salsa Soul Sisters, Third World Women, Inc.

AALUSC
111 East 14th Street
PMB #109
New York, NY 10003
Call: 718-596-0342, Ext. 32
Email:
Website:
http://www.aalusc.org/
Meetings: See http://www.aalusc.org/meetings.htm
2/27 Film Night – "Daughters of the Dust" directed by Julie Dash
An historical epic that chronicles a few generations of an African-American family living off the coast of South Carolina in the Gullah Islands during the Civil War era, and of how they come together one day in 1902 to celebrate their ancestors before some of them leave for the North. The film is narrated by a child not yet born, and ancestors already dead also seem to be as present as the living. The film deals with not only slavery but the relative freedom given to Africans to work their own land on the islands. It took Ms. Dash 10 years to get it made, and the script is loosely based on her family's history.

March 2003
AALUSC'S Open Mike and Poetry Slam
Thursday, March 13, 2003
6:00PM - 8:00PM

Join us for an evening of spoken word and rhythm. Tonight we share our stories, thoughts and dreams with each other. Come read completed works, work-in-progress or just listen. This is an open call to all you writers out there to join us for the poetry slam. The registration is $5 and the winner will receive a cash prize. Suggested $5 donation.
The Lesbian, Gay, Bisexual & Transgender Community Center
208 West 13th Street, NYC
For more info call 718-596-0342 ext. 32.
---


NIA COLLECTIVE
Post Office Box 10863
Oakland, CA 94610-0863
Phone: 510-869-4403
Email: nia@niacollective.org
www.niacollective.org
---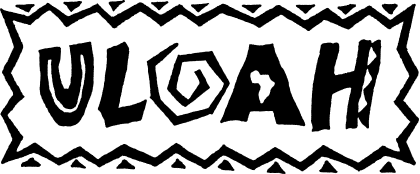 ULOAH
1626 N. Wilcox Ave., #190,
Los Angeles, CA 90028
Phone: 323-960-5051
--- http://www.uloah.com
Please e-mail us at
for more information, or to be placed on our online or postal mail mailing lists!

---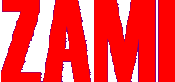 ZAMI, Inc.
P.O. Box 2502
Decatur, GA 30031
zami@zami.org
http://www.zami.org/
Support Group for Black Lesbians of All Ages

Do you feel burdened by unrealized potential?

Redefining, Rediscovering and Articulating Career Goals And Reconnecting with Self: Staying Encouraged and Becoming your Best and Highest Self.

Every Second Sunday: ZAMI offers a new support group for Black Lesbians of all ages.

Facilitator: Barbara Gibson
Date: Every Sunday
Time: 4-6 pm
Place: Youth Pride Center
302 East Howard, Decatur, GA
A few short blocks from Downtown Decatur
For more info: 404 370-1392
http://www.zami.org/supportgroup.htm
Drum Sista: A ZAMI Drum Circle
The drumming circle is open to all lesbians of color and meets every 2nd and 4th Sunday at YouthPride Center.
New Support Group for Black Lesbians of All Ages
Starting, Sunday, Aug. 11, every Second Sunday, ZAMI offers a new support group for Black Lesbians of all ages. Want to participate? Contact us.
---

Contact Info:
Zuna Institute

6114 LaSalle Ave #527
Oakland, CA 94611
510-482-1671 voicemail
916-419-5075 voice
916-419-0738 fax
website: http://www.zunainstitute.org/

Contact the Board:
theboard@zunainstitute.org
Volunteer:
volunteer@zunainstitute.org
Public Relations:
media@zunainstitute.org
MARK YOUR CALENDARS!
ZUNA 2003 NBLC Conference
April 11-13, 2003
Los Angeles, CA
(See Announcement)

ZUNA INSTITUTE, OAKLAND, CA (10/11/2002) Zuna Institute presents their Bi-Annual National Black Lesbian Conference (NBLC).
The National Black Lesbian Conference (NBLC) is being held at the Radisson Hotel Los Angeles Westside in Culver City, California on April 11-13, 2003. Zuna Institute received a proposal from women in Los Angeles requesting that the next NBLC conference be held in their city. We are happy to say that with the support of the Los Angeles community, we are in progress to another powerful event.
The weekend will consist of workshops, strategy sessions, vendors, networking, and an opportunity to enjoy the diversity of our community as well as learn about organizations or individuals around the country that support black lesbian's.
If you are interested in being a sponsor, vendor, workshop presenter, entertainer, or other capacity, contact Zuna Institute before November 1, 2003.

Zuna Institute is located in Oakland, CA.
Our mailing address is 6114 LaSalle Ave #527, Oakland, CA 94611.
Telephone:
510-482-1671 voicemail
916-419-5075 voice
916-419-0738 fax
Additional information will be available on the organization's web site, http://www.zunainstitute.org.
---
Events -- General
---
http://www.toshireagon.com/
* These gigs feature Sweet Honey In The Rock AND Toshi Reagon and Big Lovely
MARCH
31: Monday, 4:00 p.m.
A 300 Auditorium, Charlestown, MA

APRIL
5: Saturday, 8:00 p.m.
Rich Forum, Stamford, CT
Tickets: 203-325-4466
*25: Friday
Spaulding Auditorium
Hopkins Center, Hanover, NH

MAY
11: Sunday, 3:00 p.m.
Brooklyn Botanic Gardens Springfest, Brooklyn, NY
Tickets: 718-623-7333
---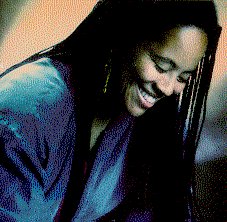 Deidre McCalla
On Tour
| Date | City | Venue | Time | Contact |
| --- | --- | --- | --- | --- |
3/24/03

St. Louis, MO

St. Louis Community College/Meramec

11:00am

(314) 984-7641

3/27/03

Clarksville, AR

University of the Ozarks

8:00pm

(501) 979-1448

6/05/03

Muncie, IN

National Women's Music Festival
Mainstage, Emens Auditorium

7:30pm

National Women's Music Festival

7/26/03

Madison, WI

Tomboy Girl Fest

Alliant Energy Expo Hall

12pm - 10pm

Tomboy Girl Fest
---
Coming March 2003 at the Brooklyn Arts Exchange
B4T (Before Testosterone)
A Theatre Piece by Imani Henry
Sunday 3-16
Special Event of Queer Performers of Color
Curated by Imani Henry
Fri, Sat 28-29
Where it all started .....
B4T @ BAX
Sunday 3-30
the DEBUT of Imani Henry's new performance piece "The Strong go Crazy"
B4T is a smart, funny, and moving multi-media theatre piece that explores race, sexuality and gender expression through the lives of three Black, masculine, female-bodied people.
For More Info: http://www.geocities.com/imani_henry/
---
Cabrini Presents
"The Black Out"

Dinah Shore Weekend March 28th ~30th
Reserve your rooms now and save!!!!
Click on Dinah Shore for more info!!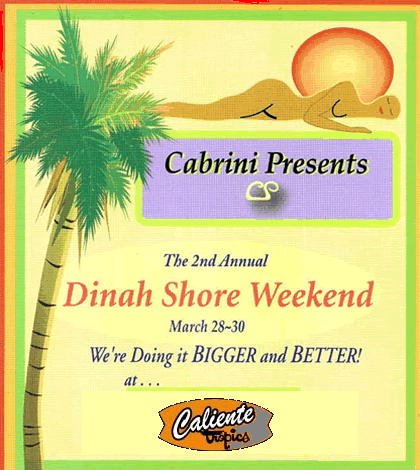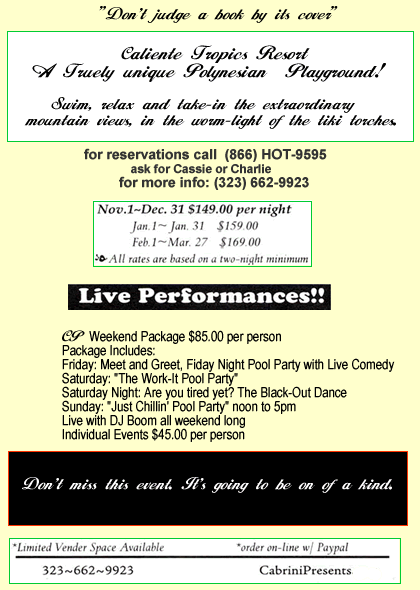 FOR MORE INFO CALL CABRINI @
323-662-9923
OR EMAIL EVENTS@CABRINIPRESENTS.COM
---
Northwestern University, Kellogg School of Management
June 8-10, 2003
The Gala Reception and Book Signing Party
will feature award-winning author and poet


Nikki Giovanni

PURPOSE OF THE LEADERSHIP SUMMIT
For More Information Visit:
http://www.niaonline.com/NiaLD/Summit/summit_home
---

"Ladies Just Want to Have Fun"
All Lesbian Group Cruise
July 26-31, 2003

Western Caribbean Cruise
Enjoy a week of fun and excitement while you cruise the beautiful and majestic seas aboard the Carnival Fun Ship the "Sensation" all in the company of beautiful Lesbian womyn. On this cruise you will visit the sun-worshipping beautiful island of Cozumel which is known for its beautiful beaches, colorful bargain-filled shops and a scenic seaside esplanade. We will also visit the Grand Cayman Islands where you can see and experience a gorgeous Seven Mile Beach and much more!!!

Lesbians from all over the USA will be sailing the beautiful Western Caribbean Seas!!!

Visit our website at www.F4Lgaytravel.com. There you can register and find out the fantastic details of your cruise package!!!

Please take advantage of the "Early Bird Special"

Register Now!!!

Friends 4 Life
"Come Travel With Us"
Gay Travel at its Best
P.O. Box 5564
Cary, NC 27512
919-468-0379
---
Sistah Summerfest is...
The Premiere Mid-Atlantic
Womyn of Color & Many Cultures
Music~Spirit Festival
An Event for Womyn of all Ages,
Lifestyles and Persuasions

June 6-8 2003
Enjoy a restful, blissful, & Spirit-filled weekend in a safe, all womyn's space where there are fabulous performances of poetry, dance, & music by performers both locally and nationally know. There will be great workshops on natural health and healing techniques; yoga & meditation & drumming. There will be fire circles; canoeing on a private spring mountain lake; hiking on the private trails of the Blue Ridge Mountains in West Virginia; swimming in an Olympic swimming pool; delicious homemade vegetarian meals; basketball, volleyball, & tennis courts to play on and much, much more This will be YEAR 5, and each year we average between 250 - 400 womyn from all parts of the United States, Canada, England, and beyond. All Women Are Welcomed To Attend.
Sistah Summerfest
P.O. Box [TBA]
Washington, DC [TBA]
Email Sistah Summerfest
Website: http://www.geocities.com/sistahsummerfest
To Register: http://www.geocities.com/sistahsummerfest/registration.html
If you are unable to print the page, click Reg Form for a downloadable form.
---
2003 National Women's Music Festival:
The Year of the B.A.D. Girls!
June 5-8
on the campus of Ball State University
in Muncie, Indiana
Why "B.A.D." girls? We intend to give new definitions to the meaning of this patriarchal term and claim it as our own powerful rallying cry! Each month between now and next year's festival, we'll give you a new definition so that by the time you arrive at NWMF next year, you'll be well versed in how to be B.A.D.

This month's definition of B.A.D. is Bold And Defiant:

B.A.D. girls break the rules - and then make new rules!
B.A.D. girls are out to change the world!
B.A.D. girls pave the way for their daughters!

Mark your calendar, submit your vacation request, tell all your friends, and spread the word any way you can: Join us and be as B.A.D. as you can be in 2003!


Joyce Warner-Stone
Festival and Mainstage Producer
National Women's Music Festival
P.O. Box 1427
Indianapolis, IN 46206-1427
Phone: 317-585-9447
Fax: 317-585-9448
nwmfproducer@wiaonline.org
www.wiaonline.org/nwmf
---
Renaissance Productions & Valerie Papaya Mann Invite you to journey with us to: GHANA, AFRICA August 14th - 25th, 2003. Join me and a multigenerational, multicultural group of women as we journey together to Ghana, Africa to reclaim, rebuild, renew and reflect on African heritage. Limited to 32 travelers, this 10-day, All-Inclusive trip is bargain priced at: $2299.00* (double occupancy).
Includes:
Roundtrip airfare direct/nonstop from JFK Airport, New York to Accra, Ghana, West Africa on Ghana Airlines. Return to BWI (Baltimore/Washington Int'l Airport)
Extensive intra-country travel
Two Lavish and nutritious meals per day (Full breakfast daily & 4-course dinner African and Continental Food)
Safely and professionally escorted by a trained bonded and licensed reputable tour guide at all times
Prepaid entry fees to all monumental sites, events, parks
Visit an authentic African Village and participate in a traditional naming ceremony
Stay in 4-5 star Full-service Hotels, most located on beautiful sandy beaches. All hotels have air- conditioned room, private bath, cable TV, telephone, restaurants and swimming pools
Full day Cruise on the beautiful Volta River includes a live High Life Band and dancing, complete with a traditional African full dinner buffet
Exclusive planned audience with Akwamu Royalty
Shop in Wood Carving, Kente, Crafts and Clothing Villages, buy direct from the artist
Cultural Arts Show with a traditional African Feast and fascinating entertainment
Travel by land in an air-conditioned coach bus with clean rest room facilities
Visit National Parks and Historical Sites
Visit the Artist Alliance Gallery and the world-renowned Creative Casket Makers (unusual shapes and sizes)
Visit Ghana University, meet with scholars from all over Africa and the World
Meet with officials from the Boards of Trade & Tourism
(See Announcement For More Info)

---
Thursday, August 14th thru Saturday, August 23rd
Details about the trip are coming soon.
---
Send Listings to events@www.femmenoir.net
---