The Village Shoppe -- Books


Black like Us: A Century of Lesbian, Gay, and Bisexual African American Fiction
Black Like Us chronicles 100 years of the African American lesbian, gay, and bisexual literary tradition. Beginning with the turn-of-the-century writings of Angelina Welde Grimke and Alice Dunbar Nelson, it charts the evolution of black lesbian and gay fiction into the Harlem Renaissance of Langston Hughes and Countee Cullen and the later postwar era, in which works by Audre Lorde and James Baldwin signal the emerging sexual liberation movements. The 40 authors featured also include Alice Walker, E. Lynn Harris, Audre Lorde, April Sinclair, Jewelle Gomez, Thomas Glave, and Jacqueline Woodson.

---

A Deeper Love by Shonia L. Brown
Coffee will make you black. Beauty is skin deep. The brown paper bag test. Beauty is in the eye of the beholder. Youíre too dark to wear bright colors.
The mind is a powerful thing. Developing negative thoughts through what the mind receives can be detrimental to any human being. Paula Travis knows this well because most of her childhood she heard words that destroyed her self-esteem, and her self-love. She grew up believing that because of her skin color she was not worthy to love herself or to be loved by another, until Angel. Angela Reynolds, known to her friends as Angel is an aspiring writer, who works for a local Atlanta theatre company. During a season that people consider the most joyous and loving time of the year, Angel finds herself at a lesbian bar on Christmas Eve soaking her wounds in rounds of Cape Cods. Her lover of two years has dumped her. Angel never expected to meet Paula Travis that night, a woman who would change her world forever. Through this brief encounter, Paula and Angel begin a new relationship and journey towards a deeper love. With the help of a few friends, these two women search for a place in their hearts and minds where negative beliefs no longer exist and only love prevails.
---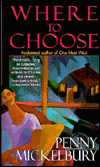 Where to Choose by Penny Mickelbury
CAROLE ANN GIBSON: SHE USED TO UPHOLD THE LAW. NOW SHE FIGHTS FOR JUSTICE.
Life isn't fair, but former D.C. lawyer Carole Ann Gibson believes it should be just. A year ago, catching her husband's killer strained her faith in the legal system to the breaking point. Now she's climbing out of a numbing grief, and a plea for help from her mother may be all she needs to snap her out of her lethargy...or get her killed.
Her mother's neighborhood had been one of Los Angeles's little jewels: a couple of city blocks where mixed cultures got along and prospered. Now a rash of muggings and murders have residents scared to death. If the cops won't help, what can one woman do? Maybe nothing. But Carole Ann Gibson is willing to risk her life trying-to uncover the real reason for police indifference and enter a dark zone where those who catch criminals sometimes become them...
Author Biography: PENNY MICKELBURY became the first Black reporter for the Banner-Herald in Athens, Georgia in 1970. Since then she has covered politics for the ABC-TV affiliate in Washington, D.C., and for the Washington Post. She has written three previous books, Keeping Secrets, Night Songs, and One Must Wait. Ms. Mickelbury lives in Decatur, Georgia.
---
The Book of Sarahs: A Family in Parts by Catherine E. McKinley
"Catherine McKinley was one of only a few thousand African American and bi-racial children adopted by white couples in the late 1960s and early 1970s. Raised in a small, white New England town, she had a persistent longing for the more diverse community that would better understand and encompass her. In an era shaped by the rhetoric of Black Power and Black Pride, McKinley's coming of age entailed her own detailed investigation into her birth history, a search complicated by the terms of a closed adoption that denied her all knowledge of the circumstances of her birth." The Book of Sarahs traces McKinley's own time of revelations: after a five-year period marked by dead ends and disappointments, she finds her birth mother and a half-sister named Sarah, the name that was originally given to her. When she locates her birth father and meets several of his eleven other children she begins to see the whole mosaic of parentage - African American, WASP, Jewish, Native American - and then is confronted with a final revelation that threatens to destabilize all she has uncovered.

---
by Sonya Shields
I am very proud to announce the release of my erotic book of poetry and prose, titled, "Spiraling Out." It is a decade long tale of finding peace with my sexuality and my love for women.

The story begins with my first discovery of an attraction to women and journeys to womanhood.

It is an extremely happy time for me. I give thanks to my experiences, and I hope my writing offers understanding, healing and excitement!

Copies are available for $10.00. Please send an email to to order Spiraling Out. I will send you a book right away!!

Thank you for your support! I look forward to hearing from you! Take care and talk to you soon, Sonya.
---
Available At:


"Love Notes" by Penny Mickelbury

ISBN #:0-9714222-0-6
Pages: 193 pp.

They're back! Gianna Maglione, the cop looking for the murderer of well-to-do older lesbians, and Mimi Patterson the reporter, looking for the next big story are on the case in the third installation of this popular mystery series by veteran novelist Penny Mickelbury. This sexy duo finds time for love and passion while solving the latest string of murders under investigation by the D.C. Hate Crimes Unit. Smart, sexy, intriguing, these characters read like people you want to know.

Mickelbury... dares to write characters you don't meet on every soap opera and TV drama, and she tackles topical issues that society likes to sweep under the rug...

---
"Resurrection" by Robin G. White

ISBN #:0-9714489-0-6
Pages: 80 pp.

Kings Crossing Publishing is proud to announce the release of its inaugural publication Resurrection the much-anticipated Collection of Work by award-winning, Afro-Brazilian, poet, playwright, provacateur Robin G. White.

Best known as the author of the edgy, provacative, ground-breaking play Panty Liners and the soul-stirring, thought-provoking, performance piece regarding lesbian, domestic-violence, Remedy, Robin G. s words have reflected the passions, power and pleasures of people of color for generations.

In Resurrection Robin G. defines love as the places where our hearts are captured, our spirits are uplifted and our histories and ancestries are honored. Full of the beautiful and powerful imagery, lyrical rhymes and the twisting and turning of a phrase for which she has become known, Robinís words leave you breathless, burning and hungry for more.

The wordsmith and lead vocalist for the spoken-word band, Sweet Black Molasses, and soulstess of Drag Kings, Sluts and Goddesses brings her electrifying work from the stage to the page.

Robin G. White does not merely write; she creates melodies rich with voices from the common experiences of our people. Sexy, soulful, provocative, her words form the chorus of our lives. Ė malik m.l. williams, The Adodi Muse: A Gay Negro Ensemble.

To locate or place Resurrection in your area bookstore or for further information regarding Kings Crossing Publishing or Kings Crossing Publications .

---
Available At:


The World Is Round by Nikky Finney
The World Is Round focuses on the intimacy of life. The intimacy of family. The intimacy of struggle. The intimacy of community. The intimacy of sensuality. The intimacy of hatred. The intimacy of hunger. In this collection of poems I continue to chart my belief that human beings can be better than we are. In this book I am a chorus of monks. I am an elephant. Sweetgrasss. The confederate flag. My motherís umbilical cord. I am a southern congressmanís retarded son. A Black womanís grotesquely cut body. My fatherís last cigarette. - Nikky Finney



To reserve your signed, limited edition hardcover volume of The World is Round, go to our PayPal site. While supplies last -- only 950 copies left!

$30.00 - plus shipping and handling
http://www.nikkyfinney.com/
---