Sweet Baby J'ai
"A powerful young performer blessed with Lena Horne's biting enunciation, J'ai sometimes sounds as pure and creamy as Ann Hampton Calloway, other times embraces the earthy integrity of Nina Simone." -- The Jazz Times

"In Los Angeles, we have one singer in particular who seems destined for greatness, Sweet Baby J'ai. I advise all jazz and blues fans to go out of their way to see haer in concert." -Scott Yanow, Music Conection Magazine

"Music lovers will be hard pressed to determine if Sweet Baby J'ai is a jazz or blues singer - she does both with great aplomb. Her voice is part cream, part honey and all soul....Baby J'ai is definitely a rising star." -Glen Starkey, New Times

"J'ai has a strong sound and delivers her material with conviction..." -Leonard Fether, Los Angeles Times

Sweet Baby J'ai got her start under the guidance of her mentor, the legendary Phil Moore. Shortly thereafter she could be found performing in jazz clubs in Paris. Back home in the U.S., she benefited early on in her career from the support and direction of working with legends, saxophonist Teddy Edwards and guitarist Phil Upchurch.

Sweet Baby J'ai is a critically acclaimed vocalist and songwriter who has toured the world with her distinctive sound. She and her band have also performed extensively in the U.S., and have been featured at numerous festivals, clubs and benefits. She has shared the stage with such luminaries as The Jazz Crusaders, Patrice Rushen, Red Holloway, Etta James, Joe Sample, Koko Taylor, Frank Capp & the Juggernaut, Sheila E., Stanley Turrentine and the late Eddie Harris, to name a few.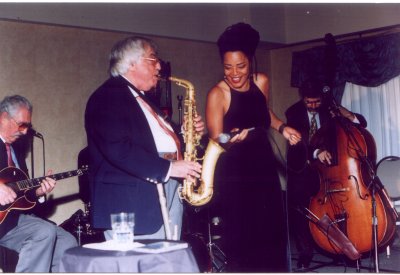 She has been heard on radio and television both nationally and internationally. With her deep, powerful, sometimes playful and sensuous voice, and her acclaimed songwriting style, Sweet Baby J'ai is provocative and impassioned, combining her infectious personality and original style with the influences of Carmen McRae and Joe Williams.

Some critics describe her as a "jazz singer", others as a "blues singer", but all agree that this versatile singer-songwriter is a "storyteller". Sweet Baby J'ai's debut release, The Art Of Blue, and latest release, Evolution on the Sunset Music label is a wonderful collection of blues, jazz and spoken word. She tackles diverse social issues, lost love and pays tribute to divas of the past.

Baby J'ai grew up in a city rich with musical history, Kansas City, home to legends like Big Joe Turner and Charlie "Bird" Parker among others. At only five years old, she was already writing songs and by the age of eight, sneaking in the backdoors of clubs on 18th & Vine to watch her father play with top jazz musicians. Her uncle, Vernon Gower, played bass with Billie Holiday and Lionel Hampton and her cousin Michael Howell, played guitar with Dizzie Gillespie.

Her style is rooted in the Kansas City sound. Sweet Baby J'ai is a versatile performer and an unconventional musician. She takes the washboard, an instrument usually reserved for Cajun or jug band music and puts a jazz spin on it, claiming it as her own "Jazzboard" sound. Whether singing a swinging version of a standard, a soulful blues ballad or a haunting original, she weaves her special magic through songs
seemingly tailor-made for her intimate style.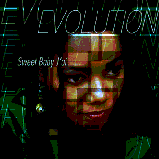 J'ai demonstrates many talents on her new CD. Evolution finds her wearing multiple hats including producer, composer and arranger. She serves up a multi-hued palette of original compositions that highlight her warm, velvety tones; and manages to breathe new life into classic songs with her innovative, sometimes unexpected, often sophisticated interpretations. She swings, whispers, shouts and caresses every song like telling a personal story.

Evolution takes you on an extraordinarily vivid journey and features some of the finest musicians on the scene today, including legendary saxophonist, Teddy Edwards and renowned trumpeter, Oscar Brashear, all of whom, according to James Jannise, Program Host of KLON, 88.1, America's #1 jazz station,"play up to the level that each of them are known and respected for.

I can say with authority that this collection of works has elevated Sweet Baby J'ai from songstress to Diva." Call her a renaissance woman - she's also a playwright, having co-written the acclaimed play, "3 Women: A Dramatic Tribute to The Divas of Jazz and Blues", as well as being an actress, novelist, and artist.

Sweet Baby J'ai is one of the brightest rising stars in jazz.

 
Source:  http://sweetbabyjai.com/press/
http://www.machatheatre.org/bio.htm
http://www.machatheatre.org/home.html

Website:  http://sweetbabyjai.com
CONTACT: BARBARA COLLIN -- P.O. BOX 10782, BEVERLY HILLS, CA 90213
PHONE: 323-660-1016 FAX: 323-660-0667 collinartist@earthlink.net 
B D C  
Burnside Distribution Corporation
CD sales for major chains, one-stops and fine stores all over the world
FILM:  SWEET BABY J'AI ON DIVAS BREAKING TABOOS
Traipsing Thru Films
P.O. Box 69324
West Hollywood CA 90069
Tel: 310/657-8041
Fax: 310/652-5573
godgesongs@aol.com
www.traipsingthrufilms.com
ADVISORY BOARD MEMBER for MACHA Theatre Co. Mujeres (Women) Advancing, Culture, History & Art is a non-profit organization under the 501c3, that was formed in 2000 to promote Latina, women of color and lesbian art and culture through the dramatic arts. By showcasing exciting new multi-cultural theatre pieces, MACHA seeks to build social, cultural and artistic bridges throughout the greater Los Angeles community.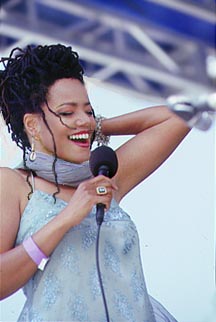 Live at the Playboy Jazz Festival / Baldwin Hills - June 2002 - Photo by Warren Berman
Bookings
SWEET BABY J'AI GUARANTEES
YOU AN UNFORGETTABLE EVENING
OF MUSIC! 
Sweet Baby J'ai is available for... Festivals, Concerts, Corporate Events, Special Affairs, Holiday Parties, Benefits, Educational Workshops and Clinics.
You can make arrangements not only to book concert, club and festival gigs, but to have Sweet Baby J'ai's very own brand of jazz and blues for your corporate party or special celebration too. Sweet Baby J'ai's band, which she often refers to as The Dream Team, is comprised of some of the best talent on the scene today; top professional, studio and touring musicians.
In addition to touring both nationally and internationally with Sweet Baby J'ai, they have worked with top talent such as Ray Charles, Chaka Khan, Natalie Cole, Dizzy Gillespie, Benny Carter, Nancy Wilson, Kenny Burrell, Pharoah Sanders, Eddie Harris, Freddie Hubbard, Etta James, Dr. John, and many others.

Sweet Baby J'ai can tailor the size of her full nine piece band to fit your needs and budget. For a more mellow sound, the Sweet Baby J'ai Blue Quartet, Trio or Duo is available upon request.

Contact Collin Artists for "The Perfect Fit" to customize the size to fit the special needs for your dream celebration!

Contact: Barbara Collin
Collin Artists
P.O. Box 10782
Beverly Hills, CA 90213

Phone: 323-660-1016
Fax: 323-660-0667