Alexis DeVeaux
Author
"I'm interested in the relationship between history and literature, so I like to investigate how African American women and women of color construct our visions of history while appropriating literary forms. I see our contemporary literatures as agents of social change, critical to our different but similar struggles for self-determination and peoplehood. As a writer intimately engaged in this process myself, I teach courses that are designed to challlenge the dominant paradigms of history, literature, and creativity."
Alexis De Veaux is a poet, playwright , and novelist born and raised in New York City. Her plays include, Circles, Tapestry, and A Season to Unravel, which was produced by the Negro Ensemble Company in 1979. She has also published a novel, "Spirits In The Street," and a picture book, "NA-NI." She is currently poetry editor of Essence Magazine.† She is an associate professor of Womenís Studies at the University at Buffalo and has traveled as an artist and lecturer throughout the U.S., Africa, Europe, Japan and the Caribbean.
Education: ďI was not very settled as an undergraduate and so I started out at Cornell and ended up at Empire State, I think, looking for writing programs because ultimately, that is what I was really doing in the late Ď60s to early Ď70s. When I came to Buffalo, I had just turned 40 and I was going to graduate school. I got my MA here, in the department of American Studies, and it seemed like a cool thing to address underdeveloped moments as an intellectual. And I got my Ph.D here, at UB in the department of American Studies with a concentration in Womenís Studies.Ē
Current Project: ďI just finished this biography of Audrey Lourde which took me seven years to create and to manuscript. At the same time, Iím working on some short stories and Iím also working on a collection of essays.Ē
On her name and ďMasaniĒ: ďIn 1986, a South African friend of mine gave me the name Masani, which means Ďgirl-child born with gap teeth.í So for a long time, I didnít own the name; I wasnít really sure what I was doing. Also, I love my name. My mother actually named me after Alexis Smith, who was an actor in the 40s and 50s who didnít quite come to fame in the way that Barbara Stanwick or Betty Davis or Joan Crawford did. But I never thought that I could relinquish that name, because my mother said she wanted to name me after a tough broad. And she was very purposeful about it. So I thought, rather than delete that name, I would just add to that. So lots of people in the university know me as Masani Alexis DeVeaux, and people in the literary world know me as Alexis DeVeaux. So Iím sort of using a number of different personas, and I kind of like that.
Whatís it like to have a banned book? Itís sort of interesting to be considered a banned author, because it really to me means that youíre doing something very right. And that you are raising issues that people presumably donít want children to know about. So the book is about a little girl who fantasizes about getting a bicycle and the family is a family that is on welfare And the check is stolen the day that she thinks she is going to get the bicycle. Now this book was published in 1973, so back then, anybody whoís doing stuff in childrenís literature thatís veering from the norm is really taking a chance. The fact that it was banned and/or presents me as a challenge, suggests to me that Iím really on the right course.
What is your strangest performance moment? In 1988, when I was in Japan. Not so much because it was Japan, but because as someone whoís really dependant upon being able to read, and therefore figure out my life by reading, I realized that in Japan I couldnít decipher the alphabetóitís all pictures. And so there are no root words like in French or in Spanish or Italian you sort of could guess at. And it was this sense of being illiterate as a person who only spoke English that was really really strange for me.
Most profound mentors: If I name two, Iím going to be in trouble. So let me say this, because I think this would be more true: The community of black woman writers have mentored me in different ways, I mean historically but also in a contemporary way. I understand that as a black woman writer, I can have any voice because there are a variety of voices within that community. So itís that whole tradition that mentors me. And it would be hard in that regard to say that itís just this person or that person.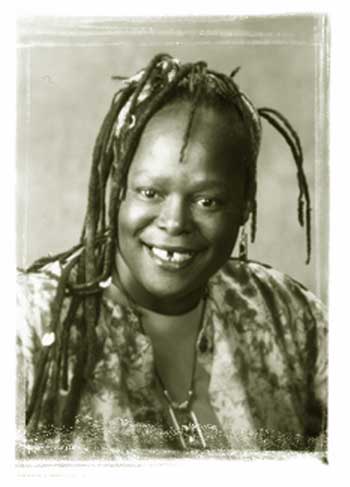 Career highlight: Actually, there are two. The first was in 1972, when I won a National Black Fiction contest. It was my first short story and I entered the conference on the last day, at the last hour, and never expected anything from that. But I won first place. So that was a real moment in terms of saying, ďOK, this is possible.Ē More recently, what stands out for me amongst many wonderful moments is that I had the opportunity to be in South Africa when Nelson Mandela was released. In fact, I was part of a team that was sent to South Africa in anticipation of his release. And I was one of the first international journalists who got to interview him. And I did an exclusive interview with Mr. Mandela and his wife, Winnie Mandela at the time at their home in Soweto, so I blew up from there. So that was in 1990, I think it was.
What do you do to relax or escape? I love to watch videos... movies. Iím a real movie freak. And itís probably because movies are stories. When Iím really into my mode I like to bike, but now Iím walking because the weatherís kind of in-between. I canít tell you about my vices because this is a public moment. I canít say, like, everything, OK? But I have good relaxation techniques.
Do you have a preferred writing medium? Actually, no. I feel gifted, I feel blessed that Iím gifted to move in and out of genres. And every story has its own medium. And I know that a spirit is moving through the work and itís taking me there. Sometimes, I think Iím writing a poem but Iím actually writing a story and vice-versa. I just feel like itís good to be able to explore all aspects of your literary imagination.
First published work: That one short story I told you about. It was called Remember Him, an Outlaw, published in 1972 in a now defunct magazine that was published by the Afro-American Institute at New York University.
Do you have brothers or sisters? I have six living siblings, two brothers and four sisters. My oldest sister died in 1983. So I am now oldest.
On teaching: Being an Associate Professor at UB, I think the thing I bring to womenís studies is a primary identity as an artist as someone who is involved in culture and cultural issues. At the same time, what I try to do is make a relationship between literature and history. I try to look at the intersections between literature and history. I donít think that any book is written in a vacuum. I think itís written within its own particular social or political moment. I think thatís a way of doing womenís studies thatís not primarily based on theory, but itís more empirical. Itís based on living as an artist and living a cultural life, and bringing that to scholarship.
†
Source:†
http://www.artvoice.com/march21_27_2002/pages/speeddialprofile.html
†