Sapphire
(Ramona Lofton)
Ramona Lofton, better known to her readers as Sapphire, was born in 1950 in Fort Orr, California. On the surface, her family was characterized as the normal, middle class family. Her father was an army sergeant and her mother was a member of the Women's Army Corps. As a child, Sapphire's family relocated several time to various cities, states, and countries. When she was only 13 years old, Sapphire's mother became the victim of alcoholism and eventually departed from her life. Her mother eventually died in 1983. In that same year, her brother, who was then homeless was killed in a public park.
Sapphire attended San Francisco City College in the 1970's majoring first in chemistry and then switching to dance. She soon dropped out to become a hippie and moved to New York in 1977 taking several odd jobs, including topless dancing and housekeeping. It wasn't until the early 1980s that she began writing poetry and reading it aloud at various Village venues including the Nuyorican Cafe. Sapphire eventually returned to school and graduated with honors in 1993 with a degree in modern dance. Upon graduation, she taught reading to students in the Bronx and Harlem and also enrolled in graduate school at Brooklyn College.
Single-monikered literary icon Sapphire has been called many names. A writer whose art grapples with diverse identities and marginalized communities, she often finds herself under attack, not least because she challenges the very groups with which she identifies. She reminisces, "In the '80s I'd be in front of a black audience reading about a black woman eating a white woman's pussy, and I was considered a deviant traitor." At an event in Chicago, where she was billed as a lesbian author, she faced the wrath of two female audience members furious at what they considered to be Sapphire's deliberately faux-lesbian performance. Seems her reading wasn't Sapphic enough. But she doesn't flinch away from people who try to simplify her particular mélange of identity and sociopolitics with attempts to label and limit her scope. Expressing the difficult locus where revelation meets revolution is her signature fusion, a fierce combination of confessional and political metamorphoses.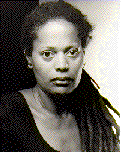 Her groundbreaking, autobiographical book of poetry American Dreams (1994) probed the brutal legacy of childhood sexual abuse, while her second book and debut novel, Push (1996), ushered her into mainstream success and celebrity. The critically acclaimed novel was a controversial examination of the intersections of urban poverty, literacy, incest, and AIDS in the life of protagonist Precious Jones, a teen mother learning to read and finding autonomy despite desperate circumstances. "I feel great about Push," she says. "They're reading that book in Guadalupe. It's been translated into French, which means in all of West Africa, there's the possibility of it being a weapon against HIV and homophobia."

Sapphire is following Push with a book of poetry, Black Wings & Blind Angels (Knopf, 130 pp., $20), keeping her poetic voice limber. "To me," she says, "poetry is like a language, a language I want to keep up." Here, her characteristic intensity mixes with classical as well as experimental forms, excavating dreams, memory, and history to address a multitude of topics, police brutality and sexual identity among them. In quieter moments she gracefully examines the fear of making love with the lights on, meditating on the eroticism of a body not in its idealized youthful form. Even in Black Wings's more harrowing poems, sestinas abound, lending a sharp, disciplined edge to unwieldy memories of childhood abandonment and rape.

This engagement with formal poetics marks a significant change of perspective for Sapphire. Forgiving her sexually abusive late father after decades of rage, she's offering themes beyond her personal-healing manifestos. "Healing is a good state," she says, "but it's also all-consuming. Somewhere past healing you get what they promise you, you get your life back. You get to explore other things. It's like that Buddhist aphorism, 'The barn has burnt down and now I can see the moon.' "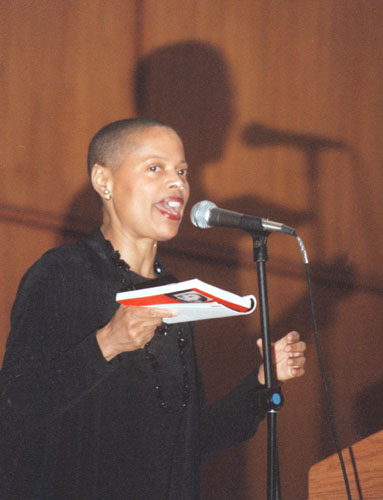 Moving past the work of survival, she says, and linking it to political realities outside one's personal scope, is critical for social change. In Black Wings, Sapphire takes aim at American institutions that effectively sanction racist violence. A series of poems, "Gorilla in the Mist," which was begun in American Dreams and continues in the new volume, explores paradoxical constructions of black male sexuality as much as it does police brutality, graphically imagining the psyches of racist cops. In another poem, "Looking at Plate No. 4: 'Homicide Body of John Rodgers, 883 W. 134th Street, Christensen, October 21, 1915,' " she muses on a real-life episode described in Luc Sante's Evidence, in which a murdered black man was photographed with his penis exposed, a post-mortem indignity that would not have been inflicted on a white victim.

For Sapphire, forgiving her father was a crucial step in being able to address the complex range of social injustices facing African American men. In a long prose poem, "My Father Meets God (or, The Dream of Forgiveness)," she portrays her father meeting God in the afterlife, recalling pivotal points of his life in a fluttery stream-of-consciousness. Regarding Sapphire, the father in the poem feels a mixture of pride for what she's made of herself ("Look at your girl lift up the people; she's the nurse, teacher (poet/healer) you always wanted her to be") and regret for how he hurt her. Ultimately, the daughter's strength redeems the father: "Look look see Sapphire shine. She changed it for you, the past. That's what children are for."

Sapphire knows the past is not entirely changeable, but that it can be transcended and transformed. Known for years as an out lesbian feminist, Sapphire has, in her new book, revealed her bisexuality. Following the poem "A Window Opens" is a rather blunt and oddly stiff explanatory note about this change. Shrugging off the label "lesbian" is certain to prove no easier than shouldering it, but, as always, she is ready for the discussion. "As much oppression as I took on when I came out as a lesbian, the gay community was also a safe place for me. And that was okay for a little while, but then that safety became a box. I made a big statement when I came out, and since that statement is no longer holding true, I need to make another statement about where I'm really at." Sapphire's readers should know by now that her work ruthlessly challenges accepted norms and attitudes about women, sexuality, race, and politics. And the poet knows her readers: "My audience includes people who can or would like to understand the process of personal transformation, people who understand putting yourself out there. There are those who, whether or not they agree with where I'm going, are serious about telling the truth about life and therefore will be serious about me and my work."

Sapphire is hoping for a dialogue among women who are ruled by desire, in part because the prevailing discussion of mutable sexual identity seems too simplistic. "The world is not black or white," she says, "the transgender movement is showing us that it's not strictly male or female, there's a whole wilderness in between." If separatist ideologies polarized and simplified genders, Sapphire is excited by the possibilities for multiplicity, pleasure, and inclusive sexual politics she sees pulsing in younger feminists. She claims, "These women are gonna have their sexualities, with men, with other women. I think that's big progress."

Moving along herself, she wonders aloud whether these themes of sexual identity will resurface in the novel she's working on. "We'll see," she says. But one thing is for certain: "This is my last public coming-out statement." Sapphire's last word can be taken as the first word in the push-and-pull of a controversial dialogue, possibly leading toward the kind of inclusiveness that the poet herself insists on. As she says in "A Window Opens": "It's about opening, being vulnerable, coming out front with my desire, being clear after all these years."

Source:  http://www.villagevoice.com/vls/164/shaughnessy.shtml
Voices From The Gap:  http://voices.cla.umn.edu/authors/sapphire.html