Ruth Joyce Waters...
Sunrise: April 15, 1930 •:•
Sunset: July 14, 2001
The following is taken, verbatim, from the obituary "In Celebration Of The Ongoing Life Of Ruth J. Waters"  on July 22, 2001 at the Pasadena Church of Religious Science. 

Ruth touched so many lives and her memory, as well as her spirit, will live on in all our lives.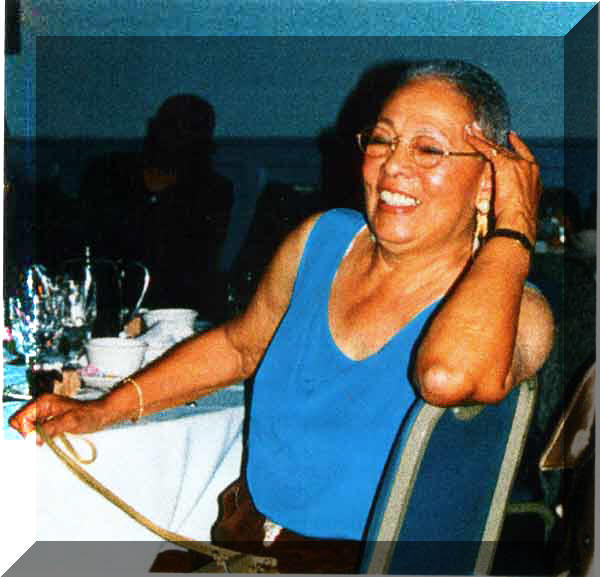 As the product of an interracial liaison between a "feisty" white woman and a biracial man at the beginning of the Depression, Ruth J. Waters was reared by a strong black woman activist and educated in the segregated educational system of Oklahoma. Even as a child Ruth never considered that one could choose not to fight injustice whenever and wherever encountered.
After her first marriage and two children, she entered a Nurse Training Program in the third integrated class at the University of Oklahoma. Ruth was the first female to host a radio show in Oklahoma City. She moved to Chicago long enough to remarry and have another child before the family moved to California. Her activism and community involvement continued in California as she challenged local School Boards, served as den mother, Girl Scout leader, a Big Sister, and was an active member and fundraiser for the Pasadena NAACP during the Civil Rights Era. Being of the "old school," a generation of local youth "feared" and loved "Ms. Waters"...and knew she genuinely cared. Having begun her career as a nurse, Ruth worked with the Los Angeles County Probation Program and retired as head of the Pasadena branch of the Employment Development Department's Summer Youth Program.
A true Renaissance woman, she bred Great Danes and showed them all over the country. She was a self-taught auto mechanic, seamstress, computer and stock market novice, an official rescue person for the Kennel Club, and taught her grandchildren to swim.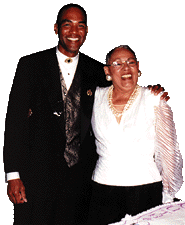 Ruth knew that a meaningful life demanded that you be true to yourself, and be willing to grow and change. In 1986, Ruth co-founded the National Black Gay & Lesbian Leadership Forum and served as its co-chair for six years. Prior to that, she served on the Board of Connexxus for two years. In 1995, she became the first recipient of the L.A. Gay & Lesbian Center's LACE (Lesbian and bisexual women Active in Community Empowerment) Award-for Outstanding Contributions as a Grassroots Activist. As a founding member of Investors Unlimited, Ruth served the club as vice-president and became its president in February of this year. Continuing her lifelong commitment of service, Ruth became a Court Appointed Special Advocate (CASA), where she worked for the well being of abused and neglected children in the Dependency courts of the County of Los Angeles. At the Pasadena Church of Religious Science, she was a member of the Toastmasters Club, volunteered in the Computer Lab and enjoyed attending church with her granddaughter Robin.
A true fighter, Ruth was a survivor of both breast and cervical cancer. Having lost her last battle with cancer, Ruth unselfishly donated her body to UCLA for medical research and organ transplant. She often joked that there would probably be nothing left for them to use. Yet, shortly after her Sunset, her corneas were transplanted giving two individuals the gift of sight.
She is deeply loved, and will be dearly missed by all whose lives she touched. She leaves to carry on her legacy, her son Victor, daughters Chiquita and Tami, her grandchildren Sean, Lamar, Astral, Alafi, Gillian, Jamila and Robin, five great-grandchildren and hundreds of women and men from all walks of life who have been impacted by her power, her tenacity, and her love.
One very close to Ruth recently remarked that "she was one hell of a woman, and a magnificent mother."