Michelle Parkerson . . .
For African American, lesbian, writer, performance artist and independent filmmaker Michelle Parkerson, there is work to be done to document the lives of those who exist outside the margins. With camera close at hand, Parkerson has used her feminist cinematic vision to uncover and expose the history of African American women's lives.
Michelle Parkerson is a writer and independent filmmaker from Washington, DC. She has served on the faculties of the University of Delaware, Howard University, Northwestern University, and Temple University. Her public television specials include But Then, She's Betty Carter, Gotta Make This Journey: Sweet Honey In The Rock, Stormé: The Lady of the Jewel Box, and Urban Odyssey.
In 1992, she received a Rockefeller Foundation Film/Video Fellowship. As a member of the American Film Institute's Directing Workshop for Women (8th Cycle), she wrote and directed Odds and Ends, a black amazon sci-fi video. Ms. Parkerson also directed A Litany For Survival: The Life and Work of Audre Lorde in collaboration with producer/co-director Ada Gay Griffin.
Her acclaimed film "A Litany for Survival: the Life and Work of Audre Lorde," celebrates the life of one of this century's most gifted, courageous and accurate writers: self-described black, lesbian, feminist, warrior, poet, mother, Audre Lorde.  Born in 1934, Lorde battled breast cancer for many years before her death in 1992. Her writings were the voice and the inspiration for a generation of activists fighting for lesbian and gay rights, civil liberties, and equal rights for women. While fiercely committed to the work of liberation, Lorde's writings were also at times playful, spiritual, and erotic. At one point in the film, Lorde tells her viewers: "What I leave behind has a life of its own-I've said this about poetry, I've said it about children I'm saying it about the very artifact of who I have been."
| | |
| --- | --- |
| Ada Gay Griffin |   |
Over a period of eight years, Parkerson and Griffin worked together with Lorde to produce A Litany for Survival. The film combines early photographs of Lorde, film clips of the poet's public readings of her prose and poetry, conversations with her children, her partner Gloria Joseph, and tributes to Lorde's work by Adrienne Rich, Sonia Sanchez, Jewelle Gomez, Essex Hemphill and Cheryl Clarke.  The documentary premiered at the 1995 Sundance Film Festival, aired on the PBS series, P.O.V. and has received audience awards at festivals in Los Angeles, Paris, and San Francisco.

In addition to being a filmmaker, Michelle Parkerson is also a performance artist. Divas, her critically acclaimed cabaret show with vocalist/comedienne Brenda Files, played to standing-room crowds at Washington, DC's Dance Place. As part of the DC Writers Residency, she collaborated with MacArthur Fellow Guillermo Gómez-Peña and Roberto Sifuentes in The Dangerous Bordergame. Currently, she is touring with choreographer Kimberli Boyd and multidisciplinary artist Kwelismith in Women of Substance, a Black women's performance collaboration.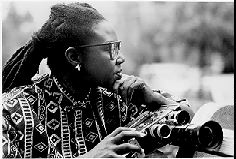 Michelle Parkerson's poetry and short fiction are anthologized in In Search of Color Everywhere (edited by E. Ethelbert Miller), Afrekete: An Anthology of Black Lesbian Writing (edited by Catherine McKinley and L. Joyce Delaney), The Poetry of Sex (edited by Tee Corinne) and The Arc of Love (edited by Clare Coss).

Michelle Parkerson lives in Washington, D.C. and has produced documentaries on jazz singer Betty Carter, Sweet Honey in the Rock, as well as Odds and Ends (a black amazon science fiction short film), and Storme': the Lady of the Jewel Box (a documentary about Storme' Delarverie, former M.C. and male impersonator with the legendary Jewel Box Revue.)  In her book on women filmmakers of the African and Asian diaspora, Gwendolyn Audrey Foster wrote of Parkerson's work: "Michelle Parkerson's documentaries embody black female subjectivity at its most basic. Here, black women speak for themselves."
Michelle Parkerson currently heads up her own DC-based production company, Eye of the Storm Productions.

 
Source:  Out In The Mountains:  http://www.mountainpridemedia.org/mar98/parker.htm
                Women Make Movies: http://www.wmm.com/catalog/_makers/fm289.htm