Cheryl Clarke...
Author and Director of Office of Diverse Community Affairs and Lesbian/Gay Concerns -- Rutgers University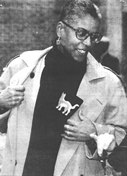 Cheryl Clarke was born in Washington, D.C. She is the author of four books of poetry, Narratives: poems in the tradition of black women (1983), Living as a Lesbian (1986), Humid Pitch (1989), and Experimental Love (1993). She attended Howard and Rutgers Universities. As a member of the lesbian and gay communities since 1973, Clarke's writing integrates queer perspectives with her feminist and African-American perspectives. Her poems, essays, and book reviews have appeared in numerous feminist, lesbian, gay, "straight," and African-American publications, among them:
This Bridge Called My Back: Writing by Radical Women of Color
Blue Stones and Salt Hay: 
    An Anthology of New Jersey Poets
Home Girls: 
    A Black Feminist Anthology
Bridges: 
    A Journal for Jewish Feminists and Our Friends
Feminist Studies
Belles Lettres
The Black Scholar
Gay Community News
Outweek
Sojourner
The Advocate
Gay and Lesbian Poetry in Our Time
Conditions
Thirteenth Moon
Inversions
Writing By Dykes, Queers and Lesbians
Persistent Desire:
     A Femme-Butch Reader
The Arc of Love:
    An Anthology of Lesbian Love Poetry
Radical America
The Kenyon Review
A Formal Feeling Comes
The Harvard Lesbian and Gay Review
Theorizing Black Feminisms
Cookin' With Honey
She has read her poetry and spoken in numerous venues throughout the United States and Canada.

She is the Director of Diverse Community Affairs and Lesbian-Gay Concerns at Rutgers, the State University of New Jersey-New Brunswick campus. In addition to her work on behalf of queer students, Clarke also works on issues of diversity as well as issues of diabilities. She has directed this office since 1992, though she has worked at Rutgers since 1969, when she arrived here as a graduate student. She served as a member of the editorial collective of Conditions magazine from 1981 - 1990, as a member of the board of directors of New York Women Against Rape, 1985 - 1988, was a founding member and fundraiser for New Jersey Women and AIDS Network from 1987 - 1990, and served as co-chairperson of the board of the Center for Lesbian and Gay Studies at the CUNY Graduate School from 1990 - 1992. Currently, she serves as the Chair Person of the Board of Directors of the Astraea Lesbian Action Foundation.
to email Cheryl Clarke, click below:
cclarke@rci.rutgers.edu
Living As a Lesbian
In her book, Living As a Lesbian Cheryl Clarke presents a stunning collection of poetry.  As the title indicates, much of the book's content revolves around loving and surviving as a lesbian in the 20th century. Clarke also writes about racism and injustice, and reflects upon the people and events of her world. Much of the book has a gritty, urban flavor to it.
In the poem "wearing my cap backwards," Clarke writes, "poets are among the first witches / so suffer none to live." This sets the tone for her poetic style: edgy, dangerous, and allied with the most marginalized elements of society. As she explores her subjects--lesbian sex, racially biased courtrooms, recreational drug use, road kill, and more--Clarke uses language that is alternatingly lusty, playful, profane, enraged, and/or outraged.
Some of the most memorable selections from "Living As a Lesbian" include "living as a lesbian on the make," which narrates the adventure of a lesbian in a "straight" bar; "Indira," an irony-laden reflection on the life and public image of Indian leader Indira Gandhi; and "sexual preference," a humorous meditation on lesbian sexual practices.
As Clarke spins her poetic webs, she ensnares many public figures: Jesse Jackson, Anita Bryant, Vanessa Williams, and more. Her vision is international, multi-cultural, and unbound by time: "i hear a marimba player chanting / her slave song in Portuguese" (from "marimba"). As in her other books, Clarke finds a wealth of inspiration in African-American culture and history.
In the poem entitled "living as a lesbian underground: a futuristic fantasy," Clarke writes, "Leave signs of struggle. / Leave signs of triumph." This book, along with Clarke's other volumes of poetry, contains powerful signs of both struggle and triumph on the part of a remarkable poet. -- Michael J. Mazza
Interview With Cheryl Clarke

Description:
Poetess Cheryl Clarke describes how a well-defined community of lesbians gave her the best entrée into the world of lesbian poetry. Along the way, she pays homage to her predecessors and contemporaries, including Phyllis Wheatley, Gwendolyn Brooks and Audre Lorde, and reads from her collection, Experimental Love, published in 1993. -- Gail Cooper

Air Date:
Show Number: 252
Producer: Anat Salomon
Real Video Presentation
Click to view

Source: 
About The Director -- Rutgers University
QueerTheory.com