SistahFest 2001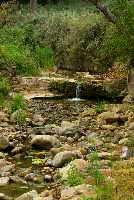 My Children (aka TeamCocker) prevented me from staying over at Sistahfest this year.  But, they did not prevent me from driving up to ULOAH's new location for this year's Sistahfest 2001 -- Gardening the Soul: Recipes for Life.  Needless to say, though my time was brief, I was not disappointed and it was definitely worth the two-hour drive for me.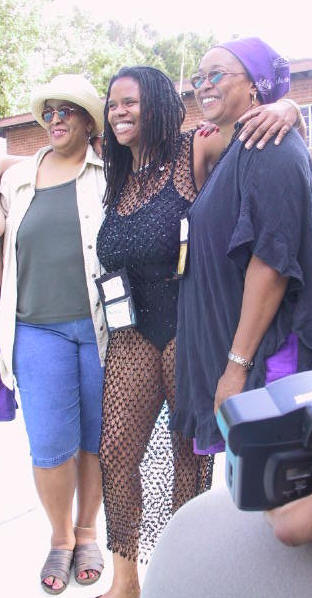 ULOAH Co-Founder Yolanda Whittington (center) with Committee Members Lauren Metoyer (left) and
Erika Henderson (right)
The Entertainment:  The roster of entertainers was impressive and there was something for everyone.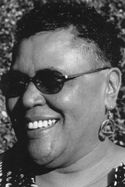 Representing the blues was Gwen "Sugar Mama" Avery with her gut wrenchin,' belly laughin,' music of classic blues.  (If you have not heard her CD entitled Sugar Mama, which was produced by Linda Tillery, click the link to hear Sugar Mama).
Spoken word and R&B was represented by Ms. Miche.  If you have not had the pleasure of seeing or hearing Miche Braden as Bessie Smith, in "The Devil's Music," or hearing her perform live, you missed a treat.  Ms. Miche's CD Diva Out of Bounds was released in February 2001.  Get the CD -- The Sistah's got voice. 


For the hip-hop folk Medusa, dubbed the Angela Davis of Hip-Hop (www.onebadsista.com) because her lyrics are profound (click to listen to One Bad Sista) and Eve The Original Woman, an L.A. sistah who combines soulful beats and bass lines with lyrics that are clearly spoken and easy to relate to, were representing for the Hip-Hop sistahs. 
One sistah who got my attention Friday night was Angela Tate.  Anytime a sistah pulls out an acoustic guitar, sits down and begins to play, she will immediately get my attention particularly if she can sing.  And did she hold my attention and could she sing?  YES!  Angela Tate once worked for Stevie Wonder.  In 1989 she co-wrote, with Nile Rogers and Syreeta Wright, a tribute song for the legend entitled "We Love the 8th Wonder."  Look for more coming from this sistah soon. 


The Workshops:  The workshops were seriously about Gardening the Soul:  Recipes for life.  There were workshops on finance; a Business Networking Mixer; fitness and exercise training; workshops on health and wellness; a Spiritual Doll Making class; and workshops on cooking for health to name a few of the offerings available.
The Pool Party:   No, it ain't the only reason I go to SistahFest, but it helps.  Sistah's in swimsuits -- Yeezzzzz!  Of course, the sistah who always keeps the music pumping at every SistahFest I've ever attended, Sexy DJ, was queen on the box.  Sexy DJ has provided the beat for wrap parties for HBO's Sex in the City, DreamWorks' Mouse Hunt, the Paramount re-release of Grease, plus Seinfeld, Star Trek, Parenthood, Ellen and Quantum Leap -- all the while providing the music for ULOAH events for most of a decade.  You Go Sexy DJ!
 
If you could not make it to this year's SistahFest, mark your calendars for October 2002.  I have no doubt ULOAH will top this year with another spectacular SistahFest in 2002.  Stay tuned . . .
Many thanks to ULOAH's Board and the
2001 Planning Committee for a job well done.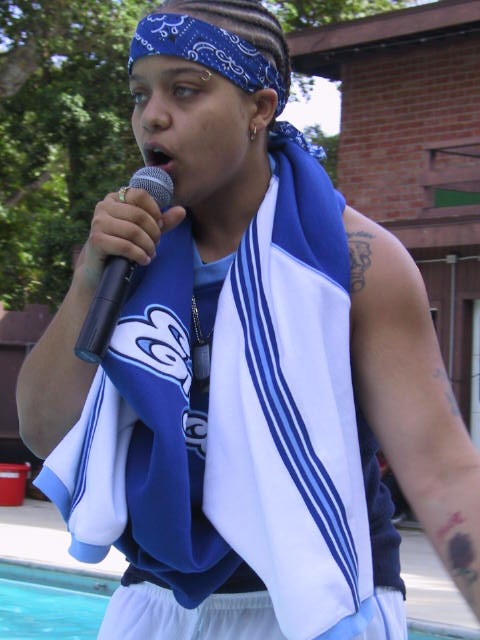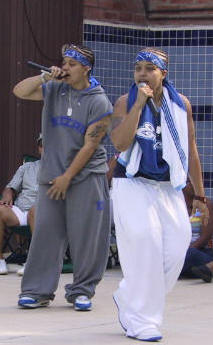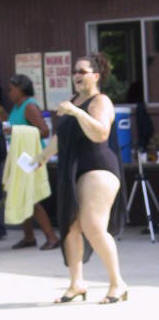 About ULOAH: 

Once upon a time, there was a dream,
a dream of women,
a dream of women coming together
and turning the world around...
and it still lives.
It lives for those who would be sisters".
-Pat Parker

In March, 1989, a group of Black women convened to plan a Black Lesbian conference which would be infused with women's energy and spirit. Through our work together, a new vision evolved: a vision of an organization for Black lesbians based on principles of sisterhood and empowerment.

In August 1990, ULOAH was born, conceived from the dreams and struggles of many strong women who have gone before us and held in trust for those who will come after us.

ULOAH is committed to inclusivity, telling our stories, sharing our lives and healing our wounds.

At its very core, ULOAH is about women loving women: embracing our affection, nurturing our love and accepting and respecting our divergent voices. For more info and to register for next years SistahFest go to www.uloah.com.