Handling Yo Bizness
So you wanna go out in style -- in drag that is -- and you know you wanna look good and legit.† Well, you've got to be properly bound and packed in order to look and feel the part.†
Now, in advance, I want to warn y'all.† There are very graphic images on this page, very detailed graphic images cause I want you to truly handle yo biz'ness.†
If you feel you can't handle it, scroll through the page and look at some photos from some our successful brothers in drag until you get to the "STOP" mark.† Do not go beyond that point.† For the daring darlings of drag, continue on to the Tool Cabinet.

Black Magic
7th Annual Drag King Contest / 11BlackMagic
photos by erin o'neill
8/22/02
An Other Brother Speaks
7th Annual Drag King Contest / 001brother4
photos by erin o'neill
8/22/02
Fresh and the rest of Black Magic tell you about it.
7th Annual Drag King Contest / 001brother4
photos by erin o'neill
8/22/02
Dred and Carlos Los Vegas

†
Maxwell
H.I.S.KINGS - JULY 22 SHOW
Columbus, Ohio


MC Luster
†
***************STOP************

Tool Cabinet

Breast Binders
Strong enough for a man, but made for a woman


Gynecomastia Vest
Our most popular male vest
Invisible under clothing
Adjustable hook and eye front closure
Velcro on shoulders
| | |
| --- | --- |
| NUMBER | PRICE |
| MV110 | $52.00 |
Available sizes: XS, S, M, L, XL, and custom orders

Color: White
Available at:† http://www.morrisdesigns.com/gynecomastia-vest.htm

Packing
WHAT IS PACKING?

Packing is when someone who wasn't born with a penis (i.e. a woman or a male/masculine-identified transgendered person) puts something in their pants to create a bulge that resembles a guy's package. This can be done with a variety of materials, and for many different purposes. While "packing" frequently refers to wearing a strap-on under one's clothes, one can also pack more for the shape and feeling of a dick & balls than for functionality ("packing soft"). Products like Mr Softie can be more comfortable and look & feel more realistic than having a rubber or silicone dildo in your drawers. However, packing with a strap-on ("packing hard") has its advantages, too-- There are situations in which it's mighty convenient to be able to unzip your pants and whip out your dick.

WHO PACKS, AND WHY?

Anyone can pack... Drag kings, straight women, dykes, femmes, butches, transmen (FTM's), Daddies, tops, Bob Dole (or anyone else who can't get it up), bottoms, switches, bio-boys with small penises, leatherfolk, vanilla lesbians... Everyone who packs has their own reason for it. For some folks it's just about sex. For some it's integrally related to their butch, boydyke, girlfag or transgender identities. For others it's about power, or about being subversive.

†
The Tools
Info About the Pissin' Passin' Packer (aka the PPP -- pronounced Pee Pee Pee)†
DJ. constructs the Pissin' Passin' Packer dick from three readily-available commercial parts (we don't do the manufacture), a lot of know-how, and a fair amount of time and fiddling to get it right. We think this is the best thing we've tried (and tried and tried) for the purpose, which is threefold:
| | |
| --- | --- |
| | Pissing/Urinating/Peeing: This dick can be used as a clean, tidy standing urinary device. You can hold it up against yourself, face the toilet bowl or urinal, and let fly. It takes a bit of practice, but after you learn how to position it, it becomes second nature, and you won't be dribbling down your leg. |
| | Passing: This refers to the ability of a prosthetic device (or heck, a whole human) to look "natural" at being what it purports to be. This Pissin' Passin' Packer will look damn real in dim light, and almost right in bright light, especially at a quick glance. This makes it ideal for public washrooms and urinals. (DJ. pisses in urinals all over Vancouver. I think it's his hobby.) It will not, of course, pass under careful scrutiny under very bright lights, so don't try to fool your doctor! |
| | Packing: The damn thing is comfortable to keep in your pants. It feels right, and it fills your pants the "normal" amount that regular male genitals would. And it's handy for taking a standing piss -- you won't have to search for your funnel. |
This section is for grown-ups, it's the Pissin' Passin' Packer in operation; being used.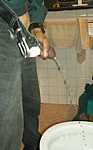 †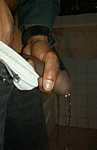 †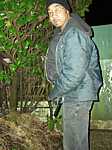 †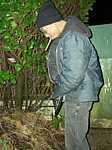 †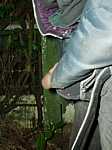 †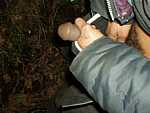 †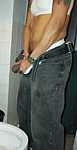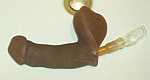 †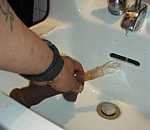 Website:† http://vancouverleather.com/dick/index.html

FTM's transition, the penile prosthesis is made by a professional prosthetist.

The flaccid prosthesis is proportioned to simulate a generic man's penis and testicles, and comfortably sits in your underwear, creating a very natural look.
Every prosthesis is custom made with a choice of 15 skin shades.

Ideally, it is designed to be attached to the pubic area by medical adhesive. However, it can also be worn freely in your underwear. The ideal size and positioning of the flaccid penile prothesis will not draw attention to an oversized bulge.

It's not just a "packy", it both looks and feels real
†
Mid & Small Flaccid
†
Erect Penile Prosthesis


The FTM Community requested that I also make an erect penile prosthesis, as people found that the shop bought ''dildo's" were unrealistic in size, skin shading, could only be strapped on, and were largely made of nothing more than latex (which has a particularly bad odour).

I tried to design a prosthesis that would overcome these deficiencies.

The erect penile prosthesis is, of course, designed for sex, and it is held in place by medical adhesive.

The prosthesis rigidity is created by making the shaft from solid silicone, and the testes are filled with a special gel to keep them soft, thus simulating the 'real thing'.
†
Adhesive and Solvent

The adhesive and solvent are medical grade, which means they were designed specifically to attach prostheses to human skin. Therefore, they will not cause skin allergies or irritation.

This particular adhesive which we use to attach the penile prosthesis will even stay in place when swimming or exercising, etc. The adhesive and solvent should last about 3 months, after which you can purchase the products directly from the company (US and UK residents only), and therefore they will be cheaper to buy.

An instruction pamphlet titled "Daily care of your prosthesis" is sent out with every order. It gives you detailed instructions on how to look after your prosthesis, as well as how to use the medical adhesive and solvent.
Skin Shades
All of the prosthesis can be made to match your individual skin color. As you see, there are 15 different skin shades to choose from, which allows for a custom made prosthesis. If you are unsure of the color settings on your monitor, just add $20 US to your order, and I will send you the actual samples, (these must be returned) and you can simply match the sample to an untanned body area.
Price List
Small Flaccid ( app. 3") Item # SF
Small flaccid penile prosthesis app. 3" in length.

$ 410

Mid Flaccid ( app. 4") Item # MF
Medium flaccid penile prosthesis app. 4" in length.

$ 430

Large Flaccid (app. 5") Item # LF
Large flaccid penile prosthesis app. 5" in length.

$ 440

Medium Erect (app. 5") Item # ME
Medium erect penile prosthesis app.5" in length.

$ 400

Large Erect (app. 6") Item # LE
Large erect penile prosthesis app.6" in length.

$ 410

Medical Adhesive & Solvent Item # MAS
Medical Adhesive & Solvent

$ 70

Postage & Handling

$ 40

Skin Shade Samples Item # SSS
(These are the silicone skin shade samples as they appear on web page, if you want them sent to you , please return)

$ 20
Payment must be received before work can begin on your order.
Website:† http://www.ftmprosthetics.com/HomeDefault.htm
†
†