November 2003
This Month On . . .
The E-Zine And Web Portal For Lesbians Of Color
Last Updated Thursday, November 20, 2003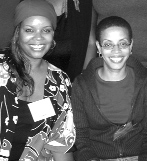 Photo Lisa Moore (right) with Chicagoan C.C. Carter. Photo by Tracy Baim
LAMBDA Names Lisa C. Moore Editor of LAMBDA Book Report
The Lambda Literary Foundation announced that Lisa C. Moore has been named editor of its flagship publication, The Lambda Book Report.
Her appointment marks what the Foundation believes is the first time an African-American lesbian has headed a national Gay, Lesbian, Bisexual and Transgender magazine aimed at the general GLBT audience.

Moore's appointment "actually formalizes a role she has been serving in the publication for over six months," said Foundation Executive Director Jim Marks, who will assume the Senior Editor title. [Read More]
A Spoken Word Performance to Benefit Fire & Ink, A Writers Festival for GLBT People of African Descent
Over the years there have been many writer's conferences. On September 2002 there was a first. A writer's festival for GLBT people of African descent. It was the brainchild of a group that included Sharon Bridgforth, Dorothy Randall Gray, Reginald Harris, G. Winston James and Lisa C. Moore. (Read more about the conference here.)
Join Lisa C. Moore and others for A Spoken Word Performance to Benefit Fire & Ink.

Saturday December 6, at 7 PM
ChangeMakers, 6536 Telegraph Ave.,
Oakland, CA
Phone: 510-655-2405
$5-$12, sliding scale

Performers
host: Karen X Carla Trujillo
Earthlyn M. Manuel
Marvin K. White
Juba Kalamka
Tim'm West
Brigitte Roberts
Michelle Tea Marvin
K. White
Bahiyyih Maroon
Jennifer Argle
Gwendolyn Bikis
Mattie Richardson
Website: http://www.geocities.com/cleo2525/
Commentary
A. D. Odom
My plan last evening was to see a play a co-worker was performing in at the West Angeles Theater for Performing Arts. Going also meant I would be in Christine's old neighborhood for the first time in months. This was something I had been avoiding for a very long time and I tried very hard to talk myself out of doing this last night. But, I felt I needed to address my fears and concerns and do it thus, I forced myself to dress – lavishly, I might add – put on makeup, layered my scents and prepared myself for the journey. I felt if I my interior self was not feeling its best, at least my exterior self would appear stunningly chic and hopefully would mask what I felt inside. [Read More]
Articles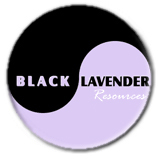 David Neale battles ignorance and raises consciousness about black gays and lesbians through speaking, writing, and entrepreneurship. A Brown University graduate, he is the founder and resource manager of Black Lavender Resources.
Neale's crusade began during his senior year at an all male, Catholic high school in Maryland. Unwilling to remain silent any longer in the face of regular harassment from those who already perceived him to be gay, Neale came-out. The harassment intensified, but Neale — a straight-A, model student — received little support from the school's administration for his act of
self-empowerment and self-acceptance. When the school's principal prevented him from publishing an article about his experiences as a gay student in the school newspaper, Neale took matters into his own hands. With the help of his mother, he made 800 photocopies of the 3-page article and distributed as many as he could himself before the administration confiscated the articles. Neale's coming-out story is chronicled in Being Different: Lambda Youths Speak Out (Franklin Watts, 1995). [Read More]
Moving In Love
with Eshey & Paris
(Sable Magazine)
Relationships, how to find them and how to keep them, is a hot topic for today's lesbian. People are always looking for the one partner who will compliment their needs, satisfy their desires and of course hoping that the journey will take them to the "Happily Ever After". When we met 3 years ago, we both were with other partners and were drawn to each other. We chose not to flirt or cheat while still emotionally attached and chose to act honorably. [Read More]
Announcements