Honoring Our Straight Sisters Who Are Empowering Our Communities
The Most Powerful Black Women Executives
Fortune Magazine's list of the Most Powerful Black Executives also lists a number of powerful Black Women in business. In the introduction to last year's list, Fortune stated: "There are three black CEOs of Fortune 500 companies--and more on the way. But a title doesn't necessarily equal clout. How did we define power? We were looking for people who are wielding power, putting it to active use. This list of the 50 Most Powerful Black Executives in America can be seen as a celebration of what's been achieved by finally reaching the corner office--and an acknowledgment of how far there is still left to go."
In a time of corporate downsizing, accounting scandals, stock market turmoil, and perp walks, it is good to see more African Americans riding the turbulent waves to successful positions in upper management. Whether it is Fortune, Forbes or Black Enterprise, I always search the lists for businesses either headed by Black women or Black women in top executive positions. Last year's list was hopeful and I hope to see more Black women shatter the corporate glass ceiling.
Oprah Winfrey
RANK: 10
Age: 48

Company: Harpo Inc.
Title: Chairman and CEO
Website: http://www.oprah.com

Even after curtailing her famously influential book club, Oprah remains a powerhouse in American media. With 26 million viewers every week, the 16-year-old Harpo-owned Oprah Winfrey Show generated $300 million in revenues last year. The CEO's hugely successful magazine, O, sold so furiously when it launched in South Africa last April that promotions had to be scaled back. [Read More]
Myrtle Potter
RANK: 18
Age: 43

Company: Genentech
Title: COO
Website: http://www.gene.com

Potter has managed to become a star in biotech, rising through the ranks at Merck and Bristol-Myers Squibb. She was running BMS's cardiovascular division when Genentech tapped her in 2000 for its executive committee. Now the biotech giant is counting on her to shepherd its biggest phase of commercialization, with 20 new drugs or indications expected to go to market in the next five years. [Read More]
Brenda Gaines
RANK: 20
Age: 53

Company: Diners Club North America
Title: President
Website: http://www.dinersclub.com

As deputy mayor of Chicago in the 1980s, Gaines faced stiff budget cuts and angry voters. After that, dealing with a few balky credit-card customers is a piece of cake. As head of Diners Club North America, a subsidiary of Citigroup, Gaines--the only person on our list with a master's degree in public administration--is responsible for a $30 billion business. [Read More]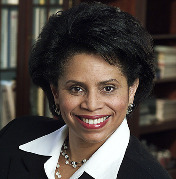 Paula Sneed
RANK: 24
Age: 54

Company: Kraft
Title: President of E-Commerce and Marketing
Website: http://www.kraft.com

Oscar Mayer hot dogs, Maxwell House coffee, Triscuit crackers--Sneed spends some $1.5 billion a year promoting these and more than 100 other brands at the nation's biggest food company. She was tapped in May to fill the Charles Schwab board seat left vacant when Condoleezza Rice departed for the White House. [Read More]
Pamela Thomas-Graham
RANK: 27
Age: 39

Company: CNBC
Title: President and CEO
Website: http://moneycentral.msn.com/home.asp

The former McKinsey star (the management consulting firm named her its first black female partner in 1995) and bestselling mystery writer was named to head CNBC, part of GE's NBC unit, a year ago. Her secret? Four hours of sleep a night, she says. [Read More]
Ursula Burns
RANK: 28
Age: 43

Company: Xerox
Title: SVP
Website: http://www.xerox.com

Burns started at the company in 1980 as a summer intern in mechanical engineering. Convinced that an engineer would never get the top job at a major company, she left the engineering ranks after almost a decade to become the executive assistant to then CEO Paul Allaire. Burns made her mark when Xerox was at the height of its financial troubles, persuading it to outsource manufacturing. Now she runs the $4 billion Document Systems and Solutions Group, which generates up to 40% of the company's total revenues. [Read More]
Cathy Hughes
RANK: 34
Age: 55

Company: Radio One
Title: Chairman and Founder
Website:

Hughes was turned down by 32 banks before securing a loan to buy her first radio station in the early 1980s. Struggling at first, the single mother and her teenage son literally lived at the office, cooking on a hot plate and bathing in the restroom. But she parlayed her mix of talk, political commentary, and activism into a $287 million company that owns 65 radio stations around the country. When Radio One went public two years ago, Hughes became the first black woman to lead a publicly traded company. [Read More]
Lana Corbi
RANK: 35
Age: 47

Company: Hallmark Channel
Title: CEO
Website: http://www.crownmedia.net

The 20-year broadcast vet and mother of twin toddlers traded Fox for family fun. At the $114 million Hallmark Channel (a Crown Media subsidiary), where she has been CEO since October, Corbi aims to increase original programming (such as a documentary on adoption) to 40% and viewership to 50 million in the next year. [Read More]
Update: In a major companywide restructuring effort, Crown Media Holdings Inc. dropped 30 percent of its work force — including Lana Corbi, its U.S. president and CEO and head of Hallmark Channel.
Jacqueline Woods
RANK: 39
Age: 40

Company: Oracle
Title: VP of Global Pricing and Licensing
Website: http://www.oracle.com

A complex web of technology makes the task of database pricing one of the toughest in the business--and that's the job Woods handles at the database giant. She also takes the heat, as she did this spring when users complained Oracle was trying to squeeze revenue out of them by overselling licenses. In response, Woods grandfathered the licenses of some users. [Read More]
Kim Crawford
RANK: 45
Age: 37

Company: Dell Computer
Title: VP and GM of Networking
Website: http://www.dell.com

This former Bain consultant convinced Michael Dell that the switches that connect computer networks could be the PC maker's next golden egg. Zeroing in on customers looking to link computers in small to medium-sized networks, Dell is now aggressively going after the $17 billion market, with Crawford leading the way. [Read More]
Carla Harris
RANK: 48
Age: 39

Company: Morgan Stanley
Title: Head of Equity Private Placement
Website: http://www.morganstanley.com/

The second black woman to become a managing director at Morgan Stanley, Harris has raised close to $2 billion in 33 deals since January 2001 as head of the firm's equity private placement group. (She's also the chair of the private equity commitment commitee.) Before that she handled some of the firm's biggest IPOs, including UPS, Martha Stewart Living Omnimedia, and Donna Karan. An accomplished gospel singer, Harris recently recorded an album of Yuletide carols, Carla's First Christmas, the proceeds of which will go to charity. [Read More]
Links
Don S. McClure Consultants - Diversity Marketing - Advertising & Promotion - Growing Across The Globe
Few Latinos, blacks choose engineering
BY JON FORTT
Knight Ridder Newspapers

Fortune: MOST POWERFUL BLACK EXECUTIVES: Unprecedented Clout

Cleo Page
(Photo: Zachary Zavislak)

Women vs. Wal-Mart
How can the retailer reconcile its storied culture—built on inspirational leadership, autonomy, and trust—with the anger of some of its female workers?
FORTUNE
Monday, July 7, 2003
By Cora Daniels