Announcements
Echo Soul Publicity, Inc. NEWS

For Immediate Release:
Contact: Kimberly Rose - Echo Soul Publicity, Inc.

212.289.5483

A Bold, New Author Shares Her Courageous Story of Triumph in the Face of Darkness

New York City – The message is a simple one: Girl to girl, you can be infected, indeed. HIV/AIDS education will never be the same thanks to Conscious, the mono-monikered author of the deeply personal and inspirational new autobiography, GETTING UNSTUCK: Girl to Girl You Can Be Infected… Indeed (SWN Publishing, ISBN# 0971695105).


Conscious' life journey is punctuated by wealth, drug abuse, sexual abuse and finally, HIV. Yet she manages to deliver a powerful story full of hope and triumph, a true inspiration and education in the consequences of a dark past. Told through a series of conversations between Conscious and her therapist at a drug rehabilitation facility, GETTING UNSTUCK finds Conscious recovering from a desperate battle with drugs, street life, and sexual identity crisis. Through her physical and emotional recovery and repressed memory, Conscious uncovers alarming events from her childhood that unlock the mystery of her troubled adolescence and adulthood.

From the tender core of GETTING UNSTUCK emerges the steady and confident voice of a survivor. Conscious is in full control of her story despite a past of being subjugated and powerless. Conscious is a true Jill of all trades, having left her mark as the former Music Director of the Queen Latifah Show, the host of the Oxygen Network talk show She-Commerce, a bodyguard for celebrities including Mark Wahlberg, Jay-Z and Missy Elliot, an electrical engineering blue print designer for Con Edison, a United States Navy Electronic Technician, and a Division I college basketball standout.

Conscious' charisma has put her in high demand to speak to audiences throughout the country about HIV/AIDS awareness, namely female to female transmission; protecting children from sexual predators; and drug rehabilitation.

Check out some reviews for GETTING UNSTUCK, which is now available at Barnes & Noble and B. Dalton bookstores, and internationally in Australia, Germany and Amsterdam.

For more on Conscious' courageous story visit her website...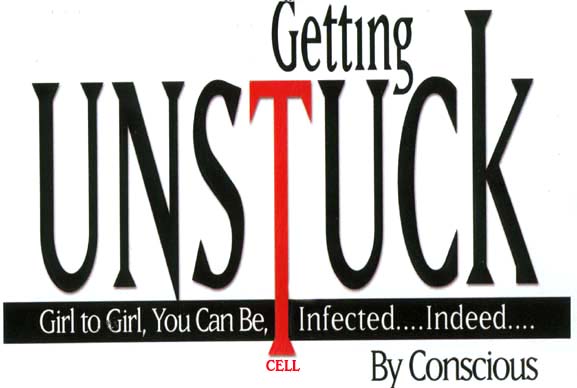 Website: www.prettytomboys.com/index.html

Read Her Thought Provoking Poem

SABLE MAGAZINE: "Getting Unstuck" is a realistic tale of how one person emerges from sexual abuse/drug abuse to find success. "Getting Unstuck" is a raw awesome, powerful story that addresses the harsh realities of female-to-female HIV transmission and the ignorance about the disease that still exists. A story everyone must read.

THE SOURCE MAGAZINE: Conscious, a rising young author vividly chronicles her own journey to self-discovery in her debut novel, Getting Unstuck: Girl to Girl, You Can Be Infected Indeed... She candidly places the recovered memories of her dramatic past on page in this sincere effort. The author tries to make readers understand the perils of her ill- fated decisions, and by book's end, succeeds.

VENUS MAGAZINE: "Getting Unstuck" is poignant, gripping, and life-changing, in fact it is cathartic, a tale of drug abuse, sexuality, and female to female HIV transmission...well done.

ANANDA LEWIS: "Incredible story, I couldn't put the book down. I took a train trip to my parent's house and read the book in one day, I want to hug You Conscious, I can't wait to see you, your book is so important and I am so happy to have you as a guest on our show. We want to put your book on the Ananda Lewis Show website".

Wendy Williams, WBLS, 107.5 FM: "The Wendy Williams Experience": Conscious is a good talker and the topics that Conscious addresses in this book transcend all color barriers and sexual preferences. Certain celebrities, which I won't mention need to read this book also.

Wayne Gillman, WBLS, 107.5 FM: Extremely informative; Conscious is a brave young lady that is not afraid to talk about her experiences. She is much needed in our community. "Getting Unstuck" has given our community an eye opener. We all must read this book.

Vanessa Cooper, WBAI 99.5 OUT FM: Incredibly honest story. The first ever to openly address the process of female-to-female HIV infection. Conscious addresses subjects that are the key to recovering from all kinds of abuse. She was an excellent guest on my show.

Ann Tripp, WLIB 1190 AM: "Getting Unstuck" addresses our deepest secrets and our insecurities. This project will help our youth. This is not a book for gay women but for all women and men that have endured any type of abuse. Conscious writes as if she is seeing through our souls.

Gary J. Bell, BEBASHI NEWS: The topic of AIDS/HIV is increasingly becoming an epidemic in our community. Conscious' new book, "Getting Unstuck" sheds light on female to female HIV transmission and helps us to understand that females in the lesbian community are not exempt from this disease and they too need to be educated on prevention. Excellent book! I couldn't put it down.