National/International Black Gay & Lesbian Organizations
The National Black Justice Coalition is an ad hoc coalition of black lesbian, gay, bisexual and transgendered leaders who have come together to fight against discrimination in our communities.
The goal of the organization in 2004 is to build black support for marriage equality and to educate the community on the dangers of the proposal to amend the U.S. Constitution to discriminate against gays and lesbians. [Go To Website]
African American Women's History
About.com

Uncover the history of African American women: the history of black women in America, from slavery through Reconstruction, Harlem Renaissance and civil rights. Biographies, organizations, events and movements.

The Blacklist

"It is called the "Blacklist" for two reasons both of which are obvious. First, the people listed are of African descent, black. Second, unfortunately some members of the black community have sought to disavow the contributions, identities, or worth of many of the people listed here."

Lesbians of Color Chronology

This page is under construction. We welcome additions and corrections. Please cite sources and send to retter@skat.usc.edu.
Several non-lesbians (female and male) and non-usa lesbians are included in this chronology [in brackets].

Lesbians of Color History Project

The history of lesbians of color is hidden between the lines of heterosexual, male and white history. Although lesbians of color have always been present in all facets of daily life and social movements, it was not until the late 1970s, that lesbians of color began energetically organizing "out" groups, compiling anthologies and reclaiming our history. This site is dedicated to locating and making this herstory accessible.

Lesbian Feminists of Color

A wonderful find this site is! A slice of our herstory presented in a easy to navigate format. Radical activist of the 70s paved the path for lesbians to be able to move through the world of ignorance in the 80s and 90s. Focus on womyn of color, bibliography, links and lot more!

The Lesbian Herstory Archives -- The Data Lounge

This exhibit was first shown at the Lesbian and Gay Community Services Center, NYC, February 28-April 11, 1991and has traveled to many cities around the country.
Lesbians of Color Articles and Interviews

NOTE: We have checked the link to each article when we first linked it. However, we have many links on the web site and don't have the staff to periodically recheck them. Thus, some of these links may no longer connect. Sorry.

A Tribute to Audre Lorde

A lovely site honoring Audre Lorde with essays, poetry, and letters.
---
Mixers & Entertainment
Blackberri Café

Blackberri Café is the new cyber community where the girlz hang out! Blackberri Café was created by two lesbians of color to provide other lesbians of color with a comfortable, supportive, self-affirming and safe community on the net. Blackberri Café is your community, you can make your experience whatever you want it to be! You can enjoy the café on your own, or you can be social and meet new sisterfriends to hang out with.

Offiicial MC Lyte Site

Features a gallery, her bio and "A day in the lyte."

Martina Downey

When you merge good storytelling with eclectic songwriting Martina Downey definitely comes to mind. Riding on the way of the songwriter's era, Martina offers a fresh observation of the environment with an ambient and funky backdrop. Her sound can be best described as rock meets soul meets ambience. With the debut of her CD "Whatever it Takes." Martina flows seamlessly through a rock and soul soundscape. Permeated with beautiful melodies, rich harmonies, lyrics and a vocal range the span of Texas Martina Downey tells the stories of those lives that would not ordinarily be told. Compounded by rich lyrics and vibrant vocals, "Whatever it Takes" offers a montage of delightful songs that virtually anyone can relate to. Shrieks, shrills, wails and screams Martina does 'whatever it takes' to articulate the depth of her raw emotions.

Pizzazz Productions, Inc. (http://www.pizzazzpro.com)

Where we specialize quality events for alternative lifestyles by promoting, coordinating and hosting social events in various locations in the US. Our mission and focus is to help bridge the gap for women and men in alternative lifestyles who colors are included in the "rainbow" by coordinating resources needed to enable quality events and social gatherings. Also, to facilitate partnerships with service providers and the people who need or want their services. Social promotions include and not limited to: "Pizzazz's Ladies Night Out" Dances/Socials, "Pizzazz's Unity Dances for Men and Women, Monthly Happy Hours for Professional Women & Men, Brunches, Film/Movie Nights, Dining Out ventures to "gay friendly", owned or operated restaurants, Customize Travels, Theatrical Shows / Performances, and other Group Events: Theme parks, Comedies, and Professional Games.

Robin Renee (http://www.robinrenee.com)

A defining moment of clarity came for Robin early on as a teenager while watching David Bowie on Saturday Night Live; he sang dramatically- in a long, beautiful gown. It was then that she knew that she could do anything and be anyone- on her own unique terms. Always outspoken, Robin Renée stands to expand our collective vision of sex and gender, spirituality and social activism. Hers is a voice primed to sing out, with artistry, the intricacies of the soul- and of our millennial world.

Toshi Reagon (http://www.toshireagon.com/)

When Toshi Reagon (daughter of singer/activist and founder of Sweet Honey N the Rock, Bernice Johnson-Reagon) is prompted to describe her album, The Righteous Ones, Toshi Reagon hesitates and then says, "just say Toshi Reagon's music is good." This simple answer works because, quite honestly, Toshi's music can only speak for itself. Crossing genres as easily as breathing, Reagon has created an expansive and ground-breaking piece that captures the spirit and energy of her live shows, showcasing her intimate songwriting and her emotional performance style.
---
Publications
Blacklight Online

Blacklight is a wonderful online publication! Informative articles and interviews with ones such as Audre Lorde, Alice Walker and June Jordon. Issues such as homophobia in the black community, gay Zimbabwe, activism, and lots more.

Chicago Blacklines

And while you're there, check out Partner Abuse in Lesbian Relationships.

Gay Black Female (GBF)

Thanks for checking out Gay Black Female Magazine "GBF". GBF is a forty page 5"x8" magazine that is published monthly out of Los Angeles and has been around since 1990. A subscription can be mailed confidentially to the address of your choice. If you have any questions or comments please let us know. Views expressed in this magazine are not necessarily the views of the GBF Magazine. Come Again! Contact us at
Sable Magazine -- A Magazine For Lesbians of Color

Leading by example, we will strive everyday to break down the myths and stereotypes of our lifestyle that surround our community.

United under the flag of pride, we African American, Latina, Asian, Native American and other lesbians of color will give voice to the issues that matter to us; from the blue collar worker to the consummate diva and every class in between.
Swirl -- For Intense Women Who Choose The Alternative
http://www.swirlmagazine.net/

Subscribe today to Swirl Magazine! With a subscription to Swirl each issue becomes available to you via download (in PDF format) from our web site. Or, if you prefer, you can receive Swirl Magazine on CD. Please fill out our subscription form in the pop-up window and take the first step towards being a part of what 11 Alive Media Group, NBC Atlanta called An innovative fresh face in publishing. Don't miss out! If you have questions or would like information about Swirl Magazine, please email us at . We look forward to hearing from you!


Venus Magazine
Welcome to the NEW VENUS ONLINE. It's about time! And It also about YOU! Bold, Black, Gay and Beautiful. Definitely benchmark this site for frequent updates. Venus Online is where People of African Descent In The Life come together to explore national events, community news, entertainment news, theater, film and literature reviews, gay travel destinations, conference updates, cocktail lounges, gossip, advise and much more. This site is constantly evolving so stop by again soon!
Women In The Life
Online and print monthly by for and about women of color. Featuring events, resources, the arts and media. Washington DC-based events and lots of other excellent writing..worth a visit regardless of where you are in the world.
---
Webzines
Alicia Banks: Eloquent Fury -- Articles

Radio Producer, Talk Show Host, DJ, Columnist

The Blackstripe

"The Internet's Leading Resource for News, Information and Culture Effecting Lesbian, Gay, Bisexual, and Transgendered People of African descent." links, chats, message boards, shopping. You want it, it's there.
Carlagirl -- Writings and photographs by Carla Williams.

I no longer consider myself to be an active imagemaker. This site functions as a (growing) archive of past images as well as past and current writings.
This site also includes an extensive, annotated research library related to black artists and images of black women, plus extensive links to other sites related to black artists (especially women artists), gay and lesbian artists, and related photography and art sites.

View this site in another language (you may be required to download Language Packs for some languages). The translations are not perfect, but they are functional.

This site also features a detailed Artists' Link and Calendar section.

Chocalate City: Sister Space

While there, check out Sister Speak The "Miss" Education about African American Lesbians by Akilah Monifa
Ebony Soul Mates (http://www.ebonysoulmates.com/)

A site by, for and about ebony women in the life. Our mission for this site is to have a space on the web for women of color to gather together laugh, chat, seek wisdom and likeness, and to have a good time.

KUMA

Your home away from home; a sort of soul café where adults of all ages can roam and browse freely through our vast array of erotic art, poetry, short stories and audio. Some have even managed to connect with other sistahs who share these same interests through our Personals. So turn up the heat. Grab a mug of that favorite herbal tea or hot coffee. Relax and let the sensuality of KUMA take over. Let KUMA invigorate your desire and ignite your passion. Also visit Kuma's Adult Toy Store.

Lesbian Safe Sex

Download Lesbian Safer Sex Guidelines cut-and-fold display to stand up on your nightstand! Thorough information for lesbians and women who have sex with men. We can stop the spread of HIV. Do it.

Mama Roots

"Mamaroots, Sistahood and Temple community is founded by a lesbian of Afrikan American heritage who uses the word AfraSapphik(tm) to honor our sapphic roots and we teach our sistahren that lesbianism is sacred to our tradition and practice sexual and gender tolerance."

Sistah's Cirlcle

"The Sistah Circle is a lesbian of color (African American, Black, Asian, Latina, Bi-racial and Native American) group dedicated to celebrating, educating and empowering one another in the unity of Sistah-hood." links, news, events, poetry, more.

Sisters in the Life

The site offers an opportunity for Lesbians of African descent to create a cyberbook of the history of their lives by posting personal stories.
---
Sorors
Beta Phi Omega. www.betaphiomega.net To tell you a little about us, we are a National Feminine African American/ Multicultrual lesbian sorority that reigns in Carnation Pink, Ice Blue and Pearl White. Although we cater to lesbian women we do not discriminate against bi-sexual, heterosexual women, or any race. We feel that it is ultimately wrong to deny anyone the right to be interested in a sorority such as ours. There are many women that would love to participate in the many volunteer activities that are present in our lesbian communities as well as in the heterosexual arena. The first chapter of Beta Phi Omega Sorority, Inc. was established in Tallahassee, FL and there are five founding Diamonds: Alexus Perez, Misty Wright, Nichole Lanier, Debra Bender, and Andrea Spencer.

We do a wide range of community service, such as Aids Awareness, The March of Dimes, Breast Cancer Awareness, Safe Sex seminars, Black Lesbian pride events, and so much more. We are always looking for dedicated women to help Beta Phi Omega expand in your city or state. We really need women that can be leaders and is not afraid to make a mark in history! Beta Phi Omega Sorority, Inc. is a sorority that is strongly geared towards awareness, pride, love, joy, prosperity, community involvement, and last but certainly not least lesbian victory!
---
Writers/Poets
Ayin Adams

Ayin will bring to the screen two lesbian dramatic short films. The 1998 "Pat Parker Award" Winning poem, "Momma Cried". Everybody's favorite, "Momma Cried", deals with the relationship between and 18 year old and her 35 year old lover. The 18 year old's mother refuses to accept her daughter's lifestyle and her love of women loving women. And "The Color of Her Tears", which tells the story of a Mother on her death bed, confiding to her lesbian daughter her own lifestyle of loving women, to live her life with meaning and don't let anyone deter you from loving who you choose to love. Mother was a closet lesbian, whose father found out and separated her from childhood friend/lover growing up together. Father forced her to marry a man. She had one daughter, divorced her husband, and now her daughter finds out the entire story as mother lay dying.


http://www.machatheatre.org

MACHA Theatre Co. Mujeres (Women) Advancing, Culture, History & Art is a non-profit organization under the 501c3, that was formed in 2000 to promote Latina, women of color and lesbian art and culture through the dramatic arts. By showcasing exciting new multi-cultural theatre pieces, MACHA seeks to build social, cultural and artistic bridges throughout the greater Los Angeles community.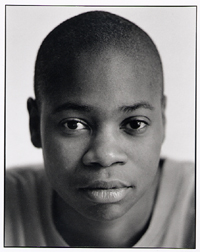 Imani Henry
http://www.geocities.com/imani_henry/
Imani Henry, Female To Male Trans activist, writer and performer originally from Massachusetts. A graduate of Emerson College's school of performing arts in 1992.

His theater credits include acting and stage management with Theater Offensive, and the Boston Women's Playwrights Festival. Bursting onto the Boston slam poetry scene in 1992, Imani was a regular at the legendary Cantab Café in Cambridge, MA. In 1996, He placed 2nd at the Outwrite
National LGBT Writers Slam Championship, being beaten by 1 point, by "poetry diva" Letta Neely. He is currently, the 2001 Glam Slam Champion hosted annually in NYC by the House of (Emanuel) Xavier. In NYC Imani hasperformed in four theatre productions of cult-heroine & butch playwright, Susana Cook. As a solo performer he has been featured nationally at a wide array of venues - from the Creating Change LGBT Conference to The Apollo Theater to national anti-war rallies.

His short stories and poems have appeared in noted anthologies and publications as Virgin Territory 2(Masquerade Books 1997), The Evergreen Chronicles, and the lambda award winning Does Your Mama Know (Red Bone Press 1996). His new work will be published in the forthcoming Queer Slam poets' anthology, Butterflies & Bullets as well as in the new Other Countries' anthology.

---
International
Bahamian Gays and Lesbians Against Discrimination

Comprised of a group of gay men and lesbians concerned about the injustices towards homosexual and transgender persons in the Bahamas.

Behind the Mask

A website on gay and lesbian affairs in (southern) Africa

The International Lesbian and Gay Association

The International Lesbian and Gay Association is a world-wide federation of national and local groups dedicated to achieving equal rights for lesbians, gay men, bisexuals and transgendered people everywhere. Founded in 1978, it now has more than 350 member organisations. Every continent and around 80 countries are represented. ILGA member groups range from small collectives to national groups and entire cities. (ILGA has disbanded, but their site contains great information.)

J-FLAG

The Jamaica Forum of Lesbians, All-Sexuals & Gays (J-FLAG) is dedicated to moving forward in a spirit of oneness, love, dignity and respect towards the establishment of a world devoid of prejudice, injustice, discrimination and oppression, ensuring the human rights of lesbians, all-sexuals and gays as set out in the United Nations Universal Declaration of Human Rights.

The Outcast

Bahamian Gay and Lesbian Newsmagazine
---
Grants & Funding
Open Meadows Foundation

The Open Meadows Foundation is a grant-making organization which funds projects that are designed and implemented by women and girls; projects which have limited financial access which reflect the cultural and ethnic diversity of our society and promote the empowerment of women and girls; and projects for social change that have encountered obstacles in their search for funding.
Back to Top
---