Oakland, California
Oakland now has it's first upscale Black lesbian co-owned restaurant -- The Purple Plum California Soul Kitchen--Which is located at 4228 Park Blvd. in the Glenview section of Oakland. Sharon Anderson, who is one of the owners, is a highly acclaimed chef in the Bay Area. Sharon has worked as the head chef at many of the private country clubs and exclusive restaurants in the San Francisco/Oakland area. This is her first venture on her own, and she describes the food at the Purple Plum California Soul Kitchen as Seasonal Comfort Food.  The Grand Opening was October 29, 2001 and they are still going strong. 
Voted "Best Newcomer 2002" by East Bay Express The Purple Plum California Soul Kitchen's offerings are food for the soul.   The owners span the gamut of culinary tastes thus making the Purple Plum's offerings food for everyone's soul, from Lamb Chops with Lemon Mint Rice & Asparagus to Cider Glazed Pork Chops with Ginger Vanilla Sweet Potatoes & Greens -- ahhhhh, mouth watering.   The Purple Plum also has a nice selection of desserts and wines.  The menu is seasonal so call or check their website for what's currently cooking in the kitchen.

For reservations call (510) 336-0990 or visit their website at:
http://www.thepurpleplum.com/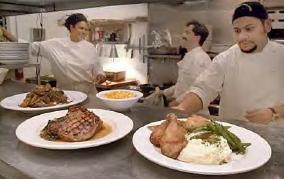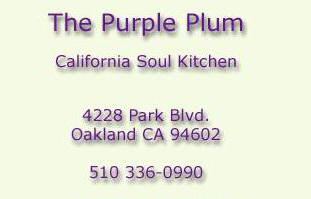 Hours:
Tuesday thru Thursday: 
5:00 p.m. to 9:30 p.m.
Friday thru Saturday: 
5:00 p.m. to 10:00 p.m.
Sunday: 
5:00 p.m. to 9:00 p.m.
This sistah can cook!!! Before opening her restaurant she had a business where she prepared weekly meals for extremely busy folks, and she would flash freeze them and bring them to your home. So every evening all you had to do was pop one of her loving prepared meals into the oven. She has a special gift for preparing food for people who need to watch their intake of fats and salt, yet want their food to taste just like what their Mothers/ Grandmothers use to make. Without a doubt Sharon is a culinary wonder. I hope all of us will pass the word and support this beautiful sistah as she brings her wonderful talents to our community. -- Brenda Crawford