See The Entertainer 
Drag King Dred In Performance
---
Thank you all for your support of the film Venus Boyz For more info on upcoming festivals please check out the Venus Boyz website at http://www.venusboyz.net/

Venus Boyz is A FILM JOURNEY THROUGH A UNIVERSE OF FEMALE MASCULINITY. Women become men- some for a night, others for their whole lives. Masculinity and transformance as performance, subversion and existential necessity. An intimate film about people who create intermediate sexual identities.

With Dréd Gerestant, Diane Torr, Del LaGrace Volcano, Bridge Markland, Storme Webber, Mo Fischer, Queen Bee Luscious, Mistress Formika, Dee Finley, Martina Meijer Torr, Marcel Meijer, Shelly Mars, Philly Abe, Hans Scheirl, Svar Simpson, Simo Maronati, Judith Halberstam /

Get your tickets if you are in any of the screening areas :) and tell your friends -Venus Boyz is a beautiful and powerful film that needs all our support :)
 
---
Events

Contact:  Dred Gerestant
e-mail:
web site: http://www.dredking.com/
voicemail/hotline: 1-212-946-4475
 

http://www.dredking.com/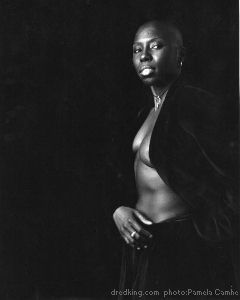 FRIDAY FEBRUARY 27, 2004 DRED PERFORMS AT THE GLITTER AWARDS, INTERNATIONAL GAY FILM AWARDS AT THE KNITTING FACTORY!!!
FOR IMMEDIATE RELEASE
 
Performers at the International Gay Film Awards include Danielle Latterle star of the award winning motion picture "CAMP" (IFC Films) who will be performing the love theme song , Actor/Comedian Jason Stuart, and DRED Gerestant star of the Official Berlin/Locarno film festival selections and German/Swiss  co-production "Venus Boyz."
The line up of presenters include British actor Matthew Leich, star of the Multiple Award winning gay film festival circuit film and Empire Pictures release "AKA", Academy Awards Nominated actress for "El Norte" and star of "Real Women have Curves" and Miguel Arteta's "Chuck & Buck" Lupe Ontiveros, and more!!!
The awards show will close with a special presentation of film clips from upcoming gay films to be released theatrically in 2004. Upcoming Clips from films include the Warner Independent/Killer Films highly anticipated film "A Home at the End of the World" starring Collin Farrell, and more!
The 2004 International Gay Film Awards is the award show to  recognize gay theme films that have had limited theatrical releases and have been overlooked by the main stream awards shows.  These films, strong in content, original in themes and defiant to society's expectations is what has made the independent vision of filmmaking what it is today.  By changing perceptions of gay life and enhancing the community's visibility worldwide through film, the independent gay films nominated challenge people's ideas of what's normal and accepted.
The Award show will be held in the heart of Hollywood  Friday, February 27, 2004 at 7:00 pm at the Knitting Factory. For Ticket information log on to www.hollywoodindependents.com, www.ticketweb.com or www.knittingfactory.com.