Promoters and Event Planners


Los Angeles
Cabrini Presents
Dinah Shore Coming soon
March 28th ~30th
Reserve your rooms now and save!!!!
Click on Dinah Shore for more info!!
You're Going To Love the Way You Feel,
I Guarantee It!

FOR MORE INFO CALL CABRINI @
323-662-9923
OR EMAIL EVENTS@CABRINIPRESENTS.COM
OR VISIT http://www.cabrinipresents.com/index.html

Fais Do Do

2nd Friday of every month
Nappy @ Da Roots

Fais Do Do
5257 W. Adams Blvd.
Los Angeles, CA
hotline: (323) 290-5320

Medusa and Feline Science will be blowing up the spot the 2nd Friday of every month at Fais Do Do. Call (323) 290-5320 for a show line up and more info.

MEDUSA, dubbed the "Angela Davis of Hip-Hop" because of her profound lyrics and afro-centric appearance, is expected to not only leave the Rap community speechless, but to revolutionize the entire music industry.

MEDUSA and FELINE SCIENCE (two back-up singers, 6-piece band, and DJ) has blended her sound into an amalgamation of Hip-Hop, old school funk, rap and classic R&B, and taken it to another level.

The diversity of MEDUSA's music is apparent as she's been compared to a variety of amazing artists such as: Lauryn Hill, Sly Stone, KRS-ONE, Gil-Scott Heron, and Erykah Badu. Yet, the musical style of MEDUSA is so unique, it cannot be easily categorized.




GirlBar Los Angeles

Club Isis
CLUB ISIS
CLUB ISIS...the only club catering to a professional lesbian crowd
Please note: No men will be allowed entry into Club Isis
www.club-isis.com
For more information, contact
To be added to the mailing list, send a request to: mailing-list@club-isis.com
Spoken word artists, songstresses, comediennes and like talent needed for Sunday "T" parties beginning in May at the Tiki Lounge in W. Hollywood. Contact afrocentriq@yahoo.com or (323) 656-8895 for further details.

The Palms
8572 Santa Monica Boulevard, at La Cienega Boulevard, West Hollywood (1-310 652 6188)
Bus 4, 105, 304, DASH West Hollywood/I-10, exit La Cienega Boulevard north. Open 4pm-2am Mon-Fri; 2pm-2am Sat, Sun. Admission free. Credit AmEx, MC, V.

The oldest lesbian bar in Los Angeles, with dancing, a pool table and a patio. New ownership has meant a new coat of paint, and the place is generally cleaner (except for the bathrooms). The Sunday beer bust is very popular.

Jewel's Catch One
Jewels Catch One
4067 Pico Blvd., Los Angeles, CA 90044
Closed Monday and Tuesday
For Info: 323-737-1159

Benvenuto
8512 Santa Monica Boulevard, at La Cienega Boulevard, West Hollywood (1-310 659 8635)
Bus 4, 105, 304/I-10, exit La Cienega Boulevard north. Open 5.30-10.30pm Mon-Thur, Sun; 5.30-11pm Fri, Sat. Admission Free. Credit AmEx, Disc, MC, V.

Gay gals, no cover charge, a full bar and DJ Claudette on the decks. Oh, and there's food, too.

San Francisco
The Girl Spot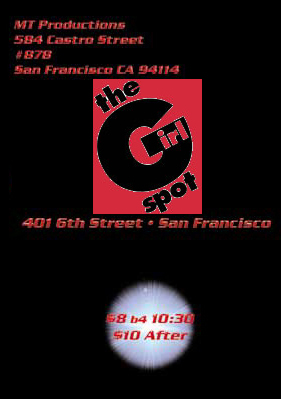 584 Castro Street
#878
San Francisco, CA 94114