Joan Armatrading
Joan Armatrading is one of my favorite artists and her song, Willow, is still one of my all-time favorite songs.
Joan Armatrading's music is effortlessly eclectic with sounds ranging from folk to sophisticated pop, an apt mix for a performer born under the palms of the West Indies and raised beneath the smokestacks of Birmingham, England. By the early '70s, Joan moved to London and released her debut Whatever's for Us. The career that followed has seen the birth of classics - Love and Affection, Down to Zero, Drop the Pilot, Me Myself and I and The Weakness in Me-two Grammy nominations, 18 gold records and 10 platinum records in seven countries by 1980, plus consistent, enviable critical acclaim. Her latest album What's Inside has hailed many praises from USA Today stating "Her rich-timbered vocals and muscular guitar playing are the strength of this album" to the New York Times calling it "the more reflective tone of her best 1970s work. The first single of the album has made its way to the top of the triple A charts. The influence of Armatrading's work over the past 23 years continues to be felt. Melissa Etheridge chose Armatrading's Love and Affection for the finale of the first VH1 Duets, performing it with Joan Osborne, Jewel and Paula Cole. Etheridge has also covered "The Weakness in Me" which Armatrading claims "is one of the best versions that I've heard of somebody doing one of my tunes."
Born December 9 1950, Basseterre, St. Kitts, West Indies. Joan Armatrading was the first black female singer-songwriter based in Britain to compete on equal terms with white singers. While Madeleine Bell and P.P. Arnold predated Armatrading's success, the latter has remained consistent for 20 years.
The Armatrading family moved to Birmingham, England, in 1958, and Joan taught herself to play piano and guitar, before meeting Pam Nestor, also a West Indian immigrant (b. Berbice, Guyana, 28 April 1948). Both were working in a touring cast of the celebrated hippie musical, Hair.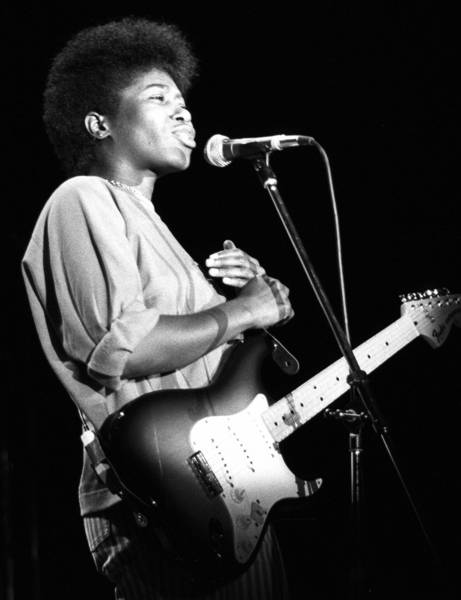 Photograph copyright
.
 
Armatrading and Nestor wrote songs together, but Armatrading was given the major role on Whatever's For Us, her 1972 debut album produced by Gus Dudgeon. Released in the UK on Cube Records, the album was a greater critical than commercial success, and was licensed for North America by A&M Records. Armatrading and Nestor dissolved their partnership after the album; Nestor made an excellent one-off single for Chrysalis in the late 70s, but seems not to have recorded since.
By 1975, Armatrading was signed to A&M worldwide, working with producer Pete Gage (husband of Elkie Brooks). The album that resulted, Back To The Night, featured instrumentalists such as Andy Summers (later of the Police) and keyboard player Jean Roussal, but again failed to trouble the chart compilers.
The album that first thrust Armatrading into the limelight was Joan Armatrading, released in 1976. The first of four consecutive albums produced by Glyn Johns, it made the UK Top 20 and includes her only Top 10 hit single (and her best-known song), 'Love And Affection'.
The following year's Show Some Emotion became the first album to reach the UK Top 10, and 1978's To The Limit made the UK Top 20, although neither album included a hit single. In 1979, her partnership with Johns ended with Steppin' Out, a live album recorded in the USA, which failed to chart on either side of the Atlantic.
Me Myself I, released in 1980, became Armatrading's first album to reach the US Top 40 and returned her to the UK Top 10. It included two minor UK hit singles in the title track and 'All The Way From America'. Walk Under Ladders, Armatrading's 1981 album, was produced by Steve Lillywhite, and among the musicians who contributed to it were the celebrated Jamaican rhythm section of Sly Dunbar and Robbie Shakespeare, plus Andy Partridge of XTC and Thomas Dolby.
1983's The Key, which included 'Drop The Pilot' (her second-biggest UK hit single, almost reaching the Top 10), largely restored Armatrading to international commercial prominence, peaking just outside the US Top 30 and reaching the UK Top 10. By this point in her career, Armatrading had a solid core of fans who would buy every album, but were too few in number to provide first-division status.
Secret Secrets was produced by Mike Howlett, with guest musicians including Joe Jackson. While the album once again made the UK Top 20, it was not a major US success, despite a sleeve shot taken by celebrated New York photographer Robert Mapplethorpe.
Sleight Of Hand was Armatrading's first self-produced album, recorded in her own quaintly named Bumpkin studio and remixed by Lillywhite. This was her least commercially successful album since her debut, stalling outside the UK Top 30 and considerably lower in the USA, even despite the fact that this time the sleeve photographer was Lord Snowdon.
The Shouting Stage (1988) was her most impressive album in some time but failed to reach the height achieved by many of its predecessors, despite featuring Mark Knopfler of Dire Straits and Mark Brzezicki of Big Country as guests.
Hearts And Flowers again demonstrated that although the quality of Armatrading's output was seldom less than exemplary, it rarely achieved its commercial desserts.
Armatrading seems to have reached a plateau in her career that is slightly below the top echelon in commercial terms, but will enable her to continue recording with reasonable success (especially in critical terms) for as long as she desires. She has also contributed her services to a number of charitable concerts, such as the Prince's Trust, the 1988 Nelson Mandela Concert and Amnesty International.
She is to be applauded for remaining unpretentious, and is also in the enviable position of being ble to choose her own touring and recording timetable. In 1994 she signed to RCA Records after many years with A&M, and released What's Inside.
| | |
| --- | --- |
| QUESTION | ANSWER |
| Where was Joan born? | St Kitts in the West Indies. Joan arrived in the UK when she was 7 years old, and has lived in England ever since. |
| When Did she make her first album? | When she was 21 years old. |
| Have any of Joans songs been on any sound tracks? | Joan did the title track for the film 'Flight of the Wild Geese' starring Richard Burton and Roger Moore.You can also hear the song Willow in the Whoope Goldbergs film 'Boys on the Side', And Love and Affection in the film "Soul Man" |
| Does Joan ever read her fan mail? | Yes. She does not answer them all personally, but she tries to make sure they all recieve a reply. |
| Does Joan write all her songs? | |
| How many guitars does Joan have, and what is her most recent buy? | Joan owns quite a few guitars. She takes 7 of them on the road with her. Two Gibson electric, I strat, I Gibson accoustic, two Ovations, 1 12 string 1 six string. Her most recent buy is a Tom Anderson guitar which is like a Fender strat, she has this on the road with her as well. |
| Who is Joan's Fave singer/Songwriter? | Van Morrison |
| Will Joan be making a swing through the South of the USA? | There are plans for Joan to come back to America next year and hopefully she will get to the south. |
| Is Armatrading Joan's real name? | Yes Armatrading is Joan's real name |
| Has Joan ever done a duet with anyone? | No Joan has never done a duet with anyone. |
| Does Joan support any charities? | Joan supports a number of charities, she has played concerts for Amnesty International and The Princes Trust. She supports many different charaties, not just those foremost in the public eye. |
| What is the song "Everyday Boy about? | The song "Everyday Boy" is mainly about courage, that is it's underlying message. It was inspired by someone Joan knew who had AIDS. |
| What does the cover of Joan's first album mean? | The drawings on the cover represent the different characters from each song. |
| What is Joan doing in 1996? | Joan is currently taking a short break before resuming her extensive world tour. She has been on the road since April 1995. She will be touring in America for a second time during June and July (dates to be confirmed). And in August she plans to begin writing new songs. |
Source:  VH1.com
http://www.hrmusic.com/artists/jaart.html#Biography
http://www.hrmusic.com/misc/jafaq.html#St%20Kitts
http://www.joanarmatrading.com/
Supersite:  http://www.deyalexander.com/joanarmatrading/
 
| | |
| --- | --- |
| | Joan Armatrading:  Official website. |
| | The Unofficial Joan Armatrading Website: Photos, Dates, Biography, Links and More. |
| | Pollstar:  Search For Tour Dates. |
Contact:
JABA
72 New Bond Street
London, England
W1Y GDD

Please direct all Press enquiries for Joan
to this email address:
Email Address : enquiries@ranch.u-net.com
Telephone Number : +44 (0)171 514 5823
Fax Number : +44 (0)171 499 3417

Booking Agent:
Entourage Talent Associates Ltd.
(212) 633-2600 (New York)
Website:  http://www.joanarmatrading.com