Hanifah Walidah
Hanifah Walidah is an artist amongst the artists. First introduced as Sha-Key with the 1994 Hip Hop LP release "A Headnadda's Journey to Adidi-Skizm" helping dismantle some of the given expectations of women in hip hop. She has since, along with reclaiming her birth name (Hanifah Walidah), developed a vocal and performance style that is rooted in the midnight of blues, the backrooms of house, the silent moments of soul and the unshaken will of hip hop. Where to place her in the musical and performance spectrum may always be up for debate, but where to find her is clearly an inch below the skin and just right of the point.

Born in the Bronx, raised up in Yonkers and aged throughout the world, Hanifah has always entered and exited as a pioneer. In the early 90's she laid the foundation for the hip hop poetic revolution in New York with collectives Vibe Khameleons and The Boom Poetic. She signed to Imago records in 1993 to release her debut album" A Headnadda's Journey to Adidi-Skizm" (Imago) which produced the infectious single "Soulsville". She continued to perform with the Boom Poetic which was an early platform for groups like the Roots and Rahzel the Godfather of Noyze. She and the Boom Poetic were also featured on the Lollapolooza tour of 1994.

With the demise of Imago Records and her contract, Hanifah Walidah, then Sha-Key, started to explore other vocal styles while touring in Europe in 1995 on the 19 city Vibe Khameleon Trans Euro Tour. Somewhere between Nottingham and Lussanne Hanifah planted the seeds of what would be her present day sound and style of performance. The years to follow would be dedicated to collecting dues on stages around the world while recording and touring with groups like The Brooklyn Funk Essentials. Along this timeline she recorded with BFE LP's "Cool, Steady and Easy", "In the Buzzbag" and "Make them Like it", also releasing singles "Ducking Lessons" ("Connected" Compilation CD), "Not Every Angel" (Alex Kid's "Bienevenue") and "Woman Thing" (BFE/Make'm Like it).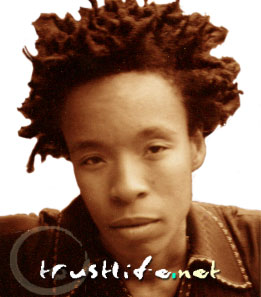 Along with music Hanifah Walidah's theatrical background is just as rich. A long standing member of the WOW Theater collective in NYC she was producer and host of "Rivers of Honey", an improv and open theater night for women of color. She was also co-writer and actor od the stage play "Bloom" (Ain't I a flower), which had runs at both WOW and the Nuyorican Poets Cafe in 1999. Bloom was a cast (on and offstage) made up of entirely black, latina, straight and lesbian women that weaved a fantastical story around mother and daughter relationships, dreams and disappointment. It took place in an imaginary front yard divided between Flower Bed Heights, Pollen Projects and the parallel reality of 3 young girls growing up within it.

Presently living in the Bay Area she finds herself nestled between an abundance of new projects, friends and a nest egg of experience.
The debut of Hanifah Walidah's one-woman stage play "Straight Black Folks Guide to Gay Black Folks" at the Black Box Theater October 2002 was received with tireless standing ovations and amazing reviews. Hanifah also performed excerpts of the play in the Living Word Festival at Yerba Buena Center for the Arts. She has since been commissioned to perform The Guide at Stanford, UC Berkeley, SF State, Mills, Brava Theater (SF), The Queer ARts Festival (SF) and The NYC Hip Hop Theater Festival. Also look for a 2-week run of The guide at Alice Arts Center Theater in April 2003. Currently, artistic director of The Crookaletta Ensemble, a theater company based out of Oakland, she produces a monthly theatrical series at the Black Dot.
Hanifah is also featured on current music projects such as the "Shame the Devil" LP with single "Flippin' Switches" , single "Soldier Man" from LP "War Times" the follow-up to "Shame the Devil" and the long awaited EP "Adidi (9 years later)"; a nine year in the making mini opera that continues the story told on the title track of "A Headnaddas…" and features Hanifah Walidah, Saul Williams, Mums the Schemer (HBO's Oz) and music by Earl Blaize.
1992
1993
Collaborated with Swedish Pop arist Eric Gadd

Signed with Imago Recordings/BMG Records

Founded the Boom Poetic showcase which further expounded on the organic fusion of hip hop and prose. Artist deriving from the boom Poetic: The Roots, Rahzel, Antipop Consortium.

Joined the NY Based band "The Brooklyn Funk Essentials" (BFE)
1994
Brooklyn Funk Essentials releas debut LP "Cool, Steady and Easy"/RCA
"A Headnadda's Journey to Adidi-Skizm" LP is released on Imago

The Boom Poetic Tours on the 1994 Lollapolooza Tour

Designed and debuted the first progressive hip hop web zine "guillotine.com"
Perform at the Trans Musical Festival (France)

Numerous performances in NYC through 1999 (Irvington Plaza, Tramps, Knitting Factory)
1995
1996
1997
Tour Bay Area with Swarm

Recorded and released independent LP "Finally Fearce"

Released collaborative single with artist Priest from the Antipop Consortium for "Connections" Compilation/Zero Hour Records
1998
Flew to Turkey with BFE for a 9 day rollercoaster collaboration with Turkish musicians Laca Tayfa to record LP "In the Buzzbag". Released in the USA on Shannachie Records. Made it to #1 in Turkey.

Performed at the Black Radical Congress in Chicago
1999
Was awarded NYFA Fellowship in Poetry

Co-wrote, produced and performed in the theater production of Bloom with a stay at WOW Cafe Theater and the Nuyorican Poets Cafe.
2000
BFE releases second LP "Make Them Like It"

Tour Turkey, France and England with BFE to sold out shows, that spring and fall
Conceived and promoted a popular sunday afternoon dance and performance event called "The Congregation"

Numerous performances in the Bay Area (LaPena, Justice League, etc.)

Collaborate to record single "FireflY" with performer producer Mike Ladd
2001
Start up design freelance business FYAdesign.com

BFE LP. "Make Them Like it" single "Woman Thing" is released (regular rotation in France)

Collaborate with Alex Kid on FComm Records in France to release single "Not Every Angel" (Radio Nova rotation)

Summer Festival Tour of France (Performed to over 200,000 people)

Performed live on Radio Nova (Paris)
2002
Released "People's Promises" remixed by David Harness

Developed, performed and produced stage play "Straight Black Folks Guide to Gay Black Folks"

Wrote and Recorded "Solidier Man" for FreedomFighter.ws Records (Winter Release)
Wrote and Recorded "What I'm Meaning" and "Pick it Up" with Alex Kid for FCOMM Records (Spring 2003 release)

Performed "Black Folks Guide" in the Living Word Festival at Yerba Buena Arts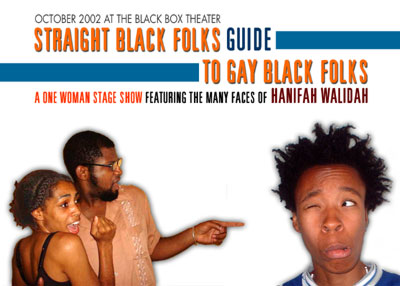 The Crookaletta Company is the first of its kind, hip hop theater company based in Oakland California. Our mission is to provide exposure to the new contemporary, playwrights, actors, dancers and performers whose work reflects the maturing perspectives, movements and innovations of the hip hop generation. Our greater goal is to strengthen the cultural appreciation, work and patronage of the theater arts within communities of color, in particular African-American communities, in the Bay Area. With this we hope to invoke a shift in thought and actions within these communities, towards their political, intimate and spiritual surroundings.

The phrase Crookaletta is from a African American nursery rhyme that creatively refers to the letter "S" as the "Crookaletta (crooked letter)".
The Crookaletta Company is named so to point out how art and language are bendable and susceptible to change.
The Crookaletta Company currently features the talents of Hanifah waldiah, Shawn Taylor and Traci Bartlow.

The Crookaletta Company Hotline is 510.594.4335.

The Crookaletta Company currently facilitates its mission in the following way(s):

The Crookaletta Sunday Show

Is a monthly on-stage variety show presently performed every last Sunday at the Black Dot in the San Antonio District in Oakland. The Crookaletta show provides the opportunity for new contemporary playwrights and choreographers to showcase their work in the form of 5-10 minute comedic, dramatic and experimental vignettes, which are performed by the Crookaletta Company. Every performance introduces new movement techniques, speech rhythms and ways of expression that reinforce the innovation and open playing ground of Hip Hop Theater.

The Crookaletta Show is every last Sunday of the month, 5pm, at the Black Dot. Admission is $5.

The Black Dot (not to be mistaken for the Black Box) is located on 23 Ave. between International Blvd and Foothill Blvd. in the San Antonio District, Oakland. To reach the DOT call 510.532.8559.

Crookaletta Auditions

We are currently looking for new actors, scripts, choreographers and ideas. If you are interested we will be holding auditions and script submission this coming Febuary at the Black Dot. More information pending.
 
Source:  http://www.trustlife.net/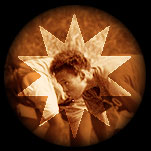 The Spoken World.com