Commentary....
By Angela D. Odom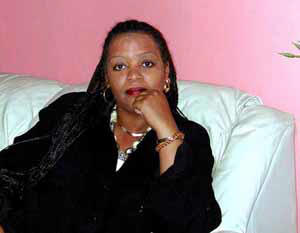 "Fear is the main source of superstition, and one of the main sources of cruelty. To conquer fear is the beginning of wisdom."
--Bertrand Russell
Our Image As Lesbians of Color: Are We Invisible?
The platform on which FemmeNoir stands is one of collective consciousness among women of African heritage generally and lesbians of African heritage specifically; throughout the world. Why does FemmeNoir wish to carry such a heavy burden and weld such a double-edged sword? Because as Black women we are currently being denigrated in the popular culture and as lesbians, unfortunately, we are still invisible.
As lesbians of African heritage, we fought, lived and died in the struggle for civil rights. We were hosed with water, beaten with sticks, and placed behind bars for the belief in our fight for racial equality. Yet, in our neighborhoods, we have to fight stereotypes, homophobia, and ignorance. We stood next to our mothers, brothers, sisters, aunts and uncles as we marched to Washington, through Selma, and Cicero. Yet, some of us became disowned and excommunicated from our families, churches, and friends; thus, becoming sexual exiles upon the proclamation of our sexuality.
What one does not understand, one fears; and what one fears, one attacks. This statement has never been truer than it is today. It would be easier to find a young woman who can call the names of Lil Kim, Destiny's Child, Missy Elliott and the like, than to find a young woman who will know the works of Nikki Giovanni, Maya Angelou, June Jordan, or Alice Walker. Thus, many of our young women today are walking around with a pocket full of put-downs – skeezer, skank, bitch, hoe, bitch dyke, and bulldagger – which they fling mindlessly and effortlessly at one another. Considering the current political climate, words such as these conjure words such as "cultural suicide" and/or "genocide" to mind.
Akilah Monifa, in an article on Sister Speak ('The "Miss" Education about African American Lesbians'), spoke about the Vanguard Award presented to Whoppi Goldberg in 1999 by the Lesbian Alliance Against Defamation (GLAAD). The presenters said that Whoopi helped " . . . educate millions about the experiences of African American lesbians."

In the article, Akilah states:
"Now I'm not knocking Whoopi, quite the contrary, I have a great deal of admiration for her. I just think that it is a sad state of affairs when the basis of educating folks of the experience of lesbian sistahs comes from movies especially one that was released in the 80s and the other one where Goldberg's character was lesbian in theory only."

Not that one has to be in a relationship to be a lesbian, but in particular "Boys on the Side" as well as 1999s "The Deep End of the Ocean" featured Goldberg's lesbian characters as one-dimensional beings who were isolated. I know that we are hungry for positive images in the media and some may ague that some visibility as long as it is not negative is better than no visibility at all. I would beg to differ.

Which brings me to question as to why GLAAD could not find an African American lesbian dead or alive, to honor rather than someone who portrays one in the media. Maybe it has to do with the scarcity of visible openly out lesbians in the media.
Akilah continues in this article with a true breakdown of the "'Miss' Education about African American Lesbians. Her article goes into great depth and detail about OUR history as lesbians of color in Africa and in music.
Which brings me to why I started FemmeNoir. It is a network or portal, which leads you to other sites of interest to OUR community -- lesbians of color. Here you will find writers, filmmakers, educators, intellectuals, activists, entertainers, communities, etc. We need to reach for our inheritance from those lesbians of color who have gone before us -- Ruth Waters, Ruth Ellis, Audre Lorde, Barbara Jordan and others -- and strengthen ourselves in the richness of their lives and move, positively and visibly, forward.
In summary, Akilah Monifa concludes her article making a very poignant point:
"There always has been and always will be African American lesbians. We must tell our stories, of our lives, in song, word, but most importantly through life itself. We must as Barbara Smith suggests ". . . manifest our lives in every way possible." This in my opinion means being out and visible to the greatest extent possible. For we cannot afford to be invisible. Happy African American history month to all sistahs and their families. Let's educate ourselves and others about our lives."


Akilah Monifa is a lesbian of African descent and freelance writer living in Oakland, CA.
amonifa@aol.com