Arts & Entertainment

Hanifah Walidah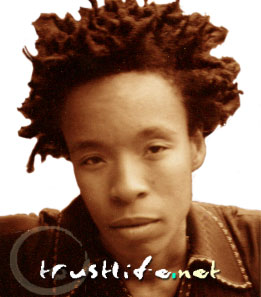 Hanifah Walidah is an artist amongst the artists. First introduced as Sha-Key with the 1994 Hip Hop LP release "A Headnadda's Journey to Adidi-Skizm" helping dismantle some of the given expectations of women in hip hop. She has since, along with reclaiming her birth name (Hanifah Walidah), developed a vocal and performance style that is rooted in the midnight of blues, the backrooms of house, the silent moments of soul and the unshaken will of hip hop. Where to place her in the musical and performance spectrum may always be up for debate, but where to find her is clearly an inch below the skin and just right of the point.
Born in the Bronx, raised up in Yonkers and aged throughout the world, Hanifah has always entered and exited as a pioneer. In the early 90's she spearheaded and laid the foundation for the hip hop poetic revolution in New York with collectives Vibe Khameleons and The Boom Poetic. She signed to Imago records in 1993 to release her debut album A Headnadda's Journeyto Adidi-Skizm which produced the infectious single "Soulsville". She continued to perform with the Boom Poetic which was an early platform for groups like the Roots and Rahzel the Godfather of Noyze. She and the Boom Poetic were also featured on the Lolapolooza tour of 1994.


With the demise of Imago Records and her contract, Hanifah Walidah, then Sha-Key, started to explore other vocal styles while touring in Europe in 1995 on the 19 city Vibe Khameleon Tran Euro Tour. Somewhere between Nottingham and Lussanne Hanifah planted the seeds of what would be her present day sound. The years to follow would be dedicated to collecting dues on stages around the world while recording and touring with groups like The Brooklyn Funk Essentials. Along this timeline she recorded with BFE "Cool, Steady and Easy", "In the Buzzbag" and "Make them Like it", also releasing singles "Ducking Lessons" ("Connected" Compilation CD), "Not Every Angel" (Alix Kid's "Bienevenue") and "Woman Thing" (BFE/Make'm Like it).

Presently living in the Bay Area she finds herself nestled between an abundance of new projects, friends and a nest egg of experience. 2002 will be blessed with a wide range of music releases from Hanifah Walidah. "Shame the Devil" LP features single "Flippin' Switches" which is an eary track that peels back the thoughts of those who work on death row. "Shame the Devil" is an ambitious project featuring Bay Area Hip Hop artists like Zioni and Company of Prophets shedding light on the Prison Industrial Complex. Also expect the long awaited EP "Adidi (The Seek Well)"; a seven year in the making mini opera that continues the story told off the title track of "A Headnaddas…" "Adidi (The Seek Well)" features Hanifah Walidah, Saul Williams, Mums the Schemer (HBO's Oz) and music by Earl Blaize. Other releases (TBA) are with Poet/producer Mike LAdd and single "FireFly" (Past Releases Section) and independent 12' Vinyl house release "People's Promises"on her label Trust Life Releases. "People's Promises" is produced by Brooklyn based producers Soul Seekers of 1999 "No Where Love" notoriety.
Theatrically, Hanifah Walidah will debut the anticipated one-woman stage play "Straight Black Folks Guide to Gay Black Folks"


The place is Anyblock, USA. The folks who live on this block are family, friends and everyday faces. There is Dee who runs the neighborhood day care and takes care of all the 9-5 mama's babies as her own son tries to take care of her. There's the Cheatam clan who runs the Friday fish fry where you can always find the men in the family playing a game of spades. There's Top Pop the elder (nobody knows how old exactly), Brother Kwan who just joined the NOI and who also is an inspiring MC, Uncle Hump Dump who speaks in poetic verses after falling on his head as a child and Cuzin' Sweets who is a social worker and Top Pop's favorite manchild. Just down the block is Lynn who sells incense, books and on occasion battles and continues to beat Brotha Kwan at rhymes. Across the street is the Church of Love and Leviticus with Preacha Letma Reacha, whose son Louie who is also dealing with his own loves and loss. And lastly there is The Last Stop, at the end of the block, where Ms. Invincible stands on a soap box which reads "Say Yo' Peace" and speaks to the one who counts the stars. And what do all these folks have to do with artist Hanifah Walidah and her one-woman show going up at the Black Box Theater this October entitled "Straight Black Folks Guide to Gay Black Folks"?
Straight Black Folks Guide to Gay Black Folks
premieres at the Black Box Theater.
1928 Telegraph Ave between 20/19th Streets, Downtown Oakland.

Every Wednesday in October 2002
Doors open at 7:00pm/Show begins promptly at 7:30pm
Opening Acts at 7:30pm and Q&A at the end of the night
(special speakers for Q&A TBA)
Tickets $12 (online purchasing will be available in September
Seating is selected "first come, first served"

There will be 1 or 2 different opening acts per evening, which are as followed:
October 2nd - Poets Exodus and Karen Ladd
October 9th- Kaya Nati & Marc Bamuthi Joseph (Living Word and Youth Speaks)
October 16th- Tim'm West & Aya De Leon
October 23rd- Miss Lovely Mohair & Transfixed with Marcus Rene Van and JayCub Perez
October 30th- Deep Dick Collective
Nearest Bart (19th Oakland Station on the Pittsburgh and Richmond lines)
By Car : From Frsico, take (580-East) right off the Bay Bridge, to the Downtown Oakland Exit
Contact: blackfolksguide@trustlife.net
Website: http://www.trustlife.net/