Arts & Entertainment
JUCA
(Joy, Understanding, Creativity And Abundance)
"These girls is gettin' it...musicianship and stage presence galore. They know how to get the people jumpin' up and down. They just bad, that's all!" --Hattie Gossett, contributing editor, Essence Magazine
Judith Casselberry is the founding member of JUCA, an all women's reggae band, with a rapidly rising reputation for turning out the house!

A unique and powerful group, focusing on reggae with the influences of traditional African, rock, gospel, folk and jazz. We bring voice to the African-American woman's experience pulling from all our roots throughout the African diaspora.
The Trio
Judith Casselberry
Vocals and rhythm guitar


25 years professional musical experience. From 1979-1995, as vocalist and guitarist with the internationally renowned duo Casselberry-DuPreé, enabling her to share the stage with Odetta, Richie Havens, Stevie Wonder and Ladysmith Black Mombazo among others. She has performed throughout the United States, Canada, the Caribbean, Europe and Northern Africa. As a solo vocalist/guitarist, she has performed with Nona Hendryx, Laurie Anderson, Toshi Reagon, Lillian Allen and Linda Tillery. Ms. Casselberry is Adjunct Instructor, Music B.Mus., Berklee College of Music; M.A., Wesleyan University. Judith Casselberry joined the Vassar faculty in 1999 in Music and Africana Studies. She teaches "Black Music (A History of African American Music)" and "Black Womanist Spirituality in Popular American Music."
Lovejoy
Vocals
22 years professional musical experience with artists such as Majek Sashek & The Prisoners of Conscience, Urban Bush Women, Toshi Reagon, Riddamathon, Ancestral Messengers and the New York Symphony Orchestra. She has brought her talents to the stages of Carnegie Hall,
Actors Playhouse, BAM, the African Burial Ground and Lincoln Center.
Debra Kenya McGee
Vocals and percussion
25 years professional musical experience. Extensive touring throughout the United States, Canada and Europe with Edwina Lee Tyler & A Piece Of The World, Women of the Calabash, Sabar Ak Ru Afriq, Asé Drumming Circle, Faith Ringold, Ancestral Messengers and African Contempo. A teacher and scholar of African drumming, percussion and dance, she has taught and/or performed the music of Liberia, Sierra Leone, Cameroon, Zaire, West Indies and African-American gospel.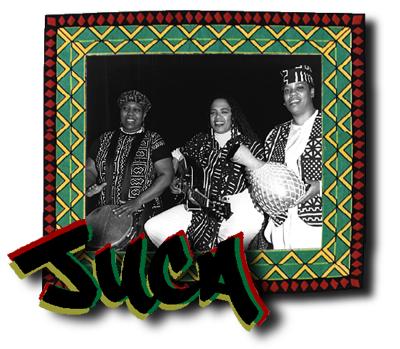 100 Million Souls (Judith Casselberry) all rights reserved

[.wav - 769K]

[.aif - 769K]
[.ra - 70K]
Strip The Blinders (Judith Casselberry) all rights reserved

[.wav - 702K]

[.aif - 702K]
[.ra - 64K]
Contact:
JUCA
P.O. Box 343
Peekskill, NY 10566
(914) 737-1007 ph/fax