Arts & Entertainment

Purple Moon Dance Company --
Purple Moon Dance Project was founded by Artistic Director, Jill Togawa, to realize a creative vision: integrating non-western & western dance forms & aesthetics, & multidisciplinary collaboration, while consistently exploring the continuum of intimacy for women.

Since 1992, Purple Moon has produced an annual home production in San Francisco, & participated in other performance series, festivals, college events & rituals nationally, including Los Angeles, Honolulu, New Mexico, Michigan and Oregon. The company has also participated in international events such as the NGO World Forum on Women in Beijing, China, & the Gay Games Cultural Festival in New York. Purple Moon's educational and outreach programs include workshops and classes for women without formal dance training & girls; including the National Latina Health Organization, The All Girls Photo Project, The Life Foundation (persons dealing with HIV), The Riley Center (services for abused women), BRAVA! for Women in the Arts & The Harvey Milk Institute, Gay & Lesbian Outreach to Elders and The Alternative Family Project.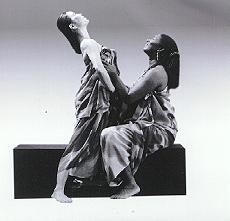 The mission of Purple Moon Dance Project is to develop a greater appreciation and visibility for American cultural diversity, through the medium of dance - and through its performance and educational activities, to contribute to affecting social change, peace and healing in our society.
Women and Children's Family Services – For over twenty years, WAC has been providing an 18 month, substance abuse treatment program to women and their children throughout the Greater San Francisco Bay Area. WAC manages three residential treatment facilities in the mission district, Visitation Valley and lower Potrero Hill, and an outpatient program in the Western Addition. Over two-thirds of the women enrolled in their programs come from violent, poverty-ridden, and substance abusing backgrounds. WAC offers individual, couples, family and children's therapeutic counseling as well as various workshops and programs to help their clients work through their recovery. One of these program is the Artist-in-Residence Program, which brings artists from the community to their facilities to help the women learn to heal themselves through artistic and spiritual expression. This year Purple Moon Dance Project under the artistic direction of Jill Togawa has been invited to work with WAC's clients and to teach them about bodily expression through dance and movement.
Purple Moon's work is diversity made physical. For more information or to let us know what you think, email us @:
Who we are
Brief Biographies of Key Personnel

Jill Togawa (Artistic Director) is a Japanese American Yonsei, born and raised in Honolulu. She received a B.A. in Dance from the University of Hawaii and brings to her work with Purple Moon more than 20 years experience living as a dancer and choreographer in New York, Oklahoma, the Bay Area and Hawaii -- dancing in many different places, with many different people in a variety of modern dance forms. Her formal training includes many years of ballet and modern (Graham, Limon, Cunningham). More recently she has expanded that background to include formal study of hula, middle eastern, butoh, indonesian and japanese folk dance. Prior to founding Purple Moon, she worked as Assistant Artistic Director for Asian American Dance Performances in San Francisco. Independently, her work has been presented by BRAVA! for Women in the Arts and by jazz composer Glenn Horiuchi, to commemorate the 50th anniversary of the Japanese American internment. Ms. Togawa is a certified teacher of the Alexander Technique specializing in work with performers. As a teacher, some of the groups she has worked with are Riley Center (women in recovery), Life Foundation (HIV services), GLOE (Gay and Lesbian Outreach to Elders), California Women's Commission on Alcohol and Drug Dependency, All Girls Photo Project, Asian Pacifica Lesbian & Bisexual Network, students from Stanford University & Pomona College.


Alena Cawthorne (Dancer/Choreographer) is a native of Portland, Oregon. She has studied Ballet and Modern as well as dances from Japan, West Africa and Bali. As a choreographer, she has had her work shown in student productions and produced her own showcase at California Institute of the Arts. In 1996, she was selected as one of two students to exchange to the London Contemporary Dance School and in May 1997 she received her BFA in dance. In San Francisco she has also performed with Anne Bluethenthal & Dancers and Mercy Sidbury. Ms. Cawthorne is also a teacher for Rhythm and Motion.

Judith Dancer (Dancer) Judith's first dance steps were in the crib to Leadbelly and she's been dancing ever since, including modern dance, clowning & stiltdancing. Her great love is improvisation, because it is 'dance embodying the moment'. She has been in recovery from drugs and alcohol for 14 years.

Arisika Razak (Dancer/Choreographer) is an African-American performance artist whose work is dedicated to reclaiming the power and sacredness of the female body. Her performance art is equally grounded in the cross cultural tradition of spiritual dance, the paradigm of empowerment and transcendence arising out of the birthing process, and her 25 year study of African, Asian, Native American and Neo-Pagan Religious Systems. Arisika has performed both nationally and internationally, as a solo dancer, choreographer, guest lecturer and workshop leader. A partial list of credits includes: The Michigan Women's Music Festival, Women of Power Conference, Switzerland, Atlanta Earth Expo and West Coast Lesbian Festival, breast cancer and midwifery conferences throughout the U.S. Her work is featured in the films: A Place of Rage and Fire Eyes.
Contact Info:
For booking information and inquiries please contact:
The Purple Moon Dance Project
3543 Eighteenth Street,
San Francisco, California 94110
Phone: (415) 552-1105;
Fax : (415) 552-0833

Join the PMDP e-mail list: e-mail: