FemmeNoir
A Web Portal For Lesbians Of Color


---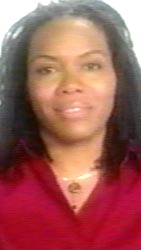 Debra Wilson is an award-winning filmmaker whose most recent work, Butch Mystique, opened to critical acclaim at the San Francisco International Lesbian & Gay Film Festival.
In 2001, she received honorable mention from the Black Filmmakers Hall of Fame for producing her first short documentary NIA: A Gathering of Our Sisterhood, which made the festival rounds in New York, Atlanta and San Francisco.
In 2002, Debra was granted completion funds in 2002 from Horizons/Frameline Foundation for Butch Mystique, beating out 85 other applicants, and in 2003 won Best Short/Audience Award from over 194 films in the San Francisco International Lesbian & Gay Film Festival.
A native of California, she has worked in the film industry for 15 years in a variety of roles, including Talent Coordinator for news and entertainment where she recruited sports, weather and on-air personalities for CBS NEWS, FOX News and Disney as well as network affiliates. She also worked as Casting Assistant at Reuben Cannon and Associates in Los Angeles; where she worked on such projects as Mama Flora's Family, and countless other Movies of the Week and television specials.
At Tam Communications as Associate Producer she produced several corporate training videos, sales and marketing videos, TV commercials, and Direct to Video projects.

Debra earned a B.A. degree in Television Film Production at Cal-State University Northridge. She is president of Moyo Entertainment Inc., a production and distribution company based in Oakland, CA, and was Director of Programming for the 2003 Oakland International Black Gay & Lesbian Film Festival held in August.
---
Films
COMING SOON ON DVD!
BUTCH MYSTIQE exposes the rules, thoughts, passions, and concerns of African American butch-stud, identified lesbians. Women from varying backgrounds – mothers, activists, and artists – share raw, powerful and intimate thoughts on being outside the norm, being powerful butch-identified women and being themselves. Learn more about Debra Wilson
For Ordering Information Go To: http://www.moyo-entertainment.com/order.htm
---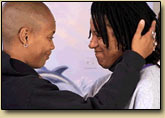 NIA: A Gathering of Our Sisterhood
This film follows the experience of women who attend an annual weekend retreat that provides a safe spiritual, social and educational space for women of African American Descent.
Awarded Honorable Mention Black Filmmakers Hall of Fame 2001 Int'l Black Independent Film & Video

Running Time: Approx. 7 minutes/color

CREW:
Music by: Alfia Walking Tree
Edited by: John Vincent Barrett
Videography by: Debra A. Wilson and Ondrietta Johnson
Written by: Debra A. Wilson, Co-Produced by Ondrietta Johnson
Produced by: Debra A. Wilson, Directed by Debra A. Wilson
PHOTO by Z'ma Wyatt -- www.niacollective.org
---
More Information On The Filmmaker: http://www.moyo-entertainment.com/portfolio_butch.htm

Home