Articles....
A Documentary Exploring
The Coming Out
Experiences of African American
Lesbian, Gay, Bisexual and
Transgender Persons
Director
Jasmyne Cannick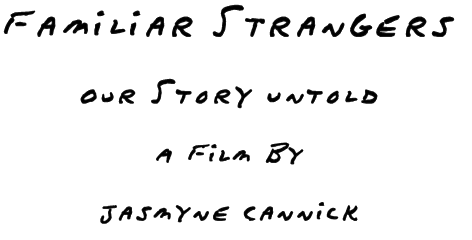 FAMILIAR STRANGERS: OUR STORY UNTOLD
By Jasmyne Cannick

Barely Breaking Even Productions (BBE Productions), a division of Bamboo Media, has embarked upon a three-prong project to include a documentary film, a photography book and a photo-text exhibit. The project is a collaboration between journalist and publicist Jasmyne Cannick and long time activist and writer Charlotte M. Young "My personal goal is to incite the black family to start talking more openly about sexual orientation and I believe that once we see the diversity of gay people and hear their stories, this in itself will help to combat homophobia in the black community and more specifically in the black church," comments Young.
The Familiar Stranger—As lesbian, gay, bisexual and transgender (LGBT) people of African descent, we claim and are claimed by two communities--the black community and the gay community. Neither community fully accepts, appreciates or understands us. We are often seen by the black community as outsiders, even though we are at every family gathering and have been part of every struggle. While the LGBT community is as racially diverse as this country's overall population, white men and women have always been its most visible and empowered members. Our issues are often marginalized with the implication that homosexual issues are "white" issues, and are therefore not important to the African American community as a whole. This, of course, could not be farther from the truth. AIDS has long been categorized by many heterosexual leaders in the African American community as a gay, white, male disease. However, AIDS is now infecting heterosexual men, women and children in the African American community at an alarming rate. The marginalization of African American LGBT by both the Black and LGBT communities has resulted in the exclusion of the most essential voices from a necessary dialogue of voices that can best articulate the issues of both communities in ways that non-African American gays and heterosexual Blacks can understand. As gender roles are frequently used to define the parameters of sexuality, all forms of sexuality must be understood in the context of a specific culture.
The Filmmaker: Jasmyne Cannick
Jasmyne's mission is to create a body of work that brings about social change within the African American community. This project endeavors to create a safe place for people to talk openly about sexual orientation, to educate the black community about the complexities of sexual identity and to document the coming out experiences of African-American lesbian, gay, bisexual and transgender (LGBT) people. This is in an effort to combat homophobia, promote tolerance and increase the understanding of various sexual orientations through the exhibition of film, art and creative expression.
Jasmyne is a first time director and filmmaker who has successfully transitioned from media and public relations to film. She attended college in California where she majored in communications with an emphasis in public relations. Most recently, Ms. Cannick served as the Pan African Film and Arts Festival Media Relations Director (2001, 2002) and worked for Los Angeles Gay and Lesbian Film Festival Outfest (2001). She also assists with a radio show in Los Angeles, is a freelance writer, and performs public and media relations for community organizations, films and small businesses. Jasmyne Cannick is an out lesbian and an activist in her community for LGBT rights. She attends Unity Fellowship Church of God in Christ under the direction of Archbishop Carl Bean, founder of Minority AIDS Project. Jasmyne and her partner reside in Los Angeles, California where she is currently working on her documentary.
Participating Organizations:
Pan African Film and Arts Festival – Los Angeles, CA
Established in 1992, The Pan African Film Festival (PAFF) is a non-profit corporation dedicated to the promotion of cultural and racial tolerance and understanding through the exhibition of film, art and creative expression. It is PAFF's goal to present and showcase the broad spectrum of Black creative works, particularly those that reinforce positive images and help to destroy negative stereotypes. We believe film and art can lead to better understanding and foster communication between peoples of diverse cultures, races, and lifestyles, while at the same time, serve as a vehicle to initiate dialogue on the important issues of our times. www.paff.org.

Unity Fellowship Church of God & Christ – Los Angeles, CA
The Unity Fellowship Church Movement was founded, incorporated and chartered (as a 501(C)(3) non-profit religious organization) in Los Angeles, California in the year 1985. The "Mother Church", also known as Unity Fellowship of Christ Church, is located in Los Angeles, CA. at 5818 West Jefferson Blvd. www.unityfellowship.org.

IMRU KPFK 90.7 FM – Los Angeles, CA
Originally called "Morning Glory," IMRU evolved into a regular feature on KPFK in 1975. Completely staffed by volunteers, IMRU has gone through many changes with its format, time & day of broadcast, and people involved with it. At one time there were three shows producing LGBT content on KPFK: Lesbian Sisters, IMRU, and Radio GLLU (Gay & Lesbian Latinos Unidos). In 1997, the show evolved into the weekly radio news format it has today. This format includes feature segments on a wide variety of topics of concern to the LGBT community including politics, social issues, health issues, entertainment and also local and national news. www.imru.org.

Outfest Film Festival – Los Angeles, CA
The mission of OUTFEST is to build bridges among audiences, filmmakers and the
entertainment industry through the exhibition of high-quality gay, lesbian, bisexual and transgender themed films and videos, highlighted by an annual festival, that enlighten, educate and entertain the diverse communities of Southern California. www.outfest.org.

Arise Magazine – National
A publication dedicated to the lesbian, gay, bisexual, transgender, and same-genderloving community of people of African descent. Arise Magazine's mission is to challenge the mind, encourage the spirit, and affirm the value of all sexually diverse people of African descent. www.arisemag.com
Would You Like to Participate In This Groundbreaking Documentary?
Barely Breaking Even Productions, is seeking participants for this full length documentary film exploring coming out stories of African-American gay, lesbian, bisexual and transgender people. If you would like to participate in this groundbreaking documentary you can call (310) 775-3153 or email for a preliminary interview. Participant selection will begin immediately through March of 2003 with priority given to those who reply first. All ages are welcome.
BARELY BREAKING EVEN PRODUCTIONS
A DIVISION OF BAMBOO MEDIA
P.O. BOX 432249
LOS ANGELES, CALIFORNIA 90043
PHONE (310) 775-3153
EMAIL:
Web: http://www.geocities.com/familiarstrangerfilm/info.html
---