FemmeNoir
A Web Portal For Lesbians Of Color


---
Tracy Walker
Musician
"Playing for the crowd gathering for the Indigo Girls, the guitarist-singer-songwriter held some 5,000 people spellbound with a haunting acoustic set." - Rick Bird (Cincinnati Post)
Tracy Walker is on the verge of recording her second self-released recording. And she's going to do it the way fans have been urging her all along... LIVE and SOLO. "For my first CD, Naked, I didn't have the confidence to be there totally alone. Now its hard to imagine it any other way." In December of 1998, Tracy released her first solo recording Naked. For that Walker enlisted an assortment of Cincinnati-area Jazz and Blues musicians including pianist Ricky Nye. The disc contains ten original Walker tunes and in the words of Cincinnati Enquirer Music Editor Larry Nager she was off to a "superb solo start."
Not one to wait for hand-outs, Walker followed the example set by renegade singer/songwriter/record label executive Ani DiFranco by starting her own label, Gallimaufry Records. "I'll always be this hodgepodge, stylistically," Walker says of her musical style. "That is where Gallimaufry comes from. It means hodgepodge and that's exactly what I am." Walker's musical style sits at the crossroads of Folk, Rock, Country, Jazz and Blues. Add to that Tracy's mixed ethnicity, bi-continental beginnings (she was born in England) and being raised in the free-thinking, creative town of Yellow Springs, Ohio, and this is what you get... a cornucopia, a hodgepodge... a Gallimaufry.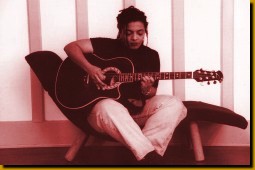 Along the way, Walker has strengthened her proclivity for delivering simple yet ironic lyrics against a backdrop of likewise simple and melodic music. Adhering to the philosophy that growth emerges from experimentation, she performs often in varied venues from clubs to bars to benefits and festivals. Said of her opening performance for the Indigo Girls at Pepsi Jammin On Main, "...those who care about music ... were taken by Tracy. It was a startling set. We got goosebumps backstage enjoying people who were enjoying it," said Bob Elias, Event Producer. Tracy has also opened for up-and-coming singer/songwriter Melissa Ferrick, daughter of veterans James Taylor and Carly Simon, Sally Taylor, pop-rockers Blessid Union of Souls, R&B legend "Iceman" Jerry Butler and folk icon Tom Paxton.
Critics and judges are rewarding what fans have known all along: Walker possesses a soaring alto demanding of attention. To wit: Walker beat stiff competition and was named 1997 Best Singer/Songwriter and 2000 Best Folk Artist by the Cincinnati Entertainment Awards sponsored by Cincinnati CityBeat, the city's leading weekly newspaper of arts and issues. She was also awarded two CAMMY's, the Cincinnati Enquirer Pop Music Awards, for Best Solo Act 1999 and Best Folk/Bluegrass Vocalist 2001. Most recently Tracy was voted Best Local Musician in CityBeat's Best Of Cincinnati readers' poll. Walker has participated in many fund raising efforts and has sat on panels at music seminars to share what she has learned about the business of music.
Tracy Walker recently returned from a short West Coast tour including dates in Tucson and Los Angeles. Upon completion of her next CD Walker will return to the road to promote the new disc. Although she has performed with various musicians she has become best known for her stripped down shows - just her acoustic guitar and her voice. It is her own hybrid - call it Soul infused Folk - that's capturing attention and garnering accolades and awards.
Gallimaufry Records ~ P.O. Box 140126, Cincinnati, Ohio 45250 ~ 513-751-0037
Tracy Walker -- Naked (Gallimaufry Records) BY REBECCA JANE ALBER

There's a lot to say about this folksy solo singer. Tracy Walker first came on the scene with Ain't Helen, a band that seemed to have taken her hometown and greater Ohio by storm. After five years of local success, Ain't Helen disbanded so Walker could head out on her own.
And a fine job she's done of it. Her voice has depth, range and emotion. With soulful jazz accompaniment -- including horns, violin, rhythm percussions and keyboards -- Walker showcases original scores that combine folk and jazz quite nicely.
Her lyrics offer a reminder of love lost, and she's hardly shy in describing who that love is for: "I thought she was an angel sent to make my life new/gave her rainbow, she left me blue...If you see her keep your distance/She'll break your poor heart like glass" ("Blue"). Other notable tracks include "All My Life," "Dorian Gray" and Draggin Me Back."
Walker seemed to be purging some pain with this one. Sad, but lucky for us. It's a shining addition to lesbian-made music.
Curve Magazine
July 1999
| | | |
| --- | --- | --- |
| Friends & Lovers | | |
| Blue | | |
| All My Life | | |
| Dorian Gray | | |
| So Hard | | |
| Spend Some Time | | |
| Tahitian Treat | | |
| Draggin' Me Back | | |
| Would You Be Mine? | | |
| People Will Say | | |
I Write The Songs
volume 7, issue 25; May. 10-May. 16, 2001
Source: http://www.tracywalker.com/
http://www.citybeat.com/2001-05-10/cover5.shtml
Home