FemmeNoir
A Web Portal For Lesbians Of Color


---
Tiny & Ruby
i coulda played with pops, basie,
the duke.
i was mighty.
the sensation of the century,
out of this world,
supreme,
stellar
it was them girls--
white, light, bright, brown, tan, and yellow.
Yes suh
that's who
i grind my axe fuh. --Cheryl Clarke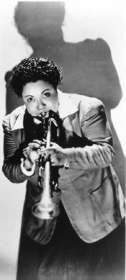 Film Clip from Hell Divin' Women
Ernestine "Tiny" Davis was born on August 5, 1907. She was an African-American jazz trumpeter and vocalist. Little is known of Davis' early life and thus her career (so far) is where most get acquainted with her.

In 1937, the Piney Woods Country Life School of Mississippi founded the 16-piece band known as The International Sweethearts of Rhythm. The purpose of the band was to financially support the school, which educated the poor and orphaned black children in that state. But in 1941, the International Sweethearts of Rhythm severed their ties with the Piney Woods Country Life School, moved to Virginia and recruited seasoned professionals to join their band. Included in this group of professional musicians were Anna Mae Winburn, who previously had been singing with and directing an all-male orchestra, singer/trumpeter Ernestine "Tiny" Davis, and alto saxophonist Roz Cron.
They toured the United States extensively, with the high points of their tour being the Apollo Theatre in New York, the Regal Theatre in Chicago, and the Howard Theatre in Washington, D.C., where their debut set a box office record of 35,000 patrons in one week.
One such engagement was at The Apollo where the audience was on their feet, dancing to the unique rhythms those all-male, white big bands would later hire black arrangers to copy. The energy pulses and throbs as they swung through the moves the new dance form demanded; vibrated the building in Harlem htat night. Louis Armstrong and Eddie Durham stood in the wings, smiling broadly as Ernestine "Tiny" Davis took off in a riveting solo. The International Sweethearts of Rhythm, pushed the fevered audience to new levels as Edna Williams, Willie Mae Wong, and Ruby Lucas up the ante on the song "Swing Shift"…
<![if !vml]>
<![endif]>
The Sweethearts were unique in that it was both all females as well as a racially integrated group. Latina, Asian, Caucasian, Black, Indian and Puerto Rican women came together and ' created music that more than held its own in the Swing Era: the musicians and the music they played was admired by their peers, including the likes of Count Basie and Louis Armstrong. Eventually, Armstrong tried (unsuccessfully) to lure Davis away from the International Sweethearts of Rhythm by offering her ten times her salary.
They gained their highest notoriety during the war years and toured heavily until 1945, when the American male workforce returned and opportunities for women were again curtailed. The International Sweethearts of Rhythm played big band jazz that cooks. "The Jubilee Sessions," originally recorded for radio broadcasts aimed toward America's black soldiers serving during 1943 to 1946, provide a rare opportunity to hear these women play.
The Sweethearts didn't get as much exposure to mainstream audiences in the South as the all-white, male big bands of their day because of their racial make-up and the atmosphere of violent racism in that region. When they did tour the Deep South, the three or four white women in the group would paint their faces dark so the police would not remove them from the bandstand and arrest them. While their exposure to white audiences was somewhat limited, they were extremely popular with black audiences.
The All-girl band singer Tiny Davis and her partner Ruby Lucas owned Tiny and Ruby's Gay Spot in Chicago during the 1950s. In 1988, a short film entitled Tiny & Ruby: Hell Divin' Women was made as a tribute to Davis, and her lesbian partner of 40 years, drummer Ruby Lucas. Ernestine "Tiny" Davis died in 1994.
Source: The African American Registry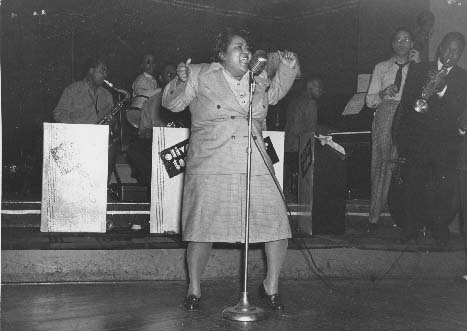 Tiny & Ruby: Hell Divin' Women
(view clip | read reviews)
Profiling legendary jazz trumpeter Tiny Davis and her partner of over 40 years, drummer-pianist Ruby Lucas, "Tiny & Ruby: Hell Divin' Women" weaves together rare jazz recordings, live performances, vintage photographs, and narrative poetry by Cheryl Clarke.
The film establishes an informal, intimate style in which 78-year-old Tiny demonstrates that her chops and humor are both quite intact.
Video: http://www.jezebel.org/video/tina.mpg
Source: http://www.jezebel.org/tiny.htm
Video: Hell Divin' Women
Home