FemmeNoir
A Web Portal For Lesbians Of Color


---
Storme DeLarverie
Male Impersonator/
Activist
"It ain't easy…being green" is the favorite expression of Stormé DeLarverie, a woman whose life flouted prescriptions of gender and race. During the 1950's and 60's she toured the black theater circuit as a mistress of ceremonies and the sole male impersonator of the legendary Jewel Box Revue, America's first integrated female impersonation show and forerunner of La Cage aux Folles. The multiracial revue was a favorite act of the Black theater circuit and attracted mixed mainstream audiences from the 1940s through the 1960s, a time marked by the violence of segregation.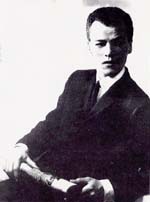 Storme had also been a pioneering lesbian transgender actress. Her famed show toured America nearly fifty years ago. She'd played a striking male while 25 men under her direction impersonated women.
In Michelle Parkerson's 1987 film: Stormé: The Lady of the Jewel Box, using archival clips from the past, Stormé looks back on the grandeur of the Jewel Box Revue and its celebration of pure entertainment in the face of homophobia and segregation. Stormé herself emerges as a remarkable woman, who came up during hard times but always "kept a touch of class."
Storme DeLarverie is a living legend, jazz singer, & male impersonator from the and at 80 plus, DeLarverie is still recognized for her steadfast advocacy for the rights of Gays & Lesbians.
Delarverie, a cross-dressing African-American lesbian may have sparked the Stonewall riot by hitting a cop after a cop hit her in the street outside the bar—and she has no doubt about where most of that anger came from on that fateful Saturday in June. "Embracing, we smiled for the cameras."
"Stonewall was just the flip side of the black revolt when Rosa Parks took a stand," says Delarverie. "Finally the kids down there took a stand. The police got the shock of their lives when those queens came out of the bar and pulled off their wigs and went after them. I knew sooner or later people were going to get the same attitude that I had. They had just pushed once too often."
Acceptance wasn't always so easy to come by.
In the '40s and '50s, the Jewel Box Revue, regularly packed in crowds at the Apollo Theater. Like today's drag kings, DeLarverie cut her hair short, donned men's duds and took to the stage. "There was no dressing in drag offstage. Not if you wanted to stay out of jail." "It's much easier now," says DeLarverie. "They can walk around the street in drag if they so choose. That's great. That's good."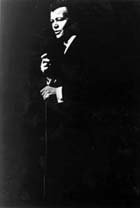 Call her a drag king today and she bristles. "I am a male impersonator," says DeLarverie, who works as a bouncer at a lesbian bar in Manhattan. "What I did was a forerunner for them to do this."
What she did was to sing big-band style, a handsome woman with a smoothly deep voice, crooning amid a chorus line of beautiful men dressed like women. It was all about illusion. Show biz. There was no lip-syncing, either. (As she sees it, anyone can do that.)
Even so, DeLarverie looks at today's drag kings with a certain amount of tenderness. "I know a lot of the girls, and I'm all for them," she says. "This is their day, these young people. This is their day. Not mine."
This pioneer male impersonator and activist Storme Delarverie, was honored with a SAGE Lifetime Achievement Award in 2000, The award is given to recognize the accomplishments of LGBT seniors and allies.
Stormé currently lives in New York's Chelsea neighborhood, and is working as a bodyguard at a women's bar and still singing in her deep silky voice with an "all girl" band.
Home