FemmeNoir
A Web Portal For Lesbians Of Color


---
Siobhan Brooks
Exotic Dancer Organizer,
Queer Black Feminist.
Ph.D. Candidate
When people think of pornography and the sex industry in general, they are usually thinking about white women with their legs open in the spread of a magazine. This image largely informs the pornography debate, which consist mostly of middle class white women debating about whether pornography is oppressive (the view that Andrea Dworkin and Catherine McKinnon hold) or liberating (the "sex positive" viewpoint that white feminist like Carol Queen and Annie Sprinkle hold). This debate does not deal with Women of Color in the sex industry, whom are made invisible by both of these feminists' camps.

When many women of color feminists discuss the sex industry in relation to women of color, they tend to only focus on the oppressive aspects of it fueled by racial stereotypes about women of color, especially Black female sexuality, which can easily fall into the category of blaming the victim for being in the sex industry, and in their view furthering these stereotypes. What feminists of color in this camp fail to realize is that the racial stereotypes about us were formed prior to the creation of pornography and music videos. They were formed during slavery and colonization and exist to justify European colonization, our labor exploitation, and our being tracked into low-wage service jobs like being nannies, underpaid farm workers, maids, janitors, and lower sectors of the sex industry. The enforced breeding of Black people during slavery was about creating an exploited labor force---we were never paid for our sexual labor.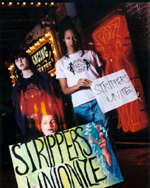 The racial stereotypes and the history of labor exploitation combine to regulate us into the most undesirable elements of sex work. Women of color work in the seedier strip clubs, not the high class ones. We do outdoor prostitution more often then indoor prostitution, are put more at risk for HIV and AIDS, do lower paid pornography, and prostitutes of color are arrested by the police at higher rates than white prostitutes. People of color are coming from a non-human status verses white people who are coming from a human status. This is social Darwinism, historically people of color were viewed as primitive during European modernity, and were often featured as freaks in zoos and put on display for white people---such as Saartjie Baartman, The Hottentot Venus is an example of this. White women were not objectified this way.

The focus of white women in porn and advertising (while their critiques of sexism are valid) serves to reproduce a capitalist white nation-state and justify racism and wage inequality against people of color, by the fact that we are not viewed as sexually attractive. We are not ever seen as sex symbols. Many women of color were sterilized, and people of color's bodies were often used in medical experiments, men of color were lynched upon charges of raping white women, women of color are seen as more sexually 'exotic' in relation to white women, thus we are underpaid in the sex industry, as in other service sectors.

From her Keynote Speech entitled, "Beyond Objectivity: Racism and Wage Inequality Within the Exotic Dancing Industry" delivered at Colorado University at Boulder at the International Women's Week for the conference entitled, "The Business of Bodies; Women and the Global Sex Market" 2002.


Siobhan Brooks was born in 1972 and grew up in the Sunnydale Housing Projects of San Francisco. Her mother, Aldean Brooks, who is now deceased, raised her. Siobhan started school at eight. She succeeded well in school, in spite of institutionalized racist incidents, like when she was placed in an ESL class in the fifth grade, even though she only spoke English at home, and went to San Francisco State University, where she majored in Women's Studies. It was in women's studies that she learned about the pornography debate, and learned that many of her friends, who were mostly white, in women studies were working in the sex industry to support their way through college.
Many of them worked at the Lusty Lady Theater, a famous peep show in the North Beach area known for its feminist politics (displayed by the hiring of former dancers as managers as opposed to men). Siobhan was a phone sex operator for a year, and a nude model for art classes before working at the Lusty Lady. She liked exploring her erotic side, and didn't have a problem being nude in front of people, and decided to audition at the Lusty Lady to support herself while at State, like her classmates. But she knew that race played an issue in the sex industry and wondered if she would be hired. Josephine, a former Black dancer, hired her after watching her audition---she was one out of four Black dancers that worked there out of seventy dancers; in sum ten were women of color.

After six months of working at the Lusty Lady, Siobhan noticed some problems. One of the main problems was that Black dancers were not scheduled to work in a more lucrative part of the club called the Private Pleasures booth. This was a separate area of the club, where dancers are separated by glass from the customer, like on the main stage. The cost was $5.00 for three minutes (and is now $10 for three minutes). A dancer could make up to $60 per hour, a booth shift was divided into two hours on stage, and two hours of booth with a thirty minute break in between. The club kept seventy percent and the dancer kept thirty percent, now dancers keep a higher percentage. If a dancer wanted to work in booth, she had to tell a manger, so she could be trained with how to negotiate higher prices with customers for things like dildo shows (if one chooses to do them), deal with rude customers, and clean the booth with vinegar and rubbing alcohol. After a few months of being on stage (which takes bills and quarters) where the wages were $11 per hour to the top wage of $24, Siobhan wanted to try out the booth.

Josephine trained her and she did a booth shift for that week, but was not scheduled for the following week. She noticed that her white and non-Black coworkers worked in booth twice or more a week. She thought maybe her performance was not as solid, since she was new, but began to notice that the other Black women never worked in booth, either. She confirmed this with the other Black women and some white dancers that it was very rare that a Black woman worked in booth. She asked Josephine about this unwritten rule and was told by Josephine that the reason why they don't allow Black women to work in booth because the company felt that white men would rather pay a quarter to see Black women on stage than $5.00 for three minutes in booth, she also said that when she use to dance and work booth, two white men came up to her and said she looked like a monkey in a cage.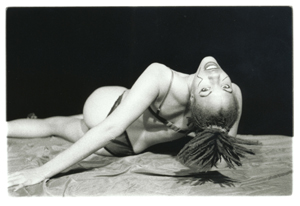 Siobhan at first didn't question this, but felt angry and hurt that she was prevented from working the booth. A few weeks later, her coworker, Julia Query (co-producer of Live, Nude, Girls, Unite!) wrote a petition directed at the general manger, June Cade that dancers who worked in booth should get paid a higher percentage. The dancers signed this petition, which made Siobhan angry because if it were to go through, it would widen the wage gap between Black dancers, and dancers that did booth. So, she wrote her own petition, also directed at June, stating that Black dancers should be allowed to work booth more often. While Julia's petition didn't upset June, and she was willing to work with the white dancers to work something out, Siobhan was reprimanded by June and Josephine for jumping to conclusions about the policy being racist, and if she wanted to work in booth, all she had to do was ask. After a meeting with the Black dancers and management, it was decided that Black dancers would be rotated throughout the week. But after her petition, the management held a general meeting about banning political literature in the dressing room.

A few months later the white dancers complained to June about being videotaped by customers through windows on stage called "one-way" meaning that a dancer could only see her own reflection and not the customer. Customers were videotaping dancers, which turned into a security issue for not only the dancers, but also the men who worked at the club, who often had a hard time catching the customers. June refused to remove the windows because she thought they were lucrative for attracting the "shy" customer. The dancers began working with a group of former dancers who helped dancers with legal issues. They called a non-profit group, The Exotic Dancer's Alliance http://www.eda-sf.org/. They also worked with the Service Employees International Union Local 790. Dancers decided they wanted a union and quickly took action to have dancers and support staff, vote for union representation. Siobhan was very involved in this process, but angered that her white co-workers didn't see the racial issue as the first indicator of labor abuses. She remembered how white men often waved her out of view, so she felt the videotaping issue was not the first thing on the agenda for the women of color at the Lusty Lady, but job security.

In six months the Lusty Lady unionized with SEIU Local 790 in the summer of 1996 becoming the first club in the United States to successfully unionize. Siobhan filed a racial discrimination complaint with the EEOC and the club hired more women of color than ever before in its seventeen-year history history. She has gone on to lecture and educate people about the specific issues affecting sex workers of color, such as globalization, welfare reform, immigration, anti-transgender policies, anti-affirmative action legislature, and racism within the industry, regarding working conditions of sex workers of color. "Clubs where women of color work are usually in worse condition than mostly white clubs." She makes connections with the historical labor exploitation of people of color and how the positioning of people of color in the sex industry is an extension of that. She also connects the intersection of queerness within the sex industry, stating, "Queer
people of color are excluded from jobs within the 'straight' realm. Lesbians and prostitutes are both groups that are outside of the role of women in a male dominated society. Also, women make less than men, so the sex industry does give them the opportunity to make wages they would not make in other types of work. Transgenders are largely kept out of the labor force, and regulated to lower sectors of the sex industry, and jobs in general. The sex industry is also how a lot of working class transgender people of color pay for their transitions. I am always surprised when I meet queer people of color, and they have little knowledge about the sex industry, even though they often know people who have worked in it. I came into my queerness in the sex industry, it was normal to be queer there, but I was disappointed when queer women of color outside of the sex industry felt that somehow sex workers were 'selling out' to men. The liberation of sex workers can only strengthen our communities. If we want to work in the sex industry, we should be supported. I don't want the finger pointed at me; I want the fist to be thrown up for me." She wants to educate more people of color about the sex industry, instead of lecturing within the white dominated sex workers' movement. Like many white dominated movements, the sex workers' movement can be very racist and classist. For example, she would be appalled at the racist films that Annie Sprinkle would show during sex worker film festivals that had blatant racist and Orientalist themes, which the audience loved. "I want to put a Colored face to the sex workers movement."

Siobhan is also a freelance model and has modeled for photographers, like Michele Serchuk for the March 2001 issue of On Our Backs, and is a model for the film advertisement of Live, Nude, Girls, Unite, which appeared in the September 2001 issue of Playboy. "I want to create a space for us as people of color to explore our sexuality outside of racist paradigms."

She has lectured at San Francisco State University, Yale, U.C. Berkeley, Colorado University at Boulder, Barnard, CUNY, and Rutgers. She is in the documentary, Live, Nude, Girls, Unite! www.livenudegirlsunite.com produced by Julia Query and Vicky Funari about the unionization of the Lusty Lady. She is a writer and has published in anthologies such as, Feminism and Anti-Racism: International Struggles for Justice co-edited by France Winddance Twine and Kathleen Blee (NYU Press, 2001), Revolutionary Voices edited by Amy Sonnie (Alyson Press, 2000), Sex and Singles Girls edited by Lee Damsky (Seal Press, 2000), and Colonize This: Young Women of Color on Today's Feminism co-edited by Daisy Hernandez and Bushra Rehman (Seal Press, 2002), and the magazines Z, Third Force, where she wrote an article about her activism at the Lusty Lady. She was also published in Bitch Magazine. She is currently studying for her Ph.D. at the New School for Social Research in Sociology. She has received financial support from organizations, such as, the Third Wave Foundation. She is working on an interview book about sex workers of color called, "Dancing Shadows: Interviews with Men and Women of Color Sex Workers," and is currently looking for a publisher. She interviewed Angela Y. Davis for the U.C. Hastings Law journal about race, feminism, and sex work, which is now up on the EDA website http://www.eda-sf.org/pages/angeladavis.html. She has also interviewed sex worker activist like Dawn Passar, co-founder of the EDA http://www.eda-sf.org/submissions/interviewdp.html, and Gloria Lockett, COYOTE member, http://www.spectator.net/1155/pages/1155_lockett.html.

She has also appeared in the 80's, goth-punk porn film by Christopher Lee and J Zapata, "Sex Flesh in Blood", which was shown in the The 2nd San Francisco Sex Worker Film and Video Festival and Trannyfest.

Links to other Articles:

Siobhan Brooks – by Clint Page Henderson
http://www.journalism.sfsu.edu/www/pubs/gater/spring96/feb22/24.html

Letter to the editor: Response to Above Article by Siobhan Brooks
http://www.journalism.sfsu.edu/www/pubs/gater/spring96/mar7/09.html
Comes Naturally: Live Nude Girls Unite! Julia Query's Important New Film
Column by David Steinberg Photographs courtesy First Run Features
http://www.spectator.net/1151/pages/1151_steinberg.html

Whores and Other Memoirists
http://www.metroactive.com/papers/sfmetro/05.18.98/books1-9818.html

Stripping Away the Beauty Myth, By Siobahn Brooks
http://anet.net/~scorpio/Moondance/Nonfiction/stripping.htm


Links:
[PDF] NAKED FEMINISM: THE UNIONIZATION OF THE ADULT ENTERTAINMENT ... File Format: PDF/Adobe Acrobat - View as HTML
... the club subject to a class-action suit discussed herein, Interview by Siobhan Brooks
with Dawn Passar, Co-Founder of the Exotic Dancers' Alliance.
Other Noteworthy Films:

Straight for the Money
by Hima B. - Interviews with lesbian sex workers. (60 mins.)
Another major presentation was Straight For The Money, "curated" by Hima B.; this film featured interviews with lesbian prostitutes and dancers concerning their feelings about their work performing for straight men and women.

Presented from a pro-sex worker point of view, Straight For The Money: Interviews with Queer Sex Workers is about the observations and experiences of eight lesbian and bisexual women who work as lapdancers, peepshow dancers, prostitutes in San Francisco. Bold and articulate, these women discuss the impact of sex work on their personal lives, the feminist politics of sex work, and the need for a broader understanding of a greatly stigmatized and stereotyped occupation. Featured at International Lesbian and Gay Festivals around the world; at Toronto Whore Culture Festival; from India to America: New Directions in Indian-American Film and Video, Whitney Museum NY; Paris Lesbian Film Festival); Bombay, India, New Delhi and Whitney Biennial.

Live Nude Girls Unite!
by Vicky Funari and Julia Query - Chanting "Two four six eight. Don't go in to masturbate", peep show dancers successfully organize, unionize and negotiate a contract. (70 mins.)

Live Nude Girls Unite, documents, the successful campaign to organize strippers into a union in San Francisco and one dancer's "coming out" as a sex worker to her mother.


---

For Speaking Engagements Contact:
David S. Neale, Owner, Resource Manager
Black Lavender Resources
Phone: 301-702-2009
Email: BlackLavender1@aol.com

To Contact Siobhan Brooks Directly:
Email:
---
Articles
Interview With Tyra a transgender sex worker
Lusty Ladies are Feisty Ladies
Copyright 1997 by Christine Beatty

Stripping Away the Beauty Myth
By Siobahn Brooks
HUES - Hear Us Emerging Sisters
Article by Siobhan Brooks

Working the Streets Gloria Lockett's Story
Interviewed by Siobhan Brooks

Whores and Other Memoirists
Adventurers in the Skin Trade: Six sex-industry workers and one witch give encouraging advice to a small crowd of strippers on how to break into the old boys' network of publishing.

A writing conference coaches strippers on turning their sex-work experience into a career in publishing


On Our Backs: The Best Erotic Fiction

Release date: 2001 • 248 pages • Softcover • 1-55583-652-6
Home