FemmeNoir
A Web Portal For Lesbians Of Color


---
Rogue Amazons
Pam Jones and
Juliet Draper
Pam Jones and Juliet Draper met 1992 and formed Rogue Amazon Productions in 1997 as a performing arts company dedicated to stimulating social awareness. "Our mission is to entertain and generate financial support for institutions that work to resolve challenging community issues," Pam Jones. This was achieved initially by producing plays showcasing formidable roles for people of colour with the aim to raise social awareness and money for at-risk Colorado Springs youth. One such production was "Zooman and the Sign" which raised more than $10,000 for New Horizons School, Head Start and the Urban League's Child Care Center.
The desire to produce music however came a lot earlier when a 10-year old Juliet dreamt of having an accapella jazz ensemble called Rogue Amazons Zealously Zinging. The dream was reawakened after she met Pam. Pam takes up the story: "Tossing out ideas on our way dancing in Denver, we started a "music ideas folder." We realized we were good together. I had the concepts and melody, Juliet had the voice, poetry and rhythm."
Pam Jones, the younger sister of Grace Jones and partner Juliet launched their CD single of the ironically titled, `I need a man` with partner Juliet Draper. The song was originally a hit for Grace in 1977 and helped launch her career in Europe. Now the beautiful lesbians that are Rogue Amazon Entertainment hope to repeat that success as they bring the track bang up date.
The CD single also includes the track `Rogue Amazon` the couples theme song and the duo`s first attempt at song writing. Jones, who calls herself, "The Production Queen," believes strongly in the sounds produced and thinks the CD has a major chance for success, primarily because of Juliet`s talent .
At 23, Juliet Draper was homeless and addicted. She joined the Army to clean up her act. Pamela Jones realized she was an addict while living a jet set life with her trendoid sister Grace. Later the two women became lovers, started a business, and released a CD that's spent the year burning up the dance floors of France, Germany, Denmark, and Australia. "Pam is management," laughs Draper. "And I am labor."
Juliet Draper is a full-time Colorado Springs fire fighter, has performed as a singer, dancer and actress in dozens of musical theater productions, most at the Karamu Theater in her native Cleveland. Juliet also starred in the 1998 drama "Zooman and the Sign" by Charles Fuller, a social commentary dealing with youth violence, at the Smokebrush Theater in Colorado Springs.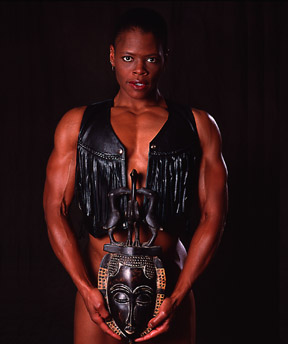 Juliet works hard to stay in top form. She stands 5 feet, 9 inches tall, weighs about 185 pounds, and wears a size 13 shoe. She can bench press 225 pounds, squat 350 pounds, and dead lift 425 pounds. She has a body that closely resembles twisted steel. To say that she is physically fit, athletic and strong seems a pathetic understatement. "Going to the gym is an important part of my life, something I do before I go to work each day. Exercising helps me cope better with the events of the day."
Being a firefighter is a dream come true not only for Draper but also for her father whose own dream of becoming a firefighter for the Cleveland Fire Department in the 1960s never materialized. As he explained matter of factly to her, "They weren't hiring blacks back then." As Draper said, "He was in great shape and in the top ten on the list, but when that door didn't open for him, he opened another. He took a job in the post office and worked his way up to general manager. He's thrilled at my being a firefighter. Fortunately in this day and age I got the torch. My motto is, Give me the ball; I'll run with it."
Does Juliet Draper foresee a day when she won't be a firefighter any longer...like, when age creeps in? There was a long, audible gasp at the question and then she said, "I look at Jack Lalane, my idol. He is in his 80s and does 100 push-ups every day, not as fast, but he still does them. As long as I take care of myself, I'll be a firefighter as long as I can. If I progress in my career, the administrative responsibilities will replace the strenuous physical ones."
"I love being active and doing things, so for me the job of being a firefighter is a good match, a great package of things. Every day is different from the next and I like that. There's a lot of depth to being a firefighter."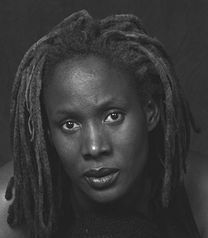 Pam Jones is the fifth of seven children born to Jamaican parents in Ithaca, New York, was reared in Spanish Town, Jamaica, in the West Indies prior to graduating from Stephens College in Missouri and attending Harvard University's School of Divinity.
Pam was born a bookworm and women's libber to a family of entertainers, Pentecostal ministers and athletes. If she hadn't had that Jones forehead all would have sworn she was adopted.
Wanting to be a fashion designer, professor, writer and most of all a mother she majored in philosophy and minored in fashion design at Stephens College in Missouri and then achieved a full ride to Harvard Divinity for graduate school.
Three weeks into her graduate studies a greater goal presented itself. She grabbed her books and belongings and headed west to live in a teepee with the Marlboro Man.
In the late 70's, Colorado Springs was not a welcome place for young, black, female entrepreneurs (what place was at that time?). With the help of friends and family, she established a 20 year niche on the west side of town. To her delight she became the mother she most wanted to be back in 1983.
While raising her daughter, she was the owner and manager of Jones of Jamaica, a retail fabric and clothing store in Colorado Springs, CO., prior to opening The Body Scenter, a retail body care products company in 1986 – a business she still operates via mail order.
A divorce, a daughter and a few businesses later, Pam had the fortune of meeting Juliet in church. The Unitarian Church in downtown Colorado Springs hosted an Amendment 2 political rally and Juliet had come for a 12 Step meeting. Being the only two black people in the room, they were instantly drawn to one another.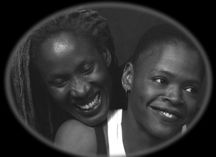 Pamela learned her way around the entertainment business through osmosis while working for her sister, Grace Jones, in the mid 80's. She found the excesses of the performing arts business more than she could handle. After returning to Colorado Springs and buying the Body Scenter she swore she'd never get involved in this business again. Well...never say never!
Although they connected immediately it took another three years for her to really understand; JULIET is truly an extraordinary entertainer and athlete. Pamela tossed her reservations to the side and in 1997 they founded ROGUE AMAZON ENTERTAINMENT.
Website: http://www.firejock.com/rogue/indexr.htm
and http://www.firejock.com
Source: http://www.firejock.com/rogue/juliet.htm
http://www.alicemagazine.com/chicks_we_love/index.html
Home