FemmeNoir
A Web Portal For Lesbians Of Color


---
Penny Mickelbury
Author
If you like to read and you have been a lesbian for more than 15 minutes and you don't know who

Penny Mickelbury is, well, shame on you! Mickelbury has been bringing reading pleasure to our community for quite some time now, first with her Mimi Patterson/Gianna Maglione mystery series [Naiad Press] then with her Carol Ann Gibson series [Simon & Shuster].

Penny Mickelbury believes in destiny, as long as it's preceded by three little words: "create your own." To that end, the novelist and playwright last year recovered the rights to her first two published novels. Both feature a crime-solving duo — investigative reporter Mimi Patterson and homicide detective Gianna Maglione — and "did very well," she says, when they were published in 1994 and 1995. The series will reappear in sequence, with Keeping Secrets scheduled for release in February 2002 and Night Songs later in the year; only this time around they will be totally Mickelbury productions.

Penny Mickelbury is a journalist-turned-novelist who thinks of herself as a playwright. Her lifetime of "firsts" began in 1970, when she was the first African-American reporter at the Athens, Georgia Banner-Herald. A former reporter for the Washington Post, Ms. Mickelbury was a political reporter for the ABC-TV affiliate in Washington, D.C. She was co-founder and managing director of New York City's Alchemy: Theater of Change. Ms. Mickelbury's mystery heroine, Carole Ann Gibson (a wealthy African-American woman lawyer and part-time sleuth) appears in thrillers including One Must Wait and Where to Choose.

What does it take to write an excellent novel? Get out of the way of your characters so they may tell the truth! Be respectful. Listen to them. Know that you -- the writer -- are the characters' vehicle, not their creator. A writer's ego only gets in the way of letting characters out, Penny Mickelbury declares. She's a critically acclaimed mystery novelist, playwright and onetime journalist -- in short, a storyteller. What's the writer a vehicle for? Realizing and actualizing the truth of the characters who present themselves, who barge into stories, complete with dialogue.


Clearly, the Muse is very real to Ms. Mickelbury. Try to force characters, she assures us, and you'll end up with a mess on your hands. Ms. Mickelbury doesn't sit down saying, "Well, I'm going to create a character that does this and is that." Characters present themselves. What Ms. Mickelbury does think is, "That's interesting. I wonder who that is? What's she going to do? Or he? Who is this?" Writers get to play with the language, she insists, but not with the characters.

So how does the writer wrestle all these forces into a book? Discipline and practice (in the classic sense) are essential, especially in this world of immediacy, according to Ms. Mickelbury. We all have so much available that discipline is required simply to make selections and meaningful choices. Then practice hones because, Ms. Mickelbury believes, the truth really is eternal and she's quite sure there really isn't anything new under the sun. That's why the great stories are forever. It's a writer's job to find fresh ways to tell them.

In her heart, Ms. Mickelbury is a playwright because she is entirely smitten with language. In a play, she's found, the audience has a concentrated commitment to hear as actors perform language. Everyone is involved and engaged in theater, a public event which Ms. Mickelbury compares favorably to a church service.

What applies to writers, Ms. Mickelbury is confident, also applies to musicians and painters. Creative people don't just live, they engage. That engagement allows the artist to hear what unbidden characters have to say, know what's going on in their heads, what they want, and what motivates them. Then, like any good medium, get out of the way!

As of October 2001, Mickelbury's corporate partnership with stage-and-television actor Peggy Blow — 48/52 Development Studio, Inc — is inaugurating a publishing imprint, Migibooks, in addition to their collaboration in writing, teaching, theater arts and play production. They're starting with a third and brand-new Patterson-Maglione novel, Love Notes. "We completed the proofread of the book and returned it to the printer yesterday and expect to have the book shipped out to us by next week this time," Mickelbury told me in early October. Why take on this additional task and risk now? "Publishing is in incredible turmoil and I really wasn't anxious at this stage of my life — I'm not a child — to be dependent on somebody else for my livelihood," explained the internationally acclaimed author, who cheerfully added that she's 53, a Gemini, and doesn't have the knees for running any more.
The second engrossing Mickelbury mystery suite — One Must Wait, Where to Choose, The Step Between and Paradise Interrupted, all published by Simon & Schuster — pushes the envelope for African American literary heroines with the introduction of Carol Ann Gibson. A rich attorney widowed young when her beloved corporate lawyer husband is murdered, Carol Ann has spun off from a successful criminal law practice into her own security and investigations firm, partnered with ex-police detective Jake Graham. The Carol Ann character is compelling because she has the mental toughness it takes if you propose to live four score and ten on this planet; she isn't a victim of her emotional needs like the sleuths of at least three other African American women mystery writers I won't name. I mean, it's one thing for your investigator to be a woman who expresses anima, the so-called "feminine" side of the human personality. It's another to expect me to swallow a sleuth who can stay focused and maneuver in dangerous situations, but then goes all teen-age gooey around a certain guy.


Women like that baffle Mickelbury as well. "This business of women having to have a man or coming completely undone in the presence of some guy — I don't know any grown women who respond that way." Mickelbury said her creation, Carol Ann, "works very hard to control her feelings and emotions because even though she is capable of enormous love and loyalty, it's very limited. The people she loves she loves absolutely, without question and without hesitation; there just aren't a lot of them." Her voice infused with the rhythm and pop of that finger-snapping "Z" hand-jive and head thing, Mickelbury jazzed: "The books talk about her husband and his Buddhist sensibilities — well, she doesn't have them, okay?" Boomp! "That's not who she is. She's capable of respecting who and what other people are, but it's not her. One of the journeys she has made in these four books is learning, 'How do you love and trust people who are outside of your family?' She and Jake are very loyal to family. They've never been loyal to other people."

Obviously Carol Ann sets boundaries on what she'll accept and how she'll be treated — and so does Penny Mickelbury. She doesn't think her books, especially the first series, have been pushed to their maximum audience and earnings potential. "It's really, for me, a question of respect and acknowledgment of a writer and my value to a company; so, I just said, 'Let me just stop depending on publishing.'" Like other mid-level writers working with publishing conglomerates, Mickelbury found herself doing much of her books' publicity herself. "If I have to use my own money and make my own contacts to push the books anyway, " she reasoned, "I might as well be doing it all for me. "

Publishing their own work is a way of authors' "regaining more control of our own lives and our own destinies, not leaving so much crucial decision-making power in the hands of other people — of any stripe, but particularly of white people," Mickelbury said. "There are things that are peculiar to us and required for us because of memory and history," she added, pointing out that images, voices, and experiences with particularly African American nuances often meet resistance from decision-makers who don't get them and don't respect the writers' creative judgment either. It's an old story. Langston Hughes discussed it in his landmark 1926 essay, "The Negro Artist and the Racial Mountain." And there's Amiri Baraka's telling line in his eulogy ("Jimmy") for James Baldwin: "So let the butchering copy editors of our captivity stay for an eternal moment their dead eraser fingers…"

Moving toward ever greater self-determination comes naturally to Mickelbury. She was raised in Atlanta, Georgia during segregation, reared by parents who told her, "Don't worry about what white folks are doing, 'cause they're doing what they've been doing for four hundred years. They're not going to stop it for you. You better make a way for yourself." Mickelbury was among the first handful of black students to follow pioneers Charlayne Hunter-Gault and Hamilton Holmes into the previously segregated University of Georgia. In July 2000 she relished returning to Athens as a recognized author attending a writers' conference in a building she had never dared enter during her matriculation. Why not? "Sure, we were there on the campus, " she answered, "but they didn't want us there, so except for where we absolutely had to go for classes, it was like, 'Do you want to die today just to go into some hall?'"

In 1970 she was the first black reporter hired in the nearly 150-year history of The Athens Banner-Herald. In '72 she was among a handful of black employees at The Washington Post — one of the seven who brought a historic discrimination suit against the company a decade and a half before reporter Jill Nelson's arrival found the paper's culture still steeped in racism and sexism (which she described in her 1993 memoir, Volunteer Slavery). Mickelbury's daily journalism career culminated at DC's WJLA-TV, an ABC affiliate, where she covered both the District and the Hill for six years and was assistant news director for three. Being denied promotion to news director prompted her to sue again, alleging discrimination. She received what a source said was a hefty monetary settlement and left both the station and the journalism grind.

Penny Mickelbury declares herself a "contemporary American writer" in vigorous dissent from the prevailing, somewhat pejorative classification of suspense novels as "genre fiction." Her themes are seriously topical. For instance, Night Songs, a 1995 Lambda Literary Award Nominee, considers whether crimes against women are hate crimes; and the plot of the first Carol Ann book, One Must Wait (1998), dramatizes the link between racism and environmental pollution in Louisiana — the subject of a June 2001 Africana article, "Touring Cancer Alley." Migibooks' forthcoming Love Notes thickens its plot with lesbian menopause. Mickelbury characters are so vividly whole that they are being taught at Emory, North Carolina A&T and UCLA in English, Women's Studies and/or African American Studies classes that have adopted her books.

"I personally believe, in America particularly, mysteries are the best writing going. That's just a fact. If you read the top mystery writers, the stories are better and they are better told," Mickelbury declared. Asked what the difference is between a mystery and any other novel, she said, "That gets into plotting, purpose, and ultimately the denouement. There are novels in which murders occur, but one of the things that constitutes a mystery is that the reason for the existence of the novel is to discover who done it and why." Mickelbury said her books fit that definition of "mystery," but that doesn't make her some sort of lesser writer. "The responsibility of all of us is to give a good story well told. I write, I hope, good books. I am American, I am a novelist, so I think I write contemporary American novels. That's what I do."

She declined to categorize the popular fiction of other African American writers. "I'm not real interested in comparing and contrasting, particularly among other black authors, because we alone among artists of any ilk are not given the right and the freedom to be wholly who and what we are. I don't think it serves any purpose to compare Toni Morrison and Terry MacMillan. What are we talking about? Why can't we have black folk selling and writing and buying and reading all manner of things?"

"I remember being rather appalled at the amount of vitriol surrounding Terry MacMillan's early success, and I'm thinking, 'What is this about?' — discounting the part of it that was just pure jealousy. I'm thinking like, 'What is it that people object to?' If they object to the subject matter, what you have to realize is that there are people for whom that's life, and nobody got pissed off at Jacqueline Susan and Joan Collins, Jackie Collins, whoever these people are. People think they're wonderful and they can sell books and get rich all day long. Terry Macmillan ought to be able to sell books and get rich all day long." The Mickelbury caveat is: "By the same token, I think that it ought to be just as possible for people who tell a different kind of story to get that story told, get it in front of the people who want to read those stories."

She says that marketing-driven publishing and chain bookstores are reducing the variety and quality of stories available in what she termed our "culture of mediocrity." Most people, she thinks, "don't want to read books 'cause they think it's too much work." But, "for the people who do want to, it's important that the books be there," Penny Mickelbury insisted, "and that we continue to produce quality writing and quality story-telling for people who want it. I don't care if it's not but a hundred."


Source: http://www.paulagordon.com/shows/mickelbury/
http://www.africana.com/DailyArticles/index_20011026.htm

Penny Mickelbury is represented by
the Charlotte Sheedy Literary Agency,
New York, NY

Contact Migibooks at 1-866-GET-MIGI (438-6444) or online at www.migibooks.com
or Peggy Blow pblow1@migibooks.com or P.O. Box 20365 Los Angeles, CA 90006
Website: http://www.migibooks.com/sys-tmpl/door/

The Paula Gordon Show
Interview With Penny Mickelbury
[Real Audio Files]

Excerpts From Interview
Books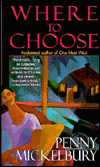 Where to Choose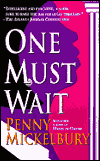 One Must Wait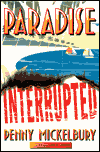 Paradise Interrupted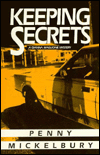 Keeping Secrets: A Gianna Maglione Mystery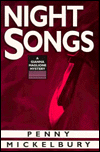 Night Songs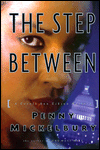 The Step Between
Home