FemmeNoir
A Web Portal For Lesbians Of Color


---
Mi$$ Money
Something is brewing in the Deep South…an essence so soul stirring and spine tingling, it breathes in the gut of Houston and whispers over the Autobahn in Germany. With so many, so touched by one voice, testimonies of her sound are bringing regional phenomenon and glimpses of international stardom. Her story and her journey have captivated national audiences from the legendary 1894 Opera House, all the way to Philadelphia's famed 5th Street Baptist Church…the love for Money.
The spiritual roots of a Baptist upbringing molded this slender, young woman into a vocal powerhouse and eventually led to numerous live engagements and recording contracts. After years of marketing makeovers and disappointing collaborations, Miss Money settled in Houston and began a song factory in the summer of 1999. Various live performances and recordings thus followed – as well as a loyal fan base. An impressive mp3 debut and an award winning performance in Houston's SRO vocal competition have garnered attention globally and finally brought an ear to this destined voice. Money anxiously anticipates the release of her debut, Through Hell and High Water. The album ventures through avenues of disappointment, joy, sorrow and salvation. Of the album, she states, "Lyrically, I can not be more honest. Vocally, I can't be more sincere."
During a break while negotiating the point allowance on an upcoming release, Miss Money offered, "My passion lies in songwriting and allowing my voice to transcend your expectations. I want each and every listener to escape with me to a much better place." If her voice is indicative of such mach speed transportation, then indeed one listen will take you to this better place…better than any place you've ever come to know.
I sing because I am just like you - a survivor. Surviving the rigors of the music industry is one thing. Surviving life is another.

Dad was (is) a preacher so I sang gospel for 16 years straight, 3 times a week and sometimes 3 times in one of those days. My sister and I drudged it out . From Philly to Louisiana. Wherever he preached and there was an offering plate, I sang as the poster child for his ministry. That is, until I left for college.
Berklee College of Music, was the best experience of my life. Boston changed my life. I got my Bachelor of Arts and I learned to love men and women. Guess which one got me in trouble? Visit Mi$$ Money's Website or Hear More and Purchase Music at MP3.com


Review of Miss Money's CD By: Qboy qboy@gayhiphop.com
First up we got the track "Be Who We Be", a dedication to gay hip-hop. It's got this hot and sunny west coast feeling that you get when you listen to Yo Yo or Snoop, and features Miss Money rapping and singing, both of which she has a talent for.

Her singing is rich and her rapping is strong here, reminding me of the double talents of Queen Latifah too. It's a positive track delving into the issues of what is to be gay and part of the hip-hop community. The mood changes to a more down tempo electro tubular bells and beat feel on "Really Kinda Trippin", Money searching for her perfect loved one unashamedly.

All ready here on this first 2 tracks you get a real sense of Miss Money really knowing where she is, who she is and how proud she is. "They Say Dick Is All I Need" is a fantastic track, the hook loops in this great way with Money singing and rapping along the pipe filled verses. It covers sex the right way, honestly, but sexy too. It's still great to hear her talk so freely about her sexuality 3 tracks in and we nearly finished, but as you get to track 4 this changes the feel greatly.

The track is slowed down so her singing drawls out and her rapping is a very syrupy bass texture. I probably don't get it, but unfortunately this track doesn't make me wanna keep listening to find out. It's not that it is bad, just very difficult to listen to, I fell like I am in a nightmare and everything around me is going slowly. Well 3 out of 4 ain't bad, better than most get I can tell you. This EP hopefully will blossom into a full album which I cant wait to hear and review coz Miss Money is worth listening to.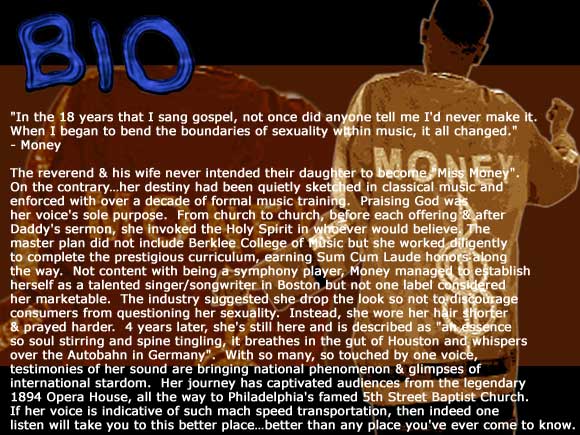 Website: http://www.missmoney.net/
Email: money@missmoney.net
Source:
http://artists.mp3s.com/artists/95/miss_money.html
http://www.cornerband.com/html/bandPage/bandPage.asp?band_id=999608

Catch Mi$$ Money at:
Real Audio Sounds
Recently, Baby Boy, Jayo and Kris Stylez dropped by the studio to record Still Here, Ni**a. Appearing on Money's first mixtape, Mob Money to be released April 8, 2003.

Money and Jayo get XXX-rated on Give Me a Freak!!! Appearing on Through Hell and High Water, Money's solo debut to be released Summer, 2003.

Listen to Miss Money's tracks at: cornerband.com! Currently #1 on two Cornerband.com charts!!!! Representing for Hip Hop AND R&B!!!
Home