FemmeNoir
A Web Portal For Lesbians Of Color


---
Melanie Hope
Author
"I feel lucky that I'm finally able to live in a way that fulfills my desires. I enjoy letting myself be the lesbian that I am,"
Melanie Hope is a poet. She began writing in secret little books that she kept as a child and later pursued it seriously as an undergraduate at Oberlin College. She continued her studies in creative writing on a graduate level at New York University. Her writing has appeared in The Caribbean Writer, Sinister Wisdom, Essence, The Key to Everything, The Arc of Love and Afrekete.

Born and raised in Englewood, New Jersey. She graduated from Oberlin College, where she majored in Creative Writing. The summer following graduation she attended the Bucknell Seminar for Younger Poets. She worked for one year at the Hetrick-Martin Institute for Lesbian and Gay Youth in the drop-in center organizing youth activities, and taught creative writing at Westside Day Care Center, an organization for teenage mothers in Englewood, New Jersey.

In 1990 she enrolled in the New York University Graduate Program in Creative Writing. She later worked at Door, an alternative center for youth in New York City. From 1993-1994 she spent three semesters teaching Women's Studies and English Composition at (CUNY) York College in Queens.

She has studied with Molly Peacock, Sharon Olds, Michael Harper, Jean Valentine, Gerry Gomez Pearlberg, Galway Kinnell, Stuart Friebert, and Diane Vreuls. Her screenplays have been produced and performed in New York, San Francisco, London, and at Toronto Independent Film and Video Festivals. She has also written and produced plays at WOW Cafe in New York City, the New England Women's Retreat, and Circle of Voices Women of Color Music Festival. She traveled to Spain as an exchange student in high school, and to Haiti on the Crossroads Africa-Caribbean program in the summer of 1985. She lives in New York City and plans to continue writing for as long as she can.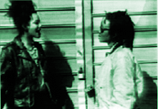 Bird in the Hand
Film by Catherine Gund (Saalfield) / Melanie Hope

Simone and Kaya are lovers trying desperately to escape New York City for the weekend and the reality of their friend Ayo's abusive relationship. Along the way, Kaya, who is Ayo's ex-lover, becomes more and more obsessed with tracking her down before they leave. In this experimental narrative, the couple confronts exemplary urban obstacles of broken pay phones, jealousy and other unexpected encounters. At times humorous, at times discomforting, Bird in the Hand addresses issues around co-dependency and obsession through passionate, honest characterizations of lesbian culture.

1992 • USA • 25 min. • color
http://catalog.frameline.org/titles/bird_hand.html

Anthologies:
The Key to Everything: Classic Lesbian Love Poems, edited by Gerry Gomez Pearlberg (St. Martins Press, 1995)

Afrekete, edited by Catherine E. McKinley and L. Joyce Delaney (Doubleday, 1995)

Poems and Articles:
The Caribbean Writer Volume 5, 1991,
Sinister Wisdom #47,
Essence, Sept. 1996.
The Arc of Love (Scribner 1996) ed. Clare Coss.

Awards
Honorable Mention, The Academy of American Poets (1989)

Source: [No longer available]

Afrekete: An Anthology of Black Lesbian Writing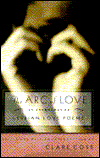 The ARC of Love: An Anthology of Lesbian Love Poems
Home