FemmeNoir
A Web Portal For Lesbians Of Color


---
Marci Blackman
"So it wasn't from idle curiosity that I turned to the knife. Nor was it, as Bobby and the ward counselor believed, an attempt to escape from a hostile world of worrisome and unwanted demons. The act of drawing my own blood with one of my mother's paring knives was born out of the desire to feel. To prove to myself that I could." (P. 55 -- Po Manís Child)
"Marci Blackman's dramatic style and vibrant characters make her a fine storyteller. Her voice rings clear, inviting us all into her passionate and dangerous world." -Jewelle Gomez
Since earning a Bachelor of Arts degree in Literature from San Francisco State University in 1995, Blackman has become a staple on San Francisco's spoken word scene, performing her poetry and prose at venues across the country, including a six week stint as one of the original members of the Sister Spit Ramblin' Road Show. She was both a contributor to, and the co-editor of the Lambda and ALA nominated anthology Beyond Definition: New Writing from Gay and Lesbian San Francisco. Her poetry and fiction have been featured in the following anthologies: Signs of Life and Lollapalooza 94, Manic D Press; Fetish Four Walls Eight Windows; and Brown Sugar, Dutton/Plume, which recently won the Gold Pen Award for Best Short Story Collection.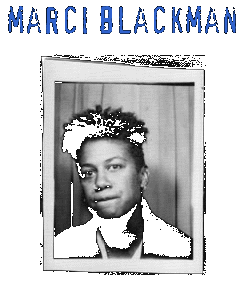 A native of Ohio, Marci Blackman is an African American lesbian writer. Her first novel, Po Man's Child (Manic D Press 2000), a story about an African American SM lesbian who comes to terms with her family's magic, curses, and blessings, was the recipient of the American Library Associationís 2000 GLBT Book Award for literature and the 2000 Firecracker Alternative Book Award for Best New Fiction. An excerpt from her anticipated second novel, a murder mystery titled Devilís Backbone, recently won the 2000 Claire of the Moon Award for Fiction from the Astraea Foundation. She is also a regular contributor to the San Francisco Bay Times, California's largest queer Newspaper.
When asked, in a Girlfriendís interview, about the autobiographical content in Po Man's ChildĖespecially that first chapter Ė Ms. Blackman responds: ďOf course you lie in fiction, but you also mix it with a little bit of truth. I'm a storyteller; I live in my head a lot. I've dabbled in SM, but the scene in the first chapter never happened to me, or anybody I know of. Po's cuttings came from a short article in the Examiner about teen sex workers in Brazil who were cutting themselves up in order to feel. I was wondering what it would be like to be forced to tell a story. I showed the scene to people in the SM community, asking if it was true to the feel of an SM scene. I really wanted to bring up the whole sadomasochistic relationship of slavery. We need to embrace it, rather than distance ourselves from it. The whole history of slavery is about resistance. If someone hadn't survived, I wouldn't be here. For six months I bought Final Call (the Black Muslim paper) so I could write about Black Muslims without being judgmental.
The family in Po Man's Child is a microcosm of the Black family's experience in modern America. There's this whole twisted area of our existence, tragedy and humor side by side."
Marci Blackman is an African American queer writer and a relative newcomer to the publishing world. She started writing Po Manís Child on January 1st 1996 at midnight, after carrying it around in her head for years. The start date was a conscious decision on the authorís part because she grew up hearing the family mythology that whatever you are doing at the first of the year at midnight is what youíll be doing for the rest of the year. She thought it an apt time to start writing and wanted the tools of her ancestors to help her.
While her previous experience includes co-editing the anthology, Beyond Definition: New Writing from Gay and Lesbian San Francisco and writing a few short stories and poems that were published in other anthologies it's Po Man's Child that has received rave reviews. OUT Magazine says it ď. . . reads like 'A Raisin in the Sun" on acid or perhaps Thorazine." I more like what the Albuquerque Weekly had to say: "The literary accomplishment demonstrated in this debut novel, indicates that Blackman could be the next Toni Morrison. or Katherine Dunn. or William Faulkner. or, plainly put, Marci Blackman."
Blackman found the vehicle to move Po Man's Child along while reading an Associated Press newswire story in the newspaper about teenage sex workers in Brazil who had cut themselves. It was a widespread phenomenon and was happening among girls who didnít know each other and were not a part of any cult or club. When folks began to inquire and examine about why the self-mutilation was happening, the girls stated they were cutting themselves to feel.
The idea of the character of "Po" began to develop for Blackman soon after she read the story. Po becomes numb at seven years old and cuts herself with a paring knife "... to feel. to prove to . . . [herself] that she could." Po's late Aunt Florida, also a dyke like Po, believed that their family had a particular propensity for mental illness, a.k.a. "the curse", which manifested itself differently in various family members. The penchant for self-inflicted pain was allegedly derived from their slave ancestor Uncle George. In his attempts to run away, and upon his capture, George made it his obligation to inflict more pain upon himself than his master did in punishing him.
Po Man's Child, is filled with wondrous characters like Gooch Johnson, Uncle Ray, Great Grandma Shirley Po, (for whom Po may have been named), Hmm Hmm, Try Try, Debbie, Bobbie, Onya, Po's parents and her S/M partner and girlfriend, Mary. The story, set mainly in Ohio from 1970 to 1991, weaves back and forth with snippets in slavery times and the childhood years of Po's parents and other relatives.
Besides her writing career, Marci Blackman has traveled with "Sister Spit's Ramblin' Road Show," since 1997. The show features twelve women performing original works of fiction and poetry at various open mics. Reading from the book on the "Spit's" tour gave her a chance to develop it, get feedback on parts of the book that needed work, and work on the structure. Blackman says that Po Man's Child is about healing and learning and realizing that the power to heal comes from within. It is "one family's healing from historical, physical, and emotional wounds. An insight into the tragedy of the American family."
Blackman read very little fiction while writing Po Man's Child because she felt that it was hard to keep her own voice and not have other voices infiltrate the story. The aforementioned comparison to Toni Morrison is apt since Blackman credits her for having a powerful effect on her as a woman and as a writer. She also gives props to Dorothy Allison and Alice Walker. Blackman's style has also been derived from and influenced by Gabriel Garcfa Marquez, Chinua Achebe, Isabel Allende, Jorge Luis Borges, and William Faulkner. In her opinion, these writers broke the mold regarding how writers write and how they tell stories.
In Po Man's Child, Blackman has a chapter entitled Beloved and has included nods to other literary figures. Her description of the image of woman walking around, her arms constantly in the air is reminiscent of the phlegm ghost from 100 Years of Solitude. The works of Maya Angelou and Zora Neale Hurston as well as Paula Giddings's When and Where I Enter and Elaine Brown's, A Taste of Power served to inspire Blackman. While she used the nonfiction titles for research, the novelists ďfreed up her mind and freed her to tell the stories she wanted to tell.Ē Although Blackman started out writing poetry, she doesnít consider herself a poet. Instead, she thinks poetry helped her prose as she became more concerned with the lyricism of each word and the musicality and stopped wasting words.
Many years later, the result is Po Manís Child. You will enjoy Blackmanís travels with Po and surely anticipate the rest of the trilogy. We should all be glad that writing novels is what she wants to continue to do and that she has the courage to produce this work. Marci recently won the American Library Associationís Gay, Lesbian, Bisexual and Transgendered Book Award.
Source: Mosaic Literary Magazine, Monifa, A., 2000. p.23:
http://www.sisterspit.com/tours.html
On Tour With: Marci Blackman by Nyondo Nadi
http://www.gfriends.com/archive/gf799/pages/marcibla.htm
Publisher: http://www.manicdpress.com/
---
Books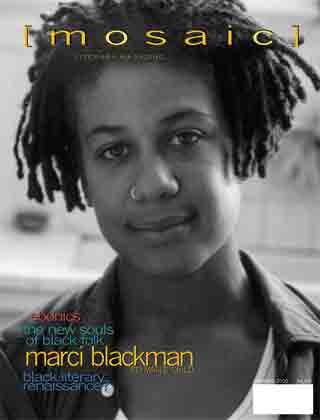 Read Article and Excerpt from Book

Po Man's Child: A Novel

Beyond Definition: New Writing from Gay and Lesbian San Francisco
Flying in Nowhere Land
Home