FemmeNoir
A Web Portal For Lesbians Of Color


---
Lorraine Hansberry (1930-1965)
Playwright -- "A Raisin In The Sun"
"Race--racism--is a device. No more. No less. It explains nothing at all. . . . I am simply saying that a device is a device, but that it also has consequences: once invented it takes on a life, a reality of its own. So in one century, men invoke the device of religion to cloak their conquests. In another, race. Now, in both cases you and I may recognize the fraudulence of the device, but the fact remains that a man who has a sword run through him because he refused to become a Moslem or a Christian--or who is shot in Zatembe or Mississippi because he is black--is suffering the utter reality of the device. And it is pointless to pretend that it doesn't exist--merely because it is a lie!" -- Lorraine Hansberry
"I was born black and female," playwright Lorraine Hansberry wrote, summing up the influences on her life and work. If she had lived longer, she might have added "and lesbian" to her description of herself.

Lorraine Hansberry was born in 1930 the youngest of four children of Carl and Nannie Hansberry, a respected and successful black family in Chicago, Illinois. Nannie was the college-educated daughter of an African Methodist Episcopal minister, and Carl was a successful real estate businessman, an inventor and a politician who ran for Congress in 1940. Both parents were activists challenging discriminating Jim Crow laws. Because of their stature in the black community such important black leaders as Paul Robeson, W.E.B. DuBois, and Langston Hughes frequented the Hansberry home as Lorraine was growing up. Lorraine didn't attend private schools while she was growing up, even though her family could afford it. She was educated in the segregated public schools as her family worked within the system to change the laws governing segregation. When she was eight, her parents bought a house in a white neighborhood and the discrimination there led to an antisegregation case before the Illinois Supreme Court, which her father won. This was the situation upon which "A Raisin in the Sun" was loosely based.

Hansberry went to the University of Wisconsin for a few years, then headed to New York to write for radical newspaper Freedom, furthering her involvement in the civil rights movement.

In New York she became disillusioned by the limited roles for black actors and at 29, this motivated her to write "A Raisin In The Sun." The play took its title from a line in a Langston Hughes's poem.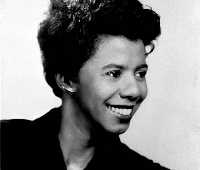 Hansberry met and married a white Jewish intellectual named Robert Nemiroff in 1953. The marriage lasted only a few years, and afterwards, though it wasn't revealed until after her death, Hansberry began exploring her feelings for women. Around 1957, Hansberry joined the Daughters of Bilitis, the pioneering lesbian organization based in San Francisco, and began receiving their journal, The Ladder.

Two lengthy letters were published in The Ladder in May and August of 1957 under the initials L.H.N. and L.N., respectively. Both are believed to be written by Hansberry. The letters applauded the growing West Coast homophile movement and mused on butch-femme culture and the gaps between lesbians and gay men. The August letter asserted, "Homosexual persecution has at its roots not only social ignorance, but a philosophically active anti-feminist dogma."

It was with A Raisin in the Sun that Hansberry left her mark. When the play debuted on Broadway in 1959, she became an instant celebrity. Not only was she the first black woman writer to have a play produced on Broadway, she was also the first black person--and only the fifth woman--to win the New York Drama Critics Circle award. The play became a huge hit and was made into a movie starring Sydney Poitier two years later.

It was not widely known but Lorraine and Nemiroff actually were divorced in 1964 before her death. At that time Lorraine had begun to come out as a lesbian. Among her reasons, to be sure, was the fear of reprisals in her career. After all, in 1965 the Gay Liberation Movement did not exist and a woman could not claim such an identity without major impacts. It was not until the 1980s that feminist scholars began connecting her feminist vision with her lesbian identity.

Lorraine also published an array of articles, poems and prose. In addition to her association with the theatre, she was also an activist for the black and gay rights movement. She wrote about race and gender issues in her works defining political issues. Her inspirational writings had an impact on people around the world.

Sadly, Hansberry's contributions to theater, to African-American culture, and to gay liberation were all cut short. After a bout with ulcers, she learned in July 1964 that there were serious problems with her intestinal system. Six months later she died of cancer at the age of 34. Nemiroff, her ex-husband and literary executor, spent the next 25 years keeping her work alive. But Hansberry's sexual identity remained hidden until lesbian scholars brought it to light in the 1980s.
---
Source: Gay.com and PlanetOut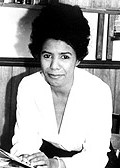 Lorraine Hansberry: The Black Experience in the Creation of Drama

This film shows the playwright's artistic growth and her unique artistic vision largely in her own words and her own voice. With excerpts from The Sign in Sidney Brustein's Window, Les Blancs, and Raisin in the Sun with Sidney Poitier, Ruby Dee, Diana Sands and Roy Scheider.

Supplier: Weysmere Media
Product ID: #EDU35776 VHS, Color, 35 min

Lorraine Hansberry Audio Collection

Lorraine Hansberry; Playwright and Voice of Justice

A Raisin in the Sun

To Be Young, Gifted, and Black: Lorraine Hansberry in Her Own Words

The Importance of Lorraine Hansberry

The Les Blancs: The Collected Last Plays
Home