FemmeNoir
A Web Portal For Lesbians Of Color


---
Karen Williams
Comedienne
Karen Williams has taken her life experiences as an African-American lesbian and single mother and turned them into hilarious fodder for her stand-up routine. Born and raised in New York City, Williams spent several years on the west coast before making her home in Cleveland, Ohio. She has toured North America extensively as a stand-up artist, emcee, humorist, and lecturer, appearing at countless comedy clubs, festivals, campuses, conferences, and special event venues. She has appeared with Joan Rivers and Friends on stage in New York, performed at Just for Laughs in Montreal and the Mardi

Gras celebrations in Sydney, Australia. A feminist comic whose tone is never strident or preachy, Williams has a way of addressing topics of race, gender, and sexual orientation in way which is accessible to a wide range of audiences. As the founder of the Institute of Humor and Healing Arts (HaHA), Karen conducts workshops to enable others to explore the healing power of humor. "I think that laughter opens us up," she explains. "So I think that the point of good comedy is, once the person is opened up, what are we putting inside? And that's where my job actually begins, is: what am I putting inside?"
International Institute of Humor and Healing Arts (HaHA Institute)
SPEAK UP! SPEAK OUT! LAUGH OFTEN!
HaHA Institute is deeply and sincerely committed to the study and active use of humor in the healing process -- personal, societal, and planetary. HaHA Institute offers humor-related workshops, lectures, keynote and motivational speeches for private corporations, federal and state agencies, non-profit entities, colleges and universities, and special events, as well as online tutoring for interested individuals.
The mission of HaHA Institute is to encourage the fullest and highest activation of human potential for compassion, wisdom, and life force through the daily use of humor and healing arts. The healing arts component includes but is not limited to the following: optimal health planning, nutrition, exercise, massage and healing touch, aromatherapy, and spiritual practices.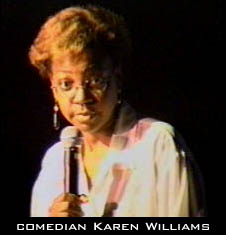 HaHA Institute is the brainchild of internationally acclaimed and nationally-known comedienne and humorist Karen Williams, whose background includes over twenty years of theatrical training, improvisational comedy, dance and movement, psychodrama, active parenting, metaphysical studies, and Buddhist practice. Affectionately known as the "Diva of Comedy" and the "Queen of Improv," Karen Williams is the creator and facilitator of the Humor-at-Large Workshop Series, founder of the National Women's Comedy Conference, past president of the Association of Women's Music and Culture, and former Board Member of AIDS, Medicine and Miracles. Her humor workshops are specifically designed to build self-awareness and self-confidence, and to promote healthy self-esteem, while encouraging full support of the principles of tolerance and respect for the dignity of human life.
Recently, Karen Williams fulfilled her lifelong educational goals. She graduated summa cum laude from Cleveland State University with a personally-designed major in "Humor and Healing." She also received a Master of Education degree from CSU's Adult Learning program. Karen Williams, M.Ed, teaches Stand-Up Comedy in the Dramatic Arts area of Cleveland State University, where Comedy Open Mikes are held on Wednesdays from 8:30 - 9:30 p.m. at Fat Glenn's, the nightclub in the basement of the Mather Mansion.
• HUMOR-AT-LARGE WORKSHOP SERIES
• HUMOR & HEALING
• HUMOR & STRESS MANAGEMENT IN THE WORKPLACE
• LET'S LAUGH ABOUT SEX!
• HUMOR & DIVERSITY: DEALING WITH DIFFERENCE & EXPLORING CULTURAL HERITAGE
• SUBSTANCE ABUSE: NO LAUGHING MATTER!
• ON YOUR MARK, GET SET, GOAL SETTING
• HUMOR & WRITING: JOURNAL YOUR HEALING JOURNEY
• COMEDY WRITING FOR AMATEURS & EXPERTS

MILLENNIUM SPECIAL! UNIQUE OFFER!
HUMORIST KAREN WILLIAMS
Founder, HaHA Institute Presents

HUMOR & STRESS MANAGEMENT IN THE WORKPLACE

To your entire staff for the one time only price of $1,500.
To reserve your date, call 216-289-7079 or e-mail TODAY!
Source: International Institute of Humor and Healing Arts (HaHA Institute)
HaHA Institute
P.O. Box 32147
Cleveland, OH 44132
Karen Williams, Founder
Phone: (216)289-7079
Email:
Source: http://www.hahainstitute.com/


Karen Williams - Is She Or Isn't She

Karen Williams - Getting Old, Buns Of Steel, Gyms
Karen Williams - Lesbian Sex Workshops
Karen Williams - White People, Being Black
Karen Williams - Ellen
Karen Williams - Orgasisms, Eating P---y, Levitating Lesbians, Ejaculating Females, The Butch Or The Fem
Karen Williams - Masturbation
Karen Williams - Personal Ads, Pot Lucks
Karen Williams - Co-Dependents
Karen Williams - Our Ex's, Designated Speaker
Real Audio Presentations -- Allegro Music

Masturbation
Karen Williams: Human Beings: What A Concept, Length: 00:30, Music (Comedy)
Our Ex's/Designated Speaker
Karen Williams: Human Beings: What A Concept, Length: 00:30, Music (Comedy)

Camping/I Know You
Karen Williams: Human Beings: What A Concept, Length: 00:30, Music (Comedy)
Lesbian Sex Workshops
Karen Williams: Human Beings: What A Concept, Length: 00:30, Music (Comedy)
Home