FemmeNoir
A Web Portal For Lesbians Of Color


---
June Jordan
Author
Sunrise: July 9, 1936
Sunset: June 14, 2002
"Bisexuality means I am free and I am as likely to want and to love a woman as I am likely to want and to love a man, and what about that? Isn't that what freedom implies?"

"If you are free, you are not predictable and you are not controllable. To my mind, that is the keenly positive, politicizing significance of bisexual affirmation... to insist upon the equal validity of all of the components of social/sexual complexity," --June Jordan from the Progressive.

June Jordan was born in New York City in 1936. Her books of poetry include Kissing God Goodbye: Poems, 1991-1997 (Anchor Books, 1997), Haruko/Love Poems (1994), Naming Our Destiny: New and Selected Poems (1989), Living Room (1985), Passion (1980), and Things That I Do in the Dark (1977). She is also the author of children's books, plays, a novel, and Poetry for the People: A Blueprint for the Revolution (1995), a guide to writing, teaching and publishing poetry. Her collections of political essays include Affirmative Acts: Political Essays (1998) and Technical Difficulties (1994). Her 26th book published by Basic Books is her memoir, Soldier: A Poet's Childhood, in May 1, 2000 and since then has received unanimous national acclaim.

Her honors include a Rockefeller Foundation grant, the National Association of Black Journalists Award, and fellowships from the Massachusetts Council on the Arts, the National Endowment for the Arts, and the New York Foundation for the Arts.

June Jordan, is one of the world's most articulate and essential voices. Her work transcends traditional bounds of self and society, expressing conscious optimism- the unity of justice, equality and tenderness. Jordan is one of those rare writer/activists whose greatest strength is her ability to live what she believes.
The author of 26 books, June Jordan is the most published African American writer in history. Ms. Magazine (July 2000) considers June Jordan "one of America's fiercest literary figures and social activists" and "the hope of a generation".
Internationally celebrated for her creative accomplishments, she is Professor of African American Studies at the University of California at Berkeley where she directs the enormously popular Poetry For the People program. Poetry For the People received a Chancellor's Recognition for Community Partnership on September 19, 2000, for reaching out to local high schools, congregations and correctional facilities as well as University students. Jordan has been Professor of English at more than seven North American universities and colleges, including Sarah Lawrence, City College and Yale University.

Poet triumphant, Ms. Jordan's poetry is found in virtually every major anthology of contemporary poetry. She has been included in more than 30 collections such as the Norton Anthology of Modern Poetry, The Norton Anthology of African American Literature, Homegirls: Anthology of Black Feminism and The Village Voice Anthology. The Library Journal, January 1994, hails Ms. Jordan as, "One of the most important poets writing today." Currently a regular columnist for The Progressive, Ms. Jordan's essays, poems, reviews and articles appear in a wide range of publications from the New York Times to VIBE and from Ms. to Transition. The perception and candor of her commentary challenges her readers to examine their own involvement in public life.
In September 2000, Black Issues Book Review described Jordan as "an a-bomb" and "the consummate tough girl". The New York Times featured Jordan on July 4th, 2000 and she also appeared on The Lehrer News Hour in "A Conversation with June Jordan" on August 21, 2000.

Ms. Jordan has delivered keynote addresses, commencement speeches, major papers and readings at national and international gatherings, innumerable colleges, universities, and on radio and television. She has presented her work and has been honored at the United Nations, the United States Congress, and the Library of Congress. She is as powerful in person as she is in print and is one of the truly remarkable women of our time. A woman of extraordinary talent and range, June Jordan has earned her nickname as "the universal poet."
Source: http://socrates.berkeley.edu/~africam/jordan.html
http://www.stanford.edu/dept/AAAS/106A.html\

Streaming Audio:
Steam I
Stream II


See Also:
The Intimate Distance of Desire: June Jordan's Bisexual Inflections 81
Ana Louise Keating

Through an exploration of June Jordan's poetry and prose, this essay questions contemporary definitions of bisexuality and lesbian writing, and attempts to enact a non-binary bisexual reading praxis. I argue that Jordan employs several tactics ­ including ambivalently gendered pronouns, oscillations among apparently distinct categories of meaning, shifting referents, and performative speech acts to resist restrictive identity politics. These bisexual inflections enable Jordan to replace conventional Enlightenment-based concepts of isolated, self-en-closed identities with open-ended models of identity formation that transform both herself and her readers. Moving between sameness and difference, Jordan's bisexual inflections destabilize the binary system structuring sexual, gender, and ethnic categories, creating an intersubjective matrix


The Arc of Love; An Anthology of Lesbian Love Poems by Clare Coss The broadest, most erotic, most sophisticated collection of lesbian love poetry exploring all aspects of women loving women, this book includes contributors ranging from Sappho to Audre Lorde, Joy Harjo, June Jordan, and a new generation of Latina and Asian-American, African-American, and Native American poets.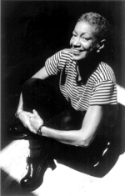 Interview With
June Jordan
Presented by
Freespeech.org

June Jordan on the crisis in Palestine and the israeli Occupation.
Presented by
Freespeech.org
June Jordan at the Writers House
April 23-24, 2001, as a Kelly Writers House Fellow
On April 23, 2001, June Jordan gave a reading from her memoir, Soldier and from her poetry, including new, uncollected work. On April 24, 2001, Jordan returned to the Writers House for an interview/conversation moderated by Al Filreis, Faculty Director of the Writers House.

Full Program
Interview With June Jordan

Here are excerpts from June Jordan's Writers House reading:
"Focus in Real Time"
"Poem about My Rights"
June Jordan: Poet of the People (Blacklight Online)
June Jordan: Home (Blacklight Online)
June Jordan: What About That? (Blacklight Online)
Home