FemmeNoir
A Web Portal For Lesbians Of Color


---
Judge Deborah Batts
Federal Judge
The first openly lesbian federal judge, Deborah Batts was confirmed to a Manhattan bench in 1994. A graduate of Radcliffe and Harvard Law School, Batts earned her credentials through hard work. A native Philadelphian, Batts clerked for a federal judge before joining Cravath, Swaine & Moore, where she worked as a litigator for six years. Next, she served as an assistant U.S. attorney in New York for five years before accepting a teaching post at Fordham University in 1994, where she taught property and family law.
A supporter of equal rights for gays and lesbians, Batts is known to be a an independent thinker who is unafraid to speak her mind. She was drawn to the legal field after experiencing the political turmoil of the 1960s, in particular, the bitter assassinations of Martin Luther King, Jr. and Bobby Kennedy. She was initially recommended for a federal judgeship during the Bush administration but did not receive a nomination. U.S. Senator Daniel Moynihan recommended her a second time when President Clinton assumed office. Clinton's nomination of Batts was confirmed by the Senate with no challenges.
In June of 1994, at 47, Deborah Batts was sworn in as a Federal District Judge for Manhattan, becoming the nation's first openly lesbian African-American federal judge. Batts was on the faculty of Fordham University School of Law before her appointment by President Bill Clinton.
The quick confirmation was somewhat surprising in light of the strong opposition to Clinton's earlier nomination of another lesbian attorney, Roberta Achtenberg, for the post of under-secretary in the Department of Housing and Urban Development. But, unlike, Achtenberg, Batts was not know for being particularly active in the gay-rights movement; on the other hand, she never made a secret of her sexual orientation and had, according to Peter Freiberg of Frontiers magazine, been prepared to answer "any question that was raised" by the Senate Judiciary Committee prior to her confirmation. In the end, the Committee never even brought up the issue. Another reason for the relatively easy Senate confirmation is that Batts was obviously very well qualified for the job.
As an associate at Cravath, Swaine & Moore, a prominent New York corporate law firm, Batts handled general cases involving securities law, antitrust, and libel. In 1979, she left private practice to become assistant U.S. attorney in the Criminal Division of the Southern District of New York, the major anti-crime unit of the Manhattan Federal Prosecutor's office. As a prosecutor, she served as lead attorney in cases ranging from armed robbery to international art theft.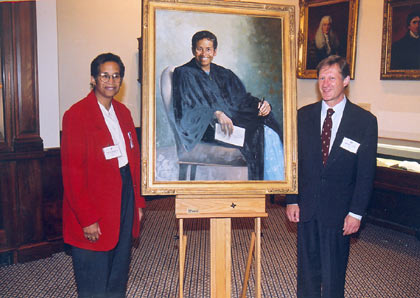 In 1984, Batts accepted a position as associate professor of law at Fordham University, making her the first African-American member of the Fordham Law School faculty. At Fordham, she taught courses in property law and domestic relations and was affiliated with the Corporation Counsel Trial Advocacy Program. After her appointment to the Federal bench in 1994, she continued to serve as adjunct professor of law at the university.

With such credentials, there can be little doubt as to Batts's qualifications for the Federal judiciary. Still, in a profession not particularly well known for its diversity, Batts tends to stand out. McMorris of the Wall Street Journal stated that "gay legal groups are hailing the appointment of Judge Batts ... as a historic ... breakthrough. Many in the legal profession say her appointment marks a turning point in attitudes toward gay men and lesbians." And Freiberg of Frontiers magazine proclaimed, "Another lavender ceiling has been shattered."

For her part, Batts, who is divorced and the mother of two children, tries to downplay the fanfare. According to Freiberg, she told the New York Law Journal that she does not want to become known as "the gay judge," and she generally shies away from discussions about her personal coming-out process. McMorris quotes her telling the Washington Blade: "Being a lesbian is definitely part of my life.... It is also one of many parts of my life. I am also a very devoted mother, I'm an attorney, a former prosecutor, and I'm an African American. If people assume any one of these aspects is going to predominate it would create a problem."

Nevertheless, despite the fact that, as Jim Williams, president of the Lesbian and Gay Law Association of Greater New York, told McMorris, "Debbie has always been very low key," neither has she shied away from her own brand of activism. Freiberg cites her remarks to the 1994 graduating class of Fordham Law School in which she "appealed to them to work for the civil rights of minorities, and ended with a plea for laws to protect lesbians and gay men from discrimination."

Judge Batts is a member of numerous professional organizations including the New York City Bar Association, the Second Circuit Federal Bar Council, the Metropolitan Black Bar Association, and the Lesbian and Gay Law Association of Greater New York. Her community affiliations include service on the Board of Trustees for the Cathedral School.

Gay legal groups lauded Judge Batts' appointment as a "turning point" in attitudes towards gay men and lesbians. Lawyers practicing before Judge Batts have found her intellectually curious, thoughtful and fair.




Source: http://www.law.harvard.edu/news/2001/10/24_batts.html
http://www.jtbf.org/article_iii_judges/batts_d.htm




Home