FemmeNoir
A Web Portal For Lesbians Of Color


---
Helen Elaine Lee
Assistant Professor
Creative Writing / Author
Short stories published in Callaloo, SAGE, and several anthologies. Novels include: The Serpent's Gift (Atheneum Publishers, 1994), and Water Marked (forthcoming, Scribner, 1999).
Helen Elaine Lee grew up in Detroit in a home where tall tales, storytelling, jokes, and a general reverence for the power of language held sway. Her father George, a trial lawyer who had gone to Harvard Law School in the 1940s, expressed a love of words in his work, his wit, and his table-side yarns. Her mother Dorothy - a professor of comparative literature and the first black woman to get a PhD in the subject from Harvard - had her daughter reading widely and discussing books broadly. On weekend afternoons, mother would recite and perform poetry for child, just as the mother's mother and great-aunt had done before. "Books were like a religion," recalls Lee, "and I still feel that way."
In the intervening years, Lee - an assistant professor in the Program in Writing and Humanistic Studies - has joined the ranks of the venerated. Her first book, The Serpent's Gift (Athenaeum), came out to critical acclaim in 1994. "Beautifully crafted and profoundly insightful, this staggeringly accomplished first novel redeems the adjective 'heartwarming' from cliché," heralded The Washington Post Book World. The New York Times Book Review also gave it favorable coverage.
With rich imagery and vivid metaphor, the novel traces the emotional and spiritual journeys of two African-American families in a fictional Midwestern town, between World War I and the 1970s. Due out in the spring is her second novel, Water Marked (Scribner), which highlights the reunion of two sisters coming together to find their father, who they thought had committed suicide years before.
A roundabout route

Lee's arrival to the world of belle lettres came circuitously. Graduating from Harvard Law School in 1985, Lee worked for the next nine years as an attorney, first for a corporate firm in Chicago and then in several positions in Washington, D.C. Sensing immediately that she and the law were a mismatch - that it was a way to make a living, not a career - Lee practiced writing on the side. "I felt passionate about writing in the way my parents had modeled feeling passionate about their careers," she says, "but I had to find my voice."
Not that there was any dearth of clues that she and fiction had something going. As an undergraduate at Harvard College, Lee found herself gravitating towards literature courses. In law school she wrote her final paper on three Latin American poets as revolutionaries. She penned her first published story while filing legal briefs by day at the Chicago law firm. "I found myself retreating to fiction more and more and being drawn to this place that had greater meaning for me," she says.
Writing has greater meaning, but it also can be excruciating. "Writing is hard because you have to confront yourself and face difficult emotional territory," she says. "It doesn't abide by a formula - there are no right and wrong answers. There's something frightening about that open-endedness because of what might rise, but it's also totally exhilarating and freeing."
Lee feels a similar sense of enthusiasm for teaching; currently her courses are 'Fiction Workshop,' 'Writing and Experience,' and 'Writing by U.S. Women of Color.' "It's a total gas to talk about literature and to feel that 'yes' going on in the students, when they see the beauty of how a work was put together and appreciate the choices the writer made," she says, adding that "when you see you're expanding somebody's notions of their own possibilities or ways of looking at the world - that's very exciting." Teaching MIT students is also challenging: "They've often been on a narrow track in their disciplines and haven't read much or thought much about their lives in the way one has to in order to write stories." But, she adds, "when you break through, you can often get some remarkable work from them."
Breaking through is what she most appreciates about being a writer. "I write because it makes me feel most alive and it seems a powerful way to participate in the world. Books have borne me through every difficult and important moment in my life. It's meaningful to know that just as I was expanded by reading [James Baldwin's] Sonny's Blues or Virginia Woolf, my work could mean something similar for others. That's powerful."
Source: http://web.mit.edu/afs/athena.mit.edu/org/h/humanistic/www/faculty/lee.shtml

Black like Us: A Century of Lesbian, Gay, and Bisexual African American Fiction

The Serpent's Gift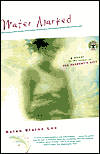 Water Marked


Callaloo 23.1, Winter 2000
This issue is dedicated to the Memory of Melvin Dixon and the Memory of Audre Lorde
Home