FemmeNoir
A Web Portal For Lesbians Of Color


---
H. Lenn Keller . . .
H. Lenn Keller was born in 1951 in Evanston, Illinois. She is a San Francisco based filmmaker and photographer, whose work deals with political and spiritual issues, including identity politics. She has a B.A. in Visual Communication from Mills College, and is currently at work on a series of mixed media photographs of people of color in natural settings in an attempt to re-construct and expand cultural frames of reference. She has made two 16mm short films, Ife (about a black French lesbian living in San Francisco), and Sightings (about two African American lesbians' humorous attempts to connect romantically). She is currently at work on a screenplay, which she hopes to independently produce and direct. She has been exhibiting her photography since 1981.

"E" was published in "Underexposed: The Photographic Image & Black Lesbian Identity" in Aché (a journal for African American lesbians), 1991.

"Dark Adventure" was exhibited in Hypothalamic In[Queer]ies, curated by Robert Kellery for CameraWork Gallery, San Francisco, CA 9993. This piece was one of six mixed-media photographs on the issue of racial objectification and fetishism of African American lesbians within the lesbian community.

After studying film and video production, photography, and communications theory, I graduated from Mills College in Oakland in 1984 with a B.A. in Visual Communication. My first involvement in the independent filmmaking community was on a low-budget feature film in San Francisco, shortly after graduation, as a still photographer. But it wasn't until 1992, that I really became involved with film, working on a number of independent projects as an A.D., doing script continuity, and shooting stills.

Having the opportunity to observe the production process, I wrote, directed and produced a 16mm short in 1993, Ife. If you want to know what it was like to produce a no-budget short film while being unemployed, check out the article that I wrote called Make Your Own, which was published in femme flicke, (a very cool women's film zine). In 1995, I wrote, directed and produced my second short, Sightings,and now I am writing two feature length screenplays, which I'd like to direct. I'm interested in working on independent film productions, music videos etc. as a still photographer, script supervisor, or assistant director, and I can be contacted at

My greatest and most challenging creative project thus far though, has been having and raising my daughter as a single mother. She's all grown up now -- she's smart as a whip, gorgeous, and funny as all get out, and is one of the most incredible women I know. I'm looking forward to collaborating on a film project with her some day.

Meanwhile, when I'm not working on a screenplay, or working on a film, video or photo project, I support myself doing transcription for writers, researchers, and filmmakers for my company, Ear To The Ground Transcription. I also occasionally torture the neighbors by practicing scales on the tenor sax.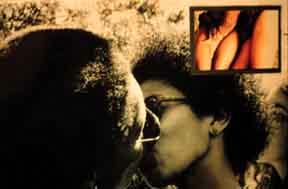 Kissing, mixed-media photograph
© H. Lenn Keller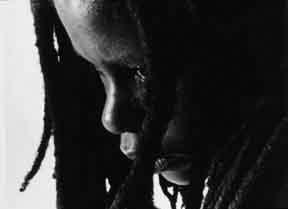 E, from Aché, 1991
photograph, © H. Lenn Keller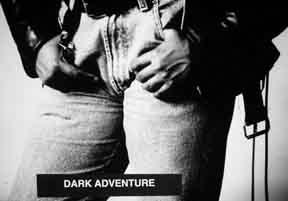 Dark Adventure
photograph, © H. Lenn Keller
---


Desire: Exploring Butch/Femme is a documentary film in progress which is examining what butch/femme identity and dynamics mean now; and how our understanding and communication about these terms inform our sense of core gender identity; how we relate to ourselves, each other; and how we access and name our sexual desire as lesbians.

We're looking for Interviewees --We are based in the San Francisco Bay Area, and are still looking for people to interview. We are interested in lesbians, bisexuals or FTMs who identify as butch or femme (however you define those terms). It is our hope to be able to travel to several cities across the country to conduct interviews, but are not sure that we will be able to raise the funds to do so. For the time being, we are focusing on interviewing people in the Bay Area (or in close proximity). We will also be filming narrative vignettes, and are seeking actors. We are committed to representing a diversity of voices, so we invite butches and femmes of all ages, racial, cultural, and class backgrounds to participate in this important documentary.

We Need Your Help -- If you have producing, fundraising, web site design, film or video experience and would like to intern or assist us, please contact us at:
info@exploredesire.com or (415) 487-6290. Website: http://www.exploredesire.com
---
Source: Lenn Keller's Website: http://www.well.com/user/len/film_page.html
Women Artists of the American West: http://www.sla.purdue.edu/WAAW/Corinne/Keller.htm
To View Lenn's Gallery: http://www.well.com/user/len/photo.html
MAKE YOUR OWN: A Film Production Diary by Lenn Keller
---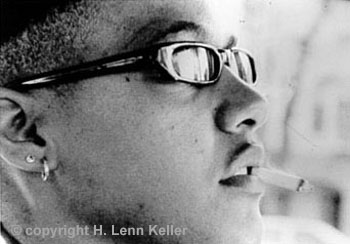 Ife
a film by Lenn Keller
16mm b/w 5 minutes © 1993

Ifeis a short film chronicling a day in the life of a black French lesbian in San Francisco. This humorous study pays stylistic homage to Jean Luc Goddard's 50's film, Breathless. Ifewon Best Short Film at the Madrid Intl. Women's Film Festival '94, and is distributed by Frameline Filmsand is also available on a video compilation called Dyke Drama, distributed by Wolfe Video. Ifepremiered at the San Francisco Lesbian & Gay Int'l Film Festival in 1993, and has screened in numerous festivals internationally, including KQED's Living Room Festival, the Berlin Film Festival, SXSW, and Women in the Director's Chair.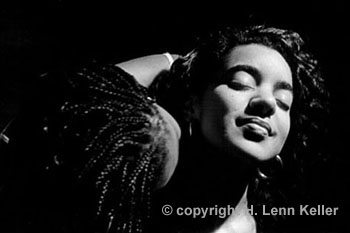 Sightings
a film by Lenn Keller -- 16mm color,14 minutes
Sightings is a sexy, humorous short film about the trials of connecting romantically. Two beautiful, urbane African American lesbians first sight and cruise each other in a Laundromat. The tension builds as they pursue each other through a series of near connections and missed opportunities. Meanwhile, each woman enters her own private world of fantasy about the other.
Home