FemmeNoir
A Web Portal For Lesbians Of Color


---
Dorothy Randall Gray
Author
How Long? Not Long!
OK, I'm stepping out on a limb here, but I think the branches are strong enough to support me. Tell me, how long should a woman be a widow? Is 30 years long enough? I'm thinking of a courageous, determined woman who has sacrificed her entire life for the perpetuation of her slain husband's work. I'd like you to write a new life for Coretta Scott King. Is there a love interest in her life? What does she do for relaxation? How does she really feel about all the appearances she has to make? What is it that she doesn't want anyone to know? -- Dorothy Randall Gray
Dorothy Randall Gray is a best-selling author, popular speaker and nationally acclaimed creative consultant whose self actualization seminars and powerful creative writing workshops have inspired thousands throughout the United States and abroad. She has been featured on radio and television, at museums, universities and cultural institutions.
Formerly on the faculty at New York University, Poet-In-Residence at Hunter College, and executive Director of Red Hook Arts, Dorothy is a founder of the Heartland Institute for Transformation, an organization dedicated to the use of writing and spirit as a source of creativity, transformation, empowerment and healing. She is listed in Poets & Writers , Directory of American Poets and Fiction Writers as well as Who's Who International Authors and Writers, and is a board member of the International Women's Writing Guild.
Dorothy's writings have been featured in many publications including Essence, Personal Journaling, The New York Times, SisterFire, Drum Voices, Conditions, Healthquest, and Ikon. She is the author of the best seller, Soul Between the Lines: Freeing Your Creative Spirit Through Writing (Avon) as well as six books of poetry, fiction, and non-fiction.: Muse Blues, The Passion Collection, A Taste of Tamarindo, Family, Woman and Rituals for Creative Living. She has recently completed a volume of prose and poetry Love and is working on a new book, Spirit of A Woman.
Her spiritual stress reduction, transformational empowerment and personal development services have been utilized by many educational, business and professional organizations. These include The United Nations, Barnes and Noble, PL'N America, Columbia Writer's Union, Carnegie-Mellon Institute, The Open Center, God's Love We Deliver, The National Writer's Union, Downstate Medical Center, 100 Black Women, Holistic Health Alliance, Family Support Center, and the Poetry Therapy Association.
Her extensive list of clients has included the San Francisco Ballet, The NY Mental Health Association, Center for Policy Studies, the NYC Board of Education, and the Nuyorican Poets Cafe. She is the recipient of numerous community service awards from the International Lion's Club, The New York State Assembly, the New York Senate, The New York City Council, Additionally she was honored in a special ceremony by the Borough President of Brooklyn for her outstanding cultural contributions.
Dorothy's workshops and seminars have been commissioned by colleges and universities, educational and writing organizations, retreats, libraries, business establishments, empowerment conferences, health and spiritual centers. Her twenty six years of studies in Eastern, Western, African and Native American spirituality serve as the foundation for her many of her highly effective workshops.


or motherwitspirit@aol.com
Source: http://www.starsaga.com/dorothy.htm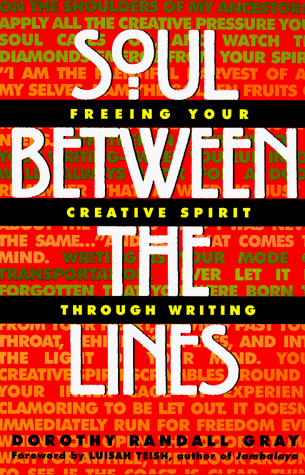 Soul Between the Lines; Freeing Your Creative Spirit Through Writing
by Dorothy Randall Gray, Luisah Teish
Home