FemmeNoir
A Web Portal For Lesbians Of Color


---
Doria Roberts
Singer/Songwriter
A regular on the national folk circuit, Philadelphia bred and Atlanta based singer/songwriter

Doria Roberts creates songs full of wit, political verve, passion and insight into the human condition. Commanding space as a solo performer and front woman of a three-piece ensemble, Doria's versatility as a songwriter and entertainer is never lost. Her R&B/jazz roots are laced with an unmistakable folk agenda. And, when rural folk ventures into urban territory, the result is contemporary, tangible, yet, highly emotional and provocative lyricism and melody.

Doria has appeared at some of the most respected listening rooms in the country including Eddie's Attic, The Bluebird Café, The Knitting Factory-NYC, The Tin Angel and the legendary Club Passim in Boston for their "Cutting Edge of the Campfire" songwriters festival. She also won the 1999 Lilith Fair Talent Search, which landed her a spot on the Lilith Fair Tour for two nights. She shared stage and microphone (see photo insert) with Sarah McLachlan, Sinead O'Connor, Suzanne Vega and The Indigo Girls. Asked by Sarah and the Indigo Girls to solo on both nights, Doria was able to show the sold out crowds why she was deemed "1999 Female Artist of the Year" by the Atlanta Press. Video excerpts of an interview with Doria by Nettmedia and a clip of her performance are posted on the Lilith Fair website (www.lilithfair.com). She was also chosen for an interview by VH-1 for their "Fresh Faces on The Tour" profile.

She has been selected for showcasing at the 1999, 2000 and 2001 Atlantis Music Conferences as well as the 1995 and 1996 Philadelphia Music Conferences. She has performed at the internationally recognized Montreux Jazz Festival in 1999 and 2000. Other Montreux performers included Buddy Guy, Paul Simon, the late Beau Jocque, Zap Mama and many others.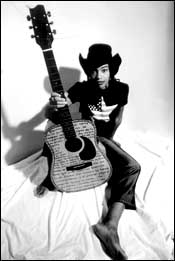 Other festival performances include Ladyfest East in New York with Betty and Toshi Reagon, Ladyfest Midwest Chicago with Amy Ray, Tegan & Sara, and the Butchies, 1996-2001 Atlanta Pride Festival, the 2000 Michigan Womyn's Festival, 2000-2001 Boston Pride (with Joan Jett), Baltimore Pride, Pittsburgh Pride and AthFest 2000 .

She has opened for or shared the stage with legendary folk artist Odetta, Janis Ian, Shawn Mullins, The Indigo Girls, Me'Shell Nedegeocello, Pulitzer Prize Winning Author Alice Walker, the late Poet Laureate Gwendolyn Brooks, The Josh Joplin Group, Angie Aparo, Ellis Paul, Martin Sexton, Kenny Rankin, Chris Smither and many others.

MUSIC, MUSIC, MUSIC

Doria runs her own label Hurricane Doria Records out of Atlanta, GA. HD Records has been "Spinning the Winds of Change since 1995" and strives to put music into the world that makes a difference socially and spiritually. She produced and released her third independent project "Restoration" in March 1999. The opening track "Perfect" was nominated for a 2000 Gay & Lesbian American Music Award along with Me'Shell N'degeocello and Luscious Jackson in the Best Pop Recording category. While recording her fourth project "Radio Doria", she was selected as the 2000 Citysearch.Com Atlanta "Best Songwriter" (tied with Shawn Mullins). "Radio Doria" is a fierce collection of socially aware music that was released on Presidential Election Day November 7, 2000 at the venerable Seven Stages Theater in Atlanta, GA. Her titles have sold nearly 10,000 copies independently.

The work with her label (which recently added five other artists to the roster) is featured in a documentary about women making significant contributions to independent music called "For the Love of Rock". Doria's live music segment and interview were filmed at the Mercury Lounge in New York City and is prominently featured in the film. The documentary also includes contributions from Amy Ray of the Indigo Girls, Jane Siberry, Melissa Ferrick, Brenda Khan, Toni Blackman, Kate Shellenbach of Luscious Jackson and Moxie. Check out www.LoveOfRock.com.

Doria's music also appears on the New Women's Music Sampler released by Mr. Lady Records. The CD includes tracks from Kaia Wilson and the Butchies, Tribe 8, The Need, Sarah Dougher Le Tigre and many other emerging female artists.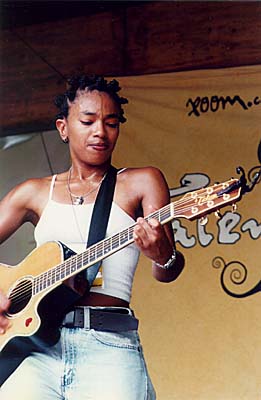 COMMUNITY

As a part time activist, Doria has committed herself to inspiring compassion through her music. While following in the footsteps of Nina Simone (think "Pirate Jenny"), Janis Ian (remember "Society's Child), Billie Holiday's "Strange Fruit", John Lennon's elegy "Working Class Hero", Ani DiFranco, Patti Smith, et al, the personal experience can sometimes becomes political and the stage sometimes becomes a forum—a space not only to entertain but to also inform.

Doria was included on the 1997 compilation "Thrive", which benefits Youth Pride, Inc. and Atlanta based organization that mentors g/l/b/t youth. The disc included donated tracks from the Indigo Girls (Epic), Shawn Mullins (Columbia), the Josh Joplin Band (Artemis) and ten additional tracks by Atlanta's finest musicians.

When she wasn't producing her own shows and tours, Doria founded "Rock for Youth". A fundraising concert for Youth Pride in 1998 prompted Roberts to continue the concert series for all youth in crisis. The second Rock for Youth concert was held in Atlanta in 1999 with performances by Roberts, John Mayer (Aware/Columbia Records) and Matthew Kahler and benefited Nuci's Space. Named after 22 year-old musician Nuci Phillips (who committed suicide after battling depression for five years), the state of the art rehearsal, counseling and mentoring facility is not open and available for all young aspiring musicians. Check out www.nucispace.org.

She has also organized the Queerstock Tour & Festival for six years. The tour, which showcases g/l/b/t/ artists and has traveled to Boston, New York, Chicago, Durham, Atlanta and Philadelphia, urges activists to "Start enjoying what you've been fighting for!" Queerstock will take a hiatus in 2001 and a compilation CD entitled "Queer Stock, Queer Soup" will be released during Pride month, June 2002, benefiting several queer youth agencies around he country. Doria also organized a groundbreaking showcase for queer musicians at the 2001 Atlantis Music Conference.

She has also participated in a number of benefit/awareness concerts: The internationally renown Vagina Monologues V-Day performance, which promotes an end to violence against women worldwide, the 14th Annual Creating Change Conference, an activist training conference sponsored by the National Gay & Lesbian Task Force, Rock for Choice, child abuse awareness programs for the Georgia Council on Child Abuse, the National Association of Women for Understanding, Feminist Women's Health Clinic in Atlanta and fundraising concerts for Atlanta homeless shelter the Inn Between.

Source: http://www.doriaroberts.com



Restoration



Alive and Well

Real Audio Samples
"Kodak Moments"
Hold On Me (Band)
Slow Burn (Solo)
S.O.S. (Studio Track)




Home