FemmeNoir
A Web Portal For Lesbians Of Color


---
"When you feel down like life isn't giving you a chance, you cry, , kick and scream and every way you turn there is a brick wall, think about me and read my story, it will help you climb that wall. You can overcome all drama and still succeed……I did. Keep a smile on your face and keep it moving."  -- Conscious
In 1999 Conscious landed a position as the Executive Assistant to the Executive Producer of the Queen Latifah Show. Hard work and commitment in building the Queen Latifah Staff influenced her appointment as Production Assistant for Queen Latifah. In a short time she showed her ability to manage the music for the Queen Latifah Show and was promoted to music manager.

Last year, because of her magnetic personality, Conscious was recommended by word of mouth to audition for the Oxygen Media Network to host the TalkShow She-Commerce as well as field produce segments in which she also hosted.


Conscious started her television career as an intern for Broadcast News Network (BNN) in New York City. Before she knew it she was transferred to the technical department where she wired Avid Computers, Beta Decks, dubbed Digital Beta tapes, installed light switches and ceiling fans.
During the day she used her technical support to wire machines for BNN and at night she used her technical knockout punch, and skill in the martial arts to become bodyguard for Mark Wahlberg during taping of the movie "Boogie Nights". Her reputation led to bodyguard jobs at famous New York nightclubs such as, The Palladium, The Tunnel, The Limelight, and personal bodyguard jobs with Rap stars, Missy "misdemeanor" Elliot, Busta Rhymes, DMX, Jay-Z, R&B artist Aaliyah, and more.

Conscious studied electronics and electricity while in the United States Navy and studied electrical engineering in college. Conscious turned down the opportunity to play professional basketball in order to become a part of the elite electrical engineering department at Con Edison (A New York City Utility) where she designed electrical engineering blue prints.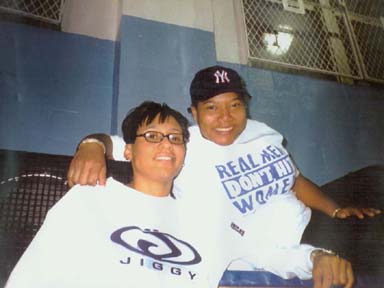 Conscious is presently promoting her book "Getting Unstuck" (Girl to Girl, You can Be, infected indeed...) a true story about the repressed memory that revealed her turbulent childhood and adolescent life. A life filled with incest and molestation, which helped lead to recovery from drugs and alcohol abuse.

Conscious is a talented, articulate star that is bolstering with positive energy. She has a personality that is rich with compassion and genuineness. Conscious is a people magnet. She is someone you must meet.

Merlé Soden, an HIV positive lesbian, talks about Getting Unstuck
By Matt Lum
Merlé Soden ("Conscious") has quite a story to tell - but it's not one many would share. From a young age, family and friends sexually abused her. She started using cocaine and other drugs before the age of ten. She later worked the streets pimping out women for cash and drugs to feed her own addictions.
Then, according to Soden, God spoke to her: "Get out of that crack house or you are going to die."
That same day, inspired by the Holy Spirit, Soden began to seek help for her addictions, ultimately landing at Daytop rehabilitation center.
There, under the guidance of addict-turned-drug counselor Allan, Soden began a journey of self-discovery that lead to her full recovery. But along the way, repressed childhood memories flooded to the surface, revealing to her a childhood more painful than she cared to remember.
After working through issues of molestation, incest, rape and other abuses, and after kicking her drug habit, Soden was up for one more challenge: she was diagnosed HIV-positive.
It became apparent to Soden that her lifelong experiences, up to and including her HIV infection, were a part of God's master plan for her. Obstacle after obstacle, she began to share her story with her peers in rehab and friends on the street.
Living under the philosophy that lessons learned are not fully realized until they are shared with others, Soden, writing as Conscious, recently put her story to the presses in a new book called "Getting Unstuck: Girl to Girl, You Can Be, Infected Indeed."
This year, Merlé Soden's birthday falls on Black HIV/AIDS Awareness Day across the nation. "It's no coincidence," according to Merlé, "It is but one more sign that I am where I should be, doing what God has in mind for me."
In that spirit, Soden spoke with The Triangle about her painful experiences, not only to spread awareness about HIV/AIDS, but also to help others who may have experienced similar sexual abuses as a child.
"Until we open up and share those painful, shameful parts of us, we cannot heal," she says. "You cannot keep it unless you give it away."
Wrap Sheet
Merlé Soden, a.k.a. Conscious, began dressing and acting like a male when she was very young. She became actively involved in sports, especially basketball, and transferred high schools to play on a winning team known for placing star players in colleges.
First exposed to homosexuality at the age of sixteen by her basketball team, a team she describes as "a closet full of dykes lead by one head-dyke, the coach," Merlé was unsure exactly what made her a lesbian - or even if she was one.
She often found herself going through the motions of lesbian sex with female partners, but rarely felt that 'butterfly' feeling she once experienced with a man she cared much about when she was younger.
She later went on to college with a basketball scholarship, but soon fell victim to the drug abuse she was familiar with as a child. She dropped out of school and went back to living in crack houses on the streets of New York and Philadelphia.
Girl to Girl
"She looked fine to me, and that was the mistake," Merlé said about her cousin, Justeen. "That's the mistake and that's why it's important to be aware. The people who look fine can be full-blown and not even know it. That's why I want to diminish the myth that it cannot happen. It can and it will. The more people I can wake up, the better."
Conscious was desperately snorting cocaine and drinking alcohol constantly, consumed with self-pity. Her unhealthy habits eventually landed her in a hospital with pneumonia. Several blood tests were done at that time, including an HIV test that returned non-reactive - meaning she was HIV-negative.
After her recovery in the hospital, Conscious was reunited with her cousin, Justeen, after several years of being apart. The two immediately established a dynamic relationship because they shared many experiences growing up together.
After they snorted loads of cocaine and threw back several shots of liquor, their emotions began to flow and the two began to talk about the abuses they suffered growing up. Justeen had been the only person with whom Conscious felt safe in her youth.
Tears turned to hugs, hugs to kisses and kisses to intimacy. For the next three years, Justeen was the only person Conscious had sex with.
"Ironically, I made sure I didn't mess around with anybody but her because I always said I didn't want to catch AIDS from any of those crack heads," Conscious remembers. "I slept with her exclusively, but I got caught out there anyways."
It was later revealed that both Justeen and her ex-man, Spanky, were HIV positive.
Thinking back on her experience with Justeen, it was easy for Conscious to see how she may have contracted the disease.
Conscious received a call from her sister soon thereafter informing her that Justeen was very ill and in the hospital. Subsequent visits revealed a T-cell count of 3 and a bleak prognosis. Justeen died six months later.
Unstuck
Conscious knew her time with drugs and alcohol was up, and she immediately sought to begin a new life away from her cousin. Her first job was being a bouncer for a New York nightclub called "The Tunnel" where she got to guard Alliyah, Missy Elliott, Ja Rule and many more rap super stars. She later went on to bounce at The Palladium, The Limelight and various other hotspots. She eventually met up with actor Mark Wahlberg who hired her to be his guard during the premier of Boogie Nights.
Once again healthy, Conscious made contact with her old basketball bud Queen Latifah, who now had her very own talk show. Conscious began working as an executive assistant and later moved on to handle and manage the music for the show.
Most recently, Conscious hosted several episodes of "She Commerce," a program on Oprah Winfrey's Oxygen Television network. She has also been scheduled to appear on numerous television shows to share her story and promote her new book.
"One of the things about the African-American community is we don't like to talk about certain issues," Conscious said. "We don't like other people in our business and what happened between 'these four walls stayed between these four walls' like mom always said."
This attitude, multiplied over several generations, left Conscious with no one to talk to as a child.
"And a lot of African-American people, when they read this book, are gonna be like 'Oh my God, did she tell everything?'" she said. "Yes, I did tell everything. I hope by coming forward and telling my story that other people will come forward. I hope that others will identify with their problems and find themselves growing like I am growing right now."
Getting Unstuck: Girl to Girl, You Can Be, Infected Indeed will be released mid-March. For more information or to order your copy, access www.prettytomboys.com, or call 866-782-2002.
GETTING UNSTUCK

The spoken word
Oh God, How Could It Be
That I caught HIV
From my Cousin, Justeen
What's worse This, or Gangrene
Girl to Girl, You can be
Infected Indeed...
I Got caught out There's, a fact
Sniffin coke, Dealing crack
Flippin Dough, Buyin weight
Wanna stop, Its too late
I Set up shop, At Grandma's house
Rented rooms, Sold girls out
Smoke right here, Have some fun
Drink some Rum, Even cum
Watch my gun, Watch my back
Someone will, Try attack
I feel alone, Deep inside
Time to Run, Time to hide
Drug Lords Coming, I Can't wait
To the back, Hop the gate
Learned the yards, Since a kid
Playing tag's, Where I hid
Now I'm bigger, Gotta hide
From Cartels, Glocks, and pride
Stole their Package, and their gun
I'm so slick, Gotta run
Hide out house, Across the street
I Split the drugs, With Monique
Running scared, I Take a cab
What I need, Is Rehab
Start to think, As I smoke
That this crack, Ain't no joke
That this life, Of today
Could be Death, If I stay
Help me finish, with these drugs
And surrender, Up above
To A voice, Heard in bed
Told me go, Les I'm dead
Said to work, For Me please
That I would, Have disease
Don't you Worry, Go now run
No affect, Til Works done
I Found Rehab, Way up State
Ate the food, Showered great
Went to groups, Had mad fear
Of these strangers, Up in here
Counselor Allan, Was his name
And his groups, Pulled my pain
Gave me hope, Gave me drive
That my Dream's, Still alive
To one day, I'd become
Someone famous, Not a bum
Allan helped me, Find out
A big secret, no doubt
Repressed Memory!
Was the Source!
Found my purpose, and my thoughts
Changed my life, Got a job
No more people, Did I rob
Life made sense, Hungry now
For success, I will growl
Had a friend, Hit the top
With Mad albums, And big props
Queen Latifah, was Her name
Rapping big, got Her fame
Life had plan, Not a scam
In her studio I would land
All cleaned up, Trusted face
With a job, I got laced
Hard work, and Great soul
Got audition, for a New show
It is here, in my prime
I Work for Oprah, That's part time
God's Work, I will do
Wrote a book, Just for you
Oh God, How Could It Be
Got a Job, on TV
No More Coke,
No More Weed
And I'm Still HIV?

Source: http://www.txtriangle.com/archive/1018/coverstory.htm 
Website:  www.prettytomboys.com
Contact:  prettytomboys@prettytomboys.com

Publicist: 
Echo Soul Publicity, Inc.
P.O. Box 231480
New York, NY  10023
Phone/Fax:  212-289-5483
Website:  http://www.echosoul.com
Interview with Conscious -- Sable Magazine
HIV: A Lesbian Issue? By Kelly McCann
(scroll to end of main article)

Purchase The Book
Or Make Check / Money order payable to:

Soden What's Next? Publishing
PO Box 1133
Union, New Jersey 07083-1133

OR CALL 1.866.782.2002
From Self-Published Book To Showtime Film. 
[Read Press Release]
I am proud to introduce to you an HIV positive woman who's self published book went from selling out of boxes on the streets of New York City to becoming a Major Upcoming Film Starring "Eve" on "Showtime's Film Network"  ? Conscious
Conscious, a native of Harlem New York currently residing in Miami Beach Florida, is a true Jill of all trades, having left her mark as an Electrical Engineering Blue Print Designer for Con Edison, the former Music Manager of The Queen Latifah Show, the Host of an Oxygen Media Network Talk Show, a Bodyguard for celebrities and now the Producer of her upcoming film on The Showtime Network.
 
Conscious' charisma has put her in high demand to speak to audiences throughout the country about HIV/AIDS awareness, protecting children from sexual predators, and drug rehabilitation. Larry Kennar's 'Code Entertainment', EVE and Troy Carter's 'Irving Wonder Production's and Showtime Films Network are currently utilizing the film rights for
GETTING UNSTUCK.


[Click Poster to View Larger]
JOIN THE PRETTIEST TOMBOY CONTEST!

THE WINNER WILL HAVE DINNER WITH CONSCIOUS AND GO TO THE SCREENING OF THE MOVIE GETTING UNSTUCK.

TO JOIN, GO TO WWW.PRETTYTOMBOYS.COM TO SEE WHO CONSCIOUS IS AND SEND YOUR PICTURES AS AN ATTACHMENT TO GETUNSTUCK@PRETTYTOMBOYS.COM

ALSO IF YOU HAVE A COMPELLING STORY THAT YOU WOULD LIKE TO BE CONSIDERED FOR FILM THEN SEE BELOW:

The work that you send must be copyrighted and protected before I can look at it, so proof of copyright must precede the work in a separate envelope containing a standard Query letter telling me about the story and what you want me to do with the work..for example ....publish it, option the rights for film? etc.

Good Destiny,
Conscious

PS stay tuned for MORE DETAILS ON the PRETTIEST TOMBOY contest!

www.prettytomboys.com

SWN Publishing
601 7th St. Siute 4
Miami Beach Fl. 33139
305-672-1604

pictures will be posted on the www.prettytomboys.com website
 
Home