FemmeNoir
A Web Portal For Lesbians Of Color


---
Brenda Fassie
Queen of the night
By Wayua Muli
Long hailed as South Africa's undisputed Queen of the Vocals, Brenda Fassie first hit the radios and townships of Johannesburg with her tune 'Weekend Special' way back in 1986.
Born in Langa, Cape Town, in 1964, Brenda's first musical endeavour was at the age of four, when, inspired by her pianist mother, she formed a singing group. By the time she was 14, she had already moved to Johannesburg to seek her fortune. Using the South Western Townships (Soweto) as her base, Brenda was asked to stand in for an absent member of one of the hotter groups of that era, called Joy. Hers was instant success. Joining two other groups, Blondie and Papa then the Big Dudes in quick succession, it was not long before Brenda was recording her solo debut, 'Weekend Special'. Soon, the song was a hit even in Britain. Never forsaking her township roots, Brenda stayed in Soweto even as she rose to become the country's biggest star. Renown for her generosity and kindness of spirit, Brenda would leave her doors open for strangers to walk into her house and say hello. Never one to hold money too dearly, she was overly generous with her possessions and her money. But by 1986, this 21-year old had become an old guard on the entertainment scene. And it was becoming obvious that fame had come to Brenda too early, too fast. Brenda herself, in characteristic openness and honesty soon confirmed rumours that she was a drug-addict and a lesbian. Unfortunately, the admission that she was a lesbian started to erode her image irrevocably.
The early nineties were turbulent times for Brenda. Introduced to drugs around this time by a Nigerian bodyguard, what started as an occasional indulgence for cocaine soon turned into an imprisoning addiction. The free-fall that her life had become gathered momentum in this period. In 1990, she was sued for fraud together with then husband, Nhlanhla Mbambo and former boyfriend Eric Mbeko. Her marriage to Mbambo broke up the next year, when she called him a leech, a lecher and a wife-beater in the press. Various concert promoters also sued her and the public boycotted her music after she failed to attend scheduled concerts in Soweto.
In 1992, she was convicted of assaulting a photojournalist. This was also the year that one of her former lovers went public with an account of his miserable life with Brenda. In 1993, her mother died. Her long-time manager and friend, Sello Chicco Twala, abandoned her later that year, and she lost both her apartment and her house, located in up-market parts of Johannesburg. Her son Bongani was thrown out of school for non-payment of fees. And 14 years after her first hit, Brenda's only claim to fame was the now-outdated 'Weekend Special'.
In 1994, in a cocaine-induced haze, Brenda barely got through the recording of her next album, 'Abantu Bayakhuluma'. The album immediately after this, titled 'Now is the Time', featured an ingenious duet with maestro Papa Wemba. Once asked about the experience of working with him, she said, "I can't remember a thing, I was so high."
It was around this time that her closest friend and lover, Poppie Sihlahla, died of a drug overdose in Johannesburg's seedy Hillbrow suburb. Brenda and she had rented a room in a hotel in the area, where they would free-base and binge on cocaine. One night, Poppie was discovered lying in bed unconscious, with Brenda next to her in a drugged stupor. Poppie was rushed to hospital, but died on the way there. Later, Brenda was reported to have said that Poppie died of asthma-related conditions, and that she had never been a drug-addict.
Whatever the case, Poppie's death inspired Brenda to come out of her stupor and start some serious work. In 1997, she started recording what was to be her comeback album, 'Memeza'.
"Tell everyone Brenda's back," she said. It became her anthem. And when 'Memeza' went on to become South Africa's best selling album of 1998, this anthem became fact. But the spectre of her drug-addict life still haunted her, and there were occasional lapses. Once, scheduled to grace a fashion show in Johannesburg's Hyde Park Corner, Brenda arrived there late and drunk, and unfit to perform. Yvonne Chaka Chaka was called in to take her place, and Brenda's management company was left to refund the R4,000 (Sh40,000) fees that they had already been paid, plus the R1,500 (Sh15,000) that they had paid in airfare for Brenda, her then boyfriend Ludwe Gift Zikalala and her secretary, Oscar Tyumre, from Durban to Johannesburg.
Not long after that, she was in the news again. This time, another jilted girlfriend of hers, Karen Baker, was in the limelight with claims that Brenda had borrowed money and sundry items from her and refused to return them. The items included a cell-phone, a television set and a radio.
"We stopped seeing each other last November," Karen said. "She knows deep in her heart that she owes me. I just want what's rightfully mine - I want my things back. She has used me and now she's reacting negatively."
According to Brenda, Karen was just a scorned woman looking for revenge.
"She wants to be my girlfriend - she wants me to sleep with her, to hold and touch her," she said on live radio one evening. "I admit to selling the TV set and the cell-phone, but we sold those together - we wanted to buy drugs."
Her hit song, 'Vulindlela', off the 'Memeza' album was, in the meantime, doing very well - so well that Brenda could now afford to start building a luxurious house in the suburbs of Jo'burg. It also seemed that Brenda had found lasting love again; having broken up with Ludwe earlier on, Brenda had now settled for a man 15 years her junior, called Landile Shembe. Three months after they got together, he proposed to her at her 36th birthday bash...and dumped her five days later. This time Brenda was in the news again with claims that he was a con-man who was only after her money, and that her son Bongani, now 14, was the person who had warned her against marrying Landile.
This apparent heartache has not stopped her star from rising; her current album, 'Nomakanjani' went triple platinum in November of last year, and various concerts have seen her reach beyond her southern borders into east and central Africa. Whatever else may happen in this baby-woman's turbulent, life, one thing is obvious; she will always be South Africa's Kwaito Queen.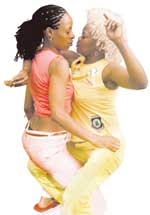 Brenda Fassie recently married her gorgeous lesbian lover Sindi Nkambule in a spectacular gay wedding in Yeoville, Johannesburg on Friday.
Onlookers at Fassie's unconventional wedding at Time Square, a popular hangout, watched goggle eyed as the pop star publicly embraced her lesbian lover, who is known for her tantrums. Jay Manakaza, a popular hairdresser and former drag queen officiated in the absence of a pastor at his-her hair salon, on which the gay community had converged in grand style.
A happy Fassie declared her undying love for the woman whom many consider to be a pillar of her strength for her after countless earlier failed romances had left Fassie in tears. After the simple but nonetheless glamorous ceremony Fassie and her "wife" were whisked away in a white Mercedes-Benz to the yearly Metro FM Awards at the Helderfontein Estate in Lone Hill north of Johannesburg.
The two lovebirds have had an on-and-off affair for the past two years, with shouting matches that have almost become legendary, and violent fights in public. Earlier this year the Weekend Special crooner claimed Nkambule was grossly abusive and beat her up regularly whenever they had an argument. When she was admitted to the Elim Clinic in Kempton Park, Ekurhuleni, Fassie accused Nkambule of leading her astray and introducing her to the life of highs and trips.
Fassie also described Nkambule as a "gold-digger", who was only interested in her money and fame. It seems that everything has changed - at least for now.
Source: http://www.nationaudio.com/96-4NATION/feature13.htm
http://www.mask.org.za/SECTIONS/AfricaPerCountry/ABC/south%20africa/south%20africa_11.html
Home