FemmeNoir
A Web Portal For Lesbians Of Color


---
Assar Santana
Musician/Songwriter
World-reknowned musician Assar Santana with her snazzy band of women (Shamell No. 6). Assar's multi-instrument band has always ensured ending on a sizzling high note!
Assar Santana is black, lesbian, a Brazilian immigrant to Canada, a musician, and more particularly percussionist. Assar's brand of worldbeat, urban music is so very danceable. In the past, Assar & her band Shamell No. 6 have had lightning and thunder tossed their way during their main stage performances...they even had to move their entire band indoors, quickly! The music and songs of Assar inspire melodias of pop-bossa Nova
Born in Brazil, she lived and traveled in Venezuela, Europe and West Africa before settling in Montreal...and brings the African, Latin, reggae and jazz traditions and rhythms from her life experiences to her music (she has also been invited to perform with Miles Davis) as well as a dedication to promoting women's talents. The six-woman Shamell No. 6 (their name a caustic wordplay on the cologne) provides ample backup on sax, bass, guitar, keyboards and vocals to her congas, percussion, and lead vocals.
This Brazilian percussionist/singer/ song writer and author of mixed African-Amerindian (Native People of Brazil) origin. She heads up Shamell no 6, a unique all-women band who delivers a spicy and original blend of Afro-Latin jazz and funk.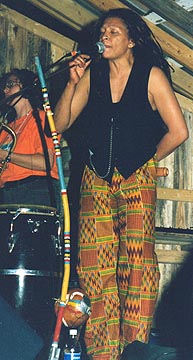 Assar is a Canadian artist of Brazilian origin who is known to find chemistry between the music of the world and her native music. Assar sings simultaneously in French, English, Spanish and Portuguese on her CD "Ironia."
Shamel, it is a political gesture! To bring women together to make music was both an artistic and militant step. "If that can be used as an example in order to justify others to move." Political music? The compositions of Assar have as subjects ecology, love, and the daily newspaper. The music, it is art; the visibility, it is the policy.
Assar Santana takes up the challenge to make a career with her music. At the beginning of her career, she made music for the theatre, inter alia for the New Experimental Theatre of Jean-Pierre Ronfard and Marie Cardinal, also for ONF in "Length Time Coming" with Dionne Brand. But it is especially with her group, Shamel No 6, that one comes to know her seven year career in music. She has two self-produced CD's; (one was withdrawn from the market following a legal proceeding by Chanel perfumes), the other, sporadically distributed "Ileea" (but always available to the Androgyne!). Very little of her work has played on the radio. "One gives your talent immediately as artist when you do not form part of the majority" says Assar.

Source: http://www.geocities.com/homni_ca/assar/entrevue1.html
http://www.montrealconsabor.com/musica/articles/assar/index.html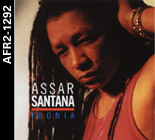 Preview -- Ironia
Home