FemmeNoir
A Web Portal For Lesbians Of Color


---
Afia Walking Tree
Spirit Drummer/Facilitator
". . . I have a strong belief that women started drumming. To me, the way the drums are shaped has a feminine feel to it. . . .The drum comes to us for reasons that we can't think too much about. Her message far outweighs what we can comprehend in the physical and the analytical sense. If we stop and listen to the message as she speaks through our hands, we will learn so much about ourselves and so much about our Spirit and so much about the Universe. If we just stop and listen to what she has to say, the lessons and gifts will unfold, hundred-fold. No one of us owns these sacred tools; we cannot claim them as our own, for they have their own voices and embodiment of spirit. Learn to hold her rhythms inside our souls and share it with the universe."

Soul Affirmationz is an eclectic arrangement of drum-songs – a fusion of West African, Afro-Cuban and Caribbean percussive traditions with hip-hop, R&B soul and spoken word affirmations — all of which give voice to

Afia Walking Tree's expansive transcultural experiences.

With revolutionary lyrics, Walking Tree touches on healing, passion, responsibility, self-affirmation and self-forgiveness. Each song is unique and dynamic in form and content and the album has many upbeat, danceable pieces.

Soul Affirmationz is the first release by Afia Walking Tree through Spirit Drumz Productions™. Walking Tree is a brilliant triple-treat – a singer, composer and percussionist – with stylish musicianship that captures and holds your attention.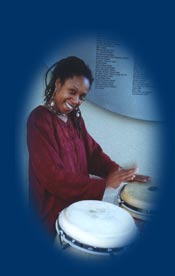 This journey through multiple music genres reflects Afia Walking Tree's abilities to integrate affirmations with original drum rhythms that are accessible to and can move a variety of audiences. She skillfully plays more than 15 instruments throughout this compilation of original music (including djembes, bongos, congas, djun djuns, naked gourds, shekeres, bells, berimbaus and other instruments) and captivates you with her beautifully rich, sensual and patois-tinged voice.

Afia Walking Tree is a world-class percussionist who was born and raised in Kingston, Jamaica and is currently based in California. She has been a member of various New York and California-based groups; such as, Mother Spirit Ensemble, Ase Drumming Circle, Skin On Skin and Drum For Joy!. A self-taught musician, Walking Tree has also studied with many master percussionists of different West African and Afro-Cuban traditions in New York and California.

She is joined on several songs by percussionist Brindle, formerly of Pele Juju; percussionist Chris Kenney and vocalist, Debbie Nargi Brown – all of whom are seasoned performers and teachers in California and beyond.

Recorded at CS Audio Visual's state-of-the-art studio in Santa Cruz, California, Soul Affirmationz features the original music arranged, directed, performed and written by Afia Walking Tree. CDs are available in many Bay Area stores and can be ordered through Spirit Drumz.

Walking Tree gives extraordinary live performances, taking audiences through a journey to affirm the soul with pieces that offer opportunities for the audience to participate and rejoice! She will be traveling nationwide to promote this release – please check out Afia's calendar for tour dates and locations. Bring Afia Walking Tree to your community.



Founder, Executive Director, Lead Facilitator: Afia Walking Tree, M.Ed.
Spirit Drumz was founded in 1996 as a vehicle for Afia Walking Tree to synthesize her talents as a leadership development consultant, educator, African-Diasporic percussionist, motivational speaker and ritualist. Walking Tree integrates her holistic approach to life in affirmation-based transpersonal workshops and energizing performances that empower the individual and community through percussion, ritual and dialogue.
Afia Walking Tree

Spirit Drumz workshops and performances have been hailed as innovative, joyful, constructive, inspiring and motivating experiences! Jamaican-born and raised, Walking Tree has been called, "one of the most dynamic facilitators we have seen in action in a long time." Afia Walking Tree celebrates the drumz as sacred transformative tools, fuses traditional approaches with contemporary music forms and creates hybrid sounds and lyrics that address present day issues of social justice, healing and self-affirmationz. Her first solo CD, entitled Soul Affirmationz is now available through Spirit Drumz.

Source: http://www.spiritdrumz.org/spiritdrumz/about_us.htm
http://www.harveymilk.org/spring2002/music/034.shtml
http://www.nectar-productions.com/frames/artistbios_art_02.html
Website: www.spiritdrumz.org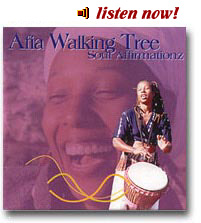 Tracks
1.

Mama Souljourn
6.

Ye Ye
8.

GourdSong
13.

I Am Alive
Home